Showalter examines options for postseason rotation
Tillman, Chen and Norris could be Game 1 starter depending on opponent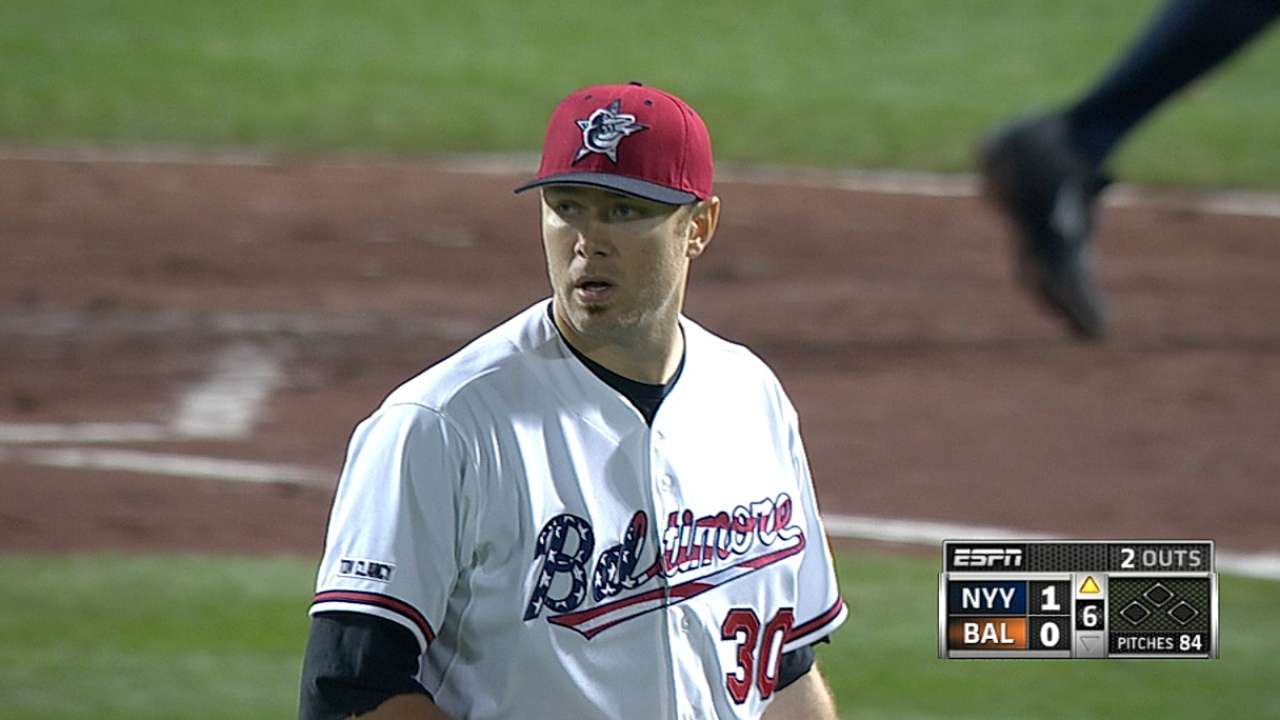 BALTIMORE -- About a week in advance of every series the Orioles have played this season, manager Buck Showalter likes to figure out if he can use an off-day to set his rotation up favorably based on the opponent.
Showalter looks at three things: how his pitcher performs against that opponent overall, how he's done in that ballpark and how he's performed against that team at home. He can't quite prepare his rotation for the American League Division Series yet -- the O's seed isn't settled yet, nor is the AL Central -- but he's starting to formulate an idea based on those three statistics.
"We'll look at it some," Showalter said. "We already have. I've got an idea of who pitches well against Detroit and Kansas City."
With three days off between the final day of the regular season and the start of the ALDS, plus the option of having Ubaldo Jimenez and Joe Saunders start games, Showalter can be as flexible as he wants when setting his rotation.
Statistically, Chris Tillman has been the Orioles' best and most consistent starter this season, but he's struggled against the Royals in his career. In five starts against Kansas City, Tillman is 2-2 with a 6.21 ERA. Wei-Yin Chen, arguably the O's second-best starter this year, is 1-1 with a 4.17 career ERA against the Royals.
Bud Norris has the best numbers against Kansas City, albeit in a small sample size. He faced the Royals for the first time this season, holding them to one run in 7 1/3 innings.
If the Tigers hold on to win the AL Central, Tillman could be the option for Game 1. His 3.58 ERA in six starts against Detroit is the best of anyone in the rotation. Chen, by comparison, has a 4.91 ERA in two starts.
Of course, the Orioles only use this as a tiebreaker, and in these cases there isn't anyone with especially impressive or terrible numbers against Detroit or Kansas City. The O's do only trail the Angels by 2 1/2 games for the top seed, though, and if they catch them, Showalter will have plenty more factors to consider.
"It's still kind of up in the air who we're playing," Showalter said. "It's one of a bunch of teams."
David Wilson is an associate reporter for MLB.com. This story was not subject to the approval of Major League Baseball or its clubs.