Teheran deals, but Braves blanked in costly loss
Wild Card elimination number at three as Atlanta falls below .500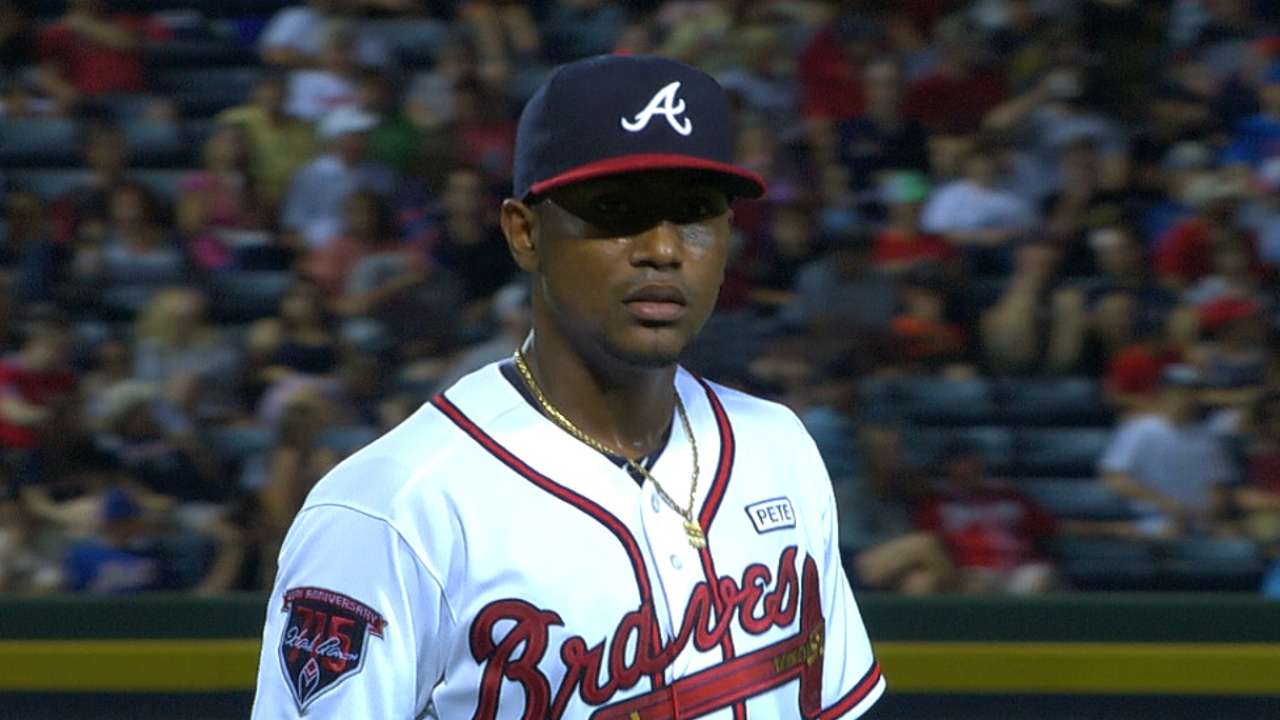 ATLANTA -- The Braves' offense squandered another quality start by Julio Teheran, consequently pushing Atlanta another game closer to being eliminated from playoff contention.
Teheran and Mets starter Zack Wheeler were involved in a tight pitchers' duel on Friday night at Turner Field. But Mets first baseman Lucas Duda ended that with a two-run home run that proved decisive in the Braves' 5-0 loss.
"I think I'm a broken record, but two runs, your starter gives up two runs and you have a chance to win the game, and we didn't score runs, so the two runs they hang on Julio are big," manager Fredi Gonzalez said.
The defeat trimmed the Braves' National League Wild Card elimination number to three after the Pirates rallied late to beat the Brewers, dropping Atlanta to seven games back with nine to play. It also dropped the Braves under .500, at 76-77.
"As long as there's a number beside you, you've got to keep playing and keep hanging on," Gonzalez said. "They know, and I don't think we need to remind anybody what's at stake and what we could accomplish if we start winning games, start swinging the bats."
Beyond being a missed opportunity, the game was another showing of Atlanta's offensive struggles.
The loss was the 15th shutout for the Braves this season and the sixth in the last 18 games. It was also the third time in the last four outings that Teheran has gone at least six innings, allowed two or fewer earned runs and lost.
"Just trying to [not] think and [not] let it affect me at all, but it's kind of difficult for us," Teheran said. "We're trying to win games, and we're just trying to do our best, and the thing doesn't go like we want. It's kind of tough."
Teheran finished seven innings, allowing seven hits, two runs and striking out six. He allowed two singles through the first four innings and pitched out of a fifth-inning jam. But he was not as fortunate in the sixth, when Duda sent his shot over the right-field fence.
"It was the pitch that I wanted," Teheran said. "I don't know how he's hitting changeups, and he got me on that one. That's part of the luck that I have."
The Braves drew two walks from Wheeler, managing five hits, and had runners in scoring position in the first, third and fifth innings but were unable to knock anyone in. In those three innings, Atlanta had five strikeouts and stranded six men on base.
"It seems like it's really hard to get runs on the board, and it's a little frustrating," shortstop Andrelton Simmons said. "You've just got to take it one day at a time, one play at a time and hope for the best, but it's really, really frustrating right now."
Though Jason Heyward (thumb bruise) was missed, Simmons returned from an ankle injury to be the one bright spot in the Braves' lineup, going 3-for-4 with two singles and a double.
"I felt OK, not great," Simmons said. "At the end of the day, it's the win and loss that count right now, and you go home not feeling that good."
The loss dropped the Braves to 9-8 against the Mets this season. If the Mets take the final two games in the series, it would mark the first time New York has beaten Atlanta in head-to-head records since 2006, when the Mets won the NL East.
Cody Pace is a contributor to MLB.com. This story was not subject to the approval of Major League Baseball or its clubs.