Wheeler drives shutout as Duda powers Mets
Starter rebounds with six strong innings; first baseman clubs 28th HR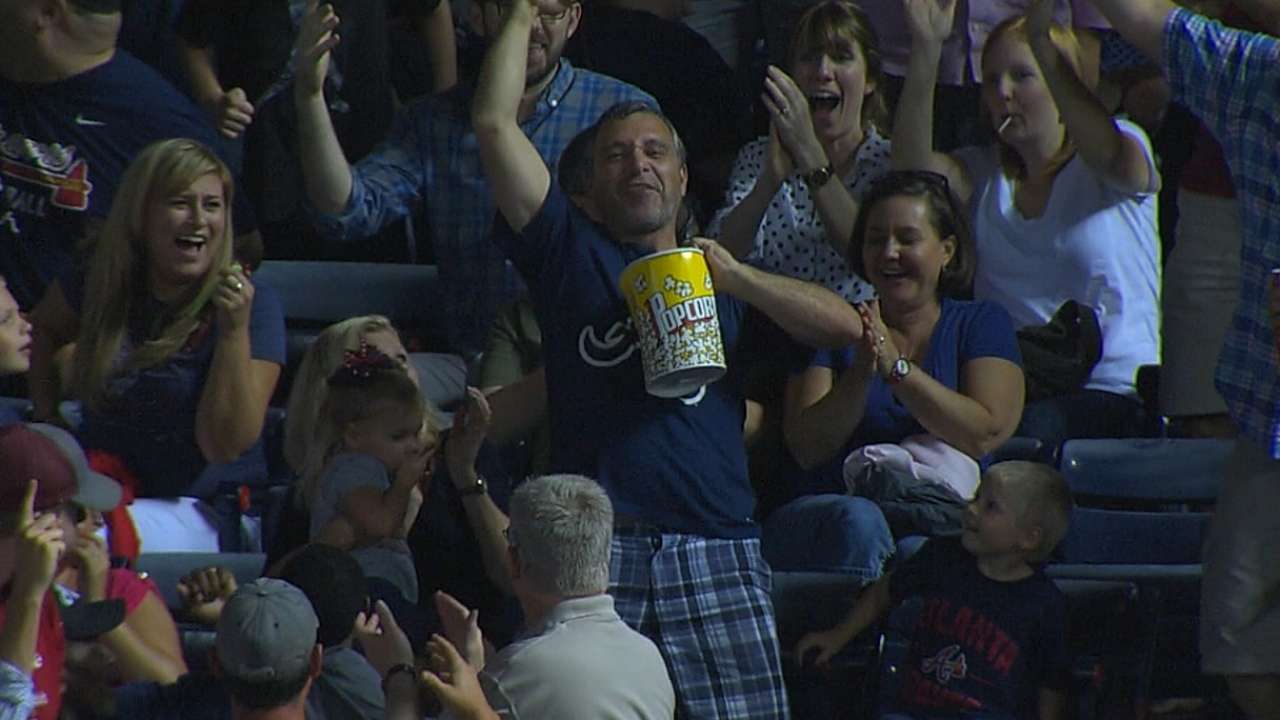 ATLANTA -- The New York Mets shut out the Atlanta Braves, 5-0, in the series opener Friday night at Turner Field as Zack Wheeler went six innings and Lucas Duda provided a decisive two-run homer in the sixth inning.
Wheeler threw 105 pitches (65 for strikes), giving up five hits, walking two and striking out seven to move to 11-10 on the year as the Mets dealt a severe blow to their division rivals' playoff hopes in front of a crowd of 35,693.
The outing was a terrific rebound performance for Wheeler, who allowed six earned runs in just four innings in his last start against the Washington Nationals. It was the righty's team-high 21st quality start of the year, and his fourth scoreless outing.
"I made pitches when I had to," Wheeler said. "I got in a lot of deep counts, but I did make the pitches when I had to."
Duda's 28th long ball, off a fastball from Braves starter Julio Teheran on the second pitch of the at-bat, was set up by a one-out ground-rule double by Daniel Murphy, who had four hits. It was the seventh go-ahead home run for Duda, who now sits alone in third place in the National League home run race.
"It was kind of a liner," he said of the homer, which landed in a fan's popcorn bucket. "I kind of hustled out of the box and just looked up."
Teheran matched Wheeler every step of the way, with the exception of the sixth-inning homer. Teheran gave up just the two earned runs on seven hits and no walks, while striking out six. He threw just 90 pitches (60 strikes), falling to 13-13.
"I was on second base for Duda's at-bat, and that was a pretty good pitch [Teheran] threw him -- and to keep that fair ..." Murphy said. "Some really good tack-on runs [in the ninth inning] off of [Jordan] Walden, who is a pretty unpleasant at-bat. Just a really nice night by the offense, great job by the starting pitching and bullpen."
Wheeler was in control early with five strikeouts through four innings, but he worked out of his biggest jam in the bottom of the fifth.
The Georgia native started by striking out Teheran for his sixth strikeout before surrendering a two-out double to Andrelton Simmons followed by a walk to Freddie Freeman. But he was able to buckle down and get Justin Upton to chase a ball in the dirt for an inning-ending strikeout on just three pitches.
"Every time your team puts up runs, you try to go out and put up zeros," Wheeler said. "You can ask any starting pitcher, that's what we pride ourselves on, putting up zeros after we score and giving our team a chance to win."
The Braves were 0-for-4 with runners in scoring position against Wheeler. Simmons was 3-for-4 in the game, and his double was the only extra-base hit of the night for the Braves.
Wheeler needed just 10 pitches to get out of the sixth inning before handing it over to the bullpen. Carlos Torres pitched a perfect seventh inning, and Jeurys Familia struck out two in the eighth. Buddy Carlyle made it a perfect three innings for the bullpen with a 1-2-3 ninth.
Eric Young Jr.'s two-run single highlighted the three-run ninth inning, during which Murphy lined out in a bid for his fifth hit after tying a career high with his 12th four-hit game, collecting three singles and a double.
The Mets may be out of postseason contention, but manager Terry Collins said he's not worried about how the club will perform with that goal being out of reach.
"We've got some young guys, and if they pack it in, you won't see them again," Collins said. "That's why it's nice this time of year to bring those young guys up to the team. They bring a lot of energy to the team, and our veteran guys are great guys, and there's never been a question of how they're going to play.
"We'll finish it up, we'll finish it up strong and hopefully have some fun along the way."
Paul Thomas is a contributor to MLB.com. This story was not subject to the approval of Major League Baseball or its clubs.