Offense helps Quintana overcome early lapses
Lefty goes 7 1/3 for win; Konerko goes 0-for-4 in return to lineup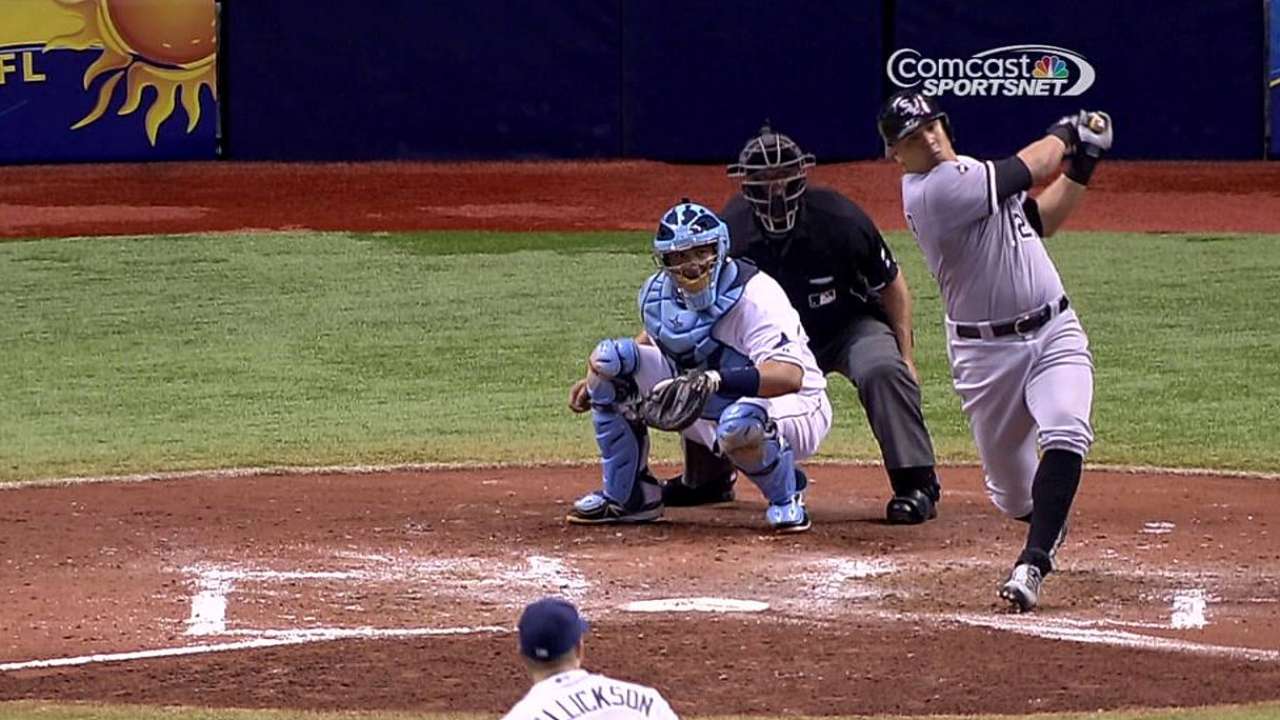 ST. PETERSBURG -- Paul Konerko's played prettier baseball. But even though his first game back was uneventful, it was nonetheless a positive sign -- and the White Sox beat the Rays, 4-3, Friday night at Tropicana Field.
The 38-year-old first baseman, who has spent 16 seasons with Chicago and will be retiring at the end of the season, returned to the lineup from a left hand fracture that had sidelined him since Sept. 2. In the series opener against Tampa Bay, Konerko went 0-for-4 with a pair of strikeouts in the 6 1/2 innings he played -- but his teammates picked him up.
"I'm fortunate. I feel lucky just to be out there tonight," Konerko said. "Just to get back out there -- it was ugly, it wasn't good, but I was out there."
And his hand?
"It was fine. Very minimal discomfort -- maybe catching the ball, probably the only time I noticed it," Konerko said. "I don't think it's gonna be anything. I can't see anything that would happen as far as the hand goes -- there's nothing that worries me about getting up tomorrow and having it feel, like, taking me back a step or anything like that. I feel like I'm kind of over the hump with it."
Jose Quintana recovered from a slow start to throw 7 1/3 strong innings, and the White Sox eventually broke through against Rays starter Jeremy Hellickson after threatening several times in the first few innings. Chicago has won six of its past nine games, and seven of its past 11.
Quintana, who has 12 no-decisions this season and leads the Major Leagues with 39 since 2012, is now 3-0 with a 1.65 ERA in his last four starts.
"It's really good for you when you get a win for the team," Quintana said. "Sometimes, I have a lot of no-decisions, but I don't have control over that. Every time, I try to get a chance for the team to win games, and now I want to try to finish strong."
At first, though, the left-hander couldn't get Logan Forsythe out, allowing a two-run double in the first and a solo homer in the fourth to the Tampa Bay second baseman, putting Chicago in a 3-0 hole. Meanwhile, the White Sox bats came up empty in the first four frames despite putting two runners on in the first and second and getting a runner into scoring position in the fourth.
But in the fifth, the first six White Sox to step to the plate all reached base -- although one was on a fielder's choice -- as Chicago pounded out four runs on six hits off Hellickson, knocking him out of the game.
"Just command -- I don't know where it went that fifth inning," Hellickson said. "It's just happened so many times this year, guys give me a three- or four-run lead, I throw four or five scoreless and the next inning I just lose it."
Staked to a lead, Quintana locked the Rays down, pitching into the eighth inning and finishing with six strikeouts and allowing nine hits. Only one of the three runs he allowed was earned.
"I think it's kind of his calling card -- he gets stronger as the game goes along," White Sox manager Robin Ventura said. "Early on, we just couldn't score for him. I think that's really been the biggest thing for him, is we've got to support him with any amount of runs. He has a lot of no-decisions."
White Sox second baseman Marcus Semien almost bobbled the lead away in the seventh when he dropped Ben Zobrist's two-out popup in shallow right field. But he recovered to throw out Kevin Kiermaier at the plate trying to score from first, preserving the edge.
The White Sox also had to get out of a jam in the ninth, when Zach Putnam gave up a one-out single to Yunel Escobar and hit David DeJesus with two outs before striking out Kiermaier on a pitch in the dirt to end the game.
Konerko wasn't in the game to catch the throw that made Kiermaier's strikeout official -- having been lifted before the bottom of the seventh -- but that wasn't a bad sign.
"I took him out almost like Spring Training," Ventura said. "Because he hasn't been in there in a while, you realize it's the first time he's been on his feet running around doing stuff. We'll see how he feels tomorrow and go at it again.
David Adler is an associate reporter for MLB.com. This story was not subject to the approval of Major League Baseball or its clubs.