Ortiz adds to legendary night with decisive blast
Big Papi records eighth 30/100 season with Red Sox, wins it in 10th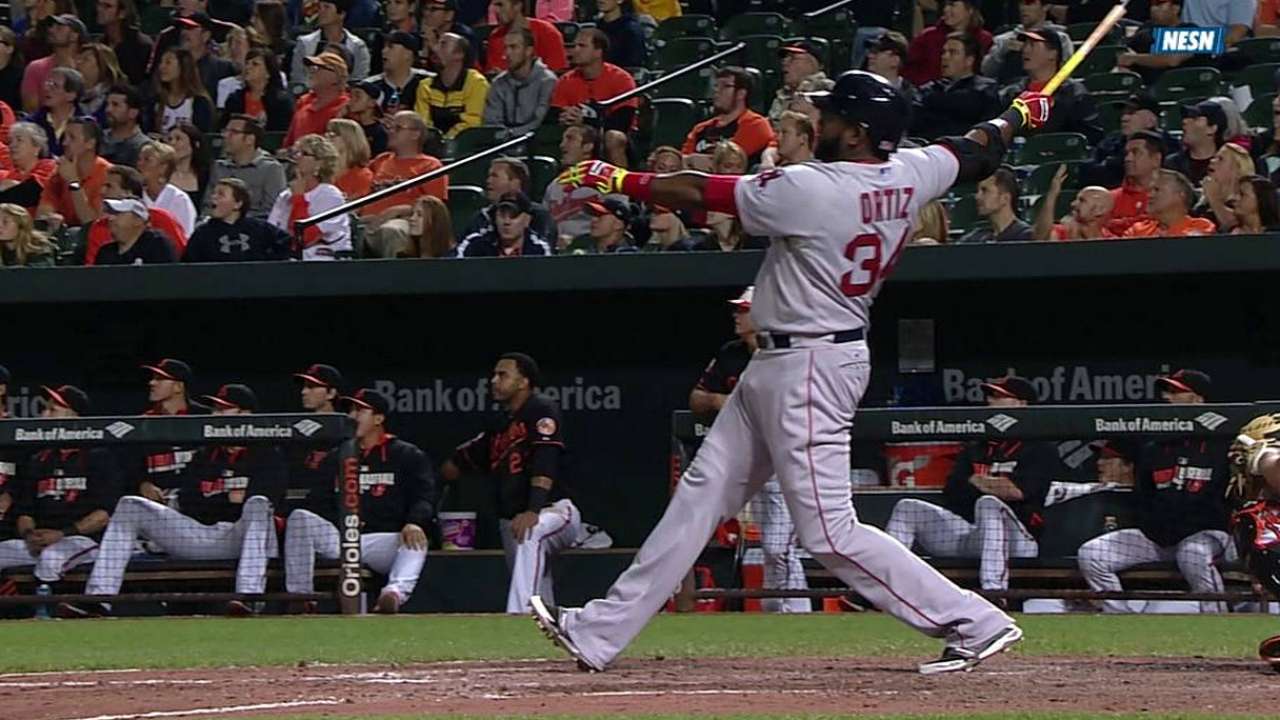 BALTIMORE -- David Ortiz would rather be gearing up for October, a month in which he's performed legendary heroics over the years. Instead, he is putting the finishing touches on another season of elite production, albeit one that won't go past game No. 162.
Powered by Ortiz, who ripped two home runs, including a go-ahead, two-run blast, the Red Sox pulled out a 5-3, 10-inning victory over the Orioles on Friday night at Camden Yards.
"They call me Super Papi. That's right. Put it down like that. What else?" quipped Ortiz.
At the age of 38, Ortiz has 34 homers and 102 RBIs. With his first homer in the fourth inning, the lefty reached the 30/100 plateau for the eighth time in his career, passing Ted Williams for the all-time Red Sox record.
"Just another season," said Ortiz. "Too bad we are in the situation we are in, but just like I always say, just a compliment when your name is attached to a legend like Mr. Williams. Something that is based on a lot of consistency and work."
Ortiz has been a rare bright light for the Red Sox in a largely disappointing season.
"I don't know if you can say enough positives and accolades for what David Ortiz not only did tonight, but what he's done over an incredible career," said Red Sox manager John Farrell. "He comes up big twice again for us tonight, no bigger than in that 10th inning, and considering how many RBIs, how many home runs he contributed this year, I'd hate to think where we'd be without him."
Allen Webster turned in a third straight solid outing for Boston. Webster scattered seven hits and a run over 5 2/3 innings, walking one and striking out three.
"I wasn't really locating my offspeed stuff as well as I would have liked," said Webster. "But later in the game, I started finding it and me and [catcher Christian Vazquez] just kept pounding the zone."
Meanwhile, center fielder Rusney Castillo had an impressive second game for the Red Sox, making a diving catch, throwing a runner out at the plate and legging out an infield hit.
"I've actually felt pretty comfortable out there," Castillo said. "It's a credit to the coaching staff. I've gotten a lot of work in a short amount of time. That, coupled with the advanced scouting reports and good positioning, it's really helped me become pretty comfortable out there pretty quickly."
Word of Ortiz's greatness surely reached Cuba, where Castillo played for many years before coming to the United States. But he enjoyed seeing the power spectacle up close on Friday night.
"It was pretty exciting and made me very happy to see that, especially a figure like David -- the figure that he is in Major League Baseball," said Castillo. "To have done that, really both in such high leverage situations, especially to decide the game late, was pretty special."
Webster left with a 3-1 lead, but the Orioles chipped away in the seventh. It all started with two outs, when Alejandro De Aza belted a double against Craig Breslow. Delmon Young followed with an RBI triple that just got past the outstretched glove of right fielder Daniel Nava. Alex Wilson came on and got the ground ball he needed, but Xander Bogaerts made a high throw to first, and the tying run scored on the error.
The O's broke out first, as No. 9 hitter Jonathan Schoop started a rally in the third with a one-out single up the middle. De Aza followed with a single to right. After a walk to Steve Pearce loaded the bases, Nelson Cruz's infield hit to third drove in Schoop to make it a 1-0 game.
The Red Sox responded with two loud swings to start the fourth. Ortiz and Yoenis Cespedes belted homers, giving the Red Sox back-to-back jacks for the first time since July 21.
"Whenever he comes up for the at-bat, you have to be worried he's going to put a run on the board," said Webster. "He and Cespy both."
Ortiz took another big cut in the fifth, this time launching one off the wall in right for a single. Mookie Betts hauled around the bases and scored from first when catcher Caleb Joseph dropped the throw home for an error.
In the bottom of the fifth, the Orioles tried to get a run back when De Aza smoked a one-out double and David Lough followed with a single up the middle. The O's sent De Aza, but Castillo came up throwing and Vazquez got the tag down in time to cut down the run.
"Yeah, I think it was an OK throw for me," Castillo said. "I always try to keep the ball down when I'm throwing, try to give him a better hop. I was true with that one."
Playing in his second Major League game, Castillo also made a nice diving catch to take a hit away from Lough in the first.
"Early on, he got some really quick jumps, quick reads on some balls, sinking line drive," said Farrell. "He makes a nice throw to cut down a run at the plate. I think in just his second game, the ability to take the reads and routes that he did, that was impressive tonight."
Ian Browne is a reporter for MLB.com. Read his blog, Brownie Points, and follow him on Twitter @IanMBrowne. This story was not subject to the approval of Major League Baseball or its clubs.