Jays Care, Harlem RBI honored with top philanthropy award
Baseball again recognized with annual Patterson Awards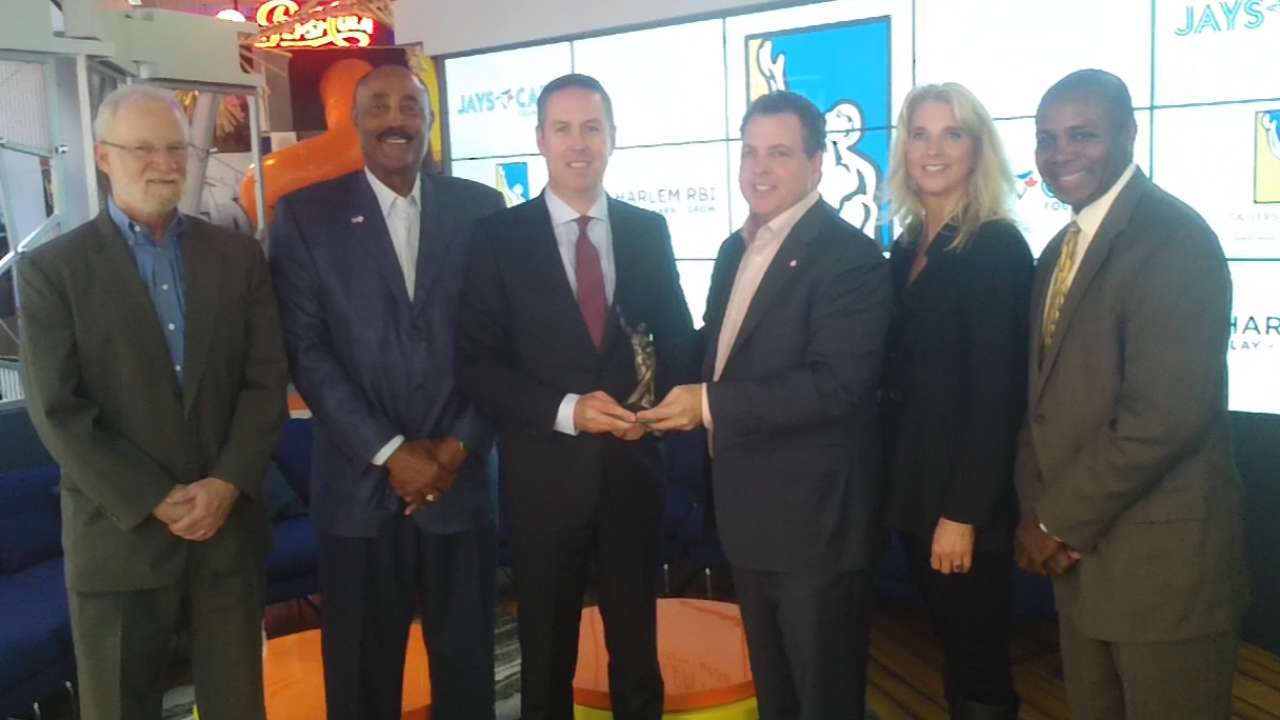 NEW YORK -- Cito Gaston's mother always told him: "Treat others like you would want to be treated." Those words still rang in his head on Friday as he represented a Blue Jays organization that had just received a major award for the third year in a row as recognition of the Jays Care Foundation, the ever-growing charitable arm of Canada's Major League Baseball club.
Jays Care Foundation and Harlem RBI, along with the Tiger Woods Foundation, were recipients of the 2014 Steve Patterson Award for Excellence in Sports Philanthropy, presented by the Robert Wood Johnson Foundation a day earlier in a ceremony in Princeton, N.J. MLB held an event Friday in Manhattan to mark the recognitions, and the fact that baseball has now accounted for seven of these increasingly prestigious awards, the most of any sport.
"I really learned how to give back through my mom," said Gaston, who managed Toronto to two World Series championships. "She taught me a long time ago to give back, and I continue to give back to this day, until I'm no longer here. Giving back is like the old saying: 'It's better to give than to receive.' If you think about it, when you receive something, how happy you are. Man, just think about when you give something. ... You're twice as happy. You know how many smiles you put on people's faces by doing that."
There were many smiles at this event at the MLB Fan Cave -- smiles of satisfaction, of being able to share with others that their year-round efforts to help others across an entire nation were making a difference. The Blue Jays were acknowledged previously with the Commissioner's Award for Philanthropic Excellence in 2012, and they were also recognized globally with the Beyond Sport "Sports Team of the Year" Award in 2013
Jays Care Foundation, established in 1992, the year of Toronto's first World Series championship, sets kids on a lifelong track to success by investing in charitable, community and baseball programs and facilities that focus on helping kids in need get active, excel academically and lead healthy lives. To date, Jays Care has invested more than $7.5 million in Canada's children and communities.
"This is a tremendous honor for the Toronto Blue Jays and the Jays Care Foundation," said Steven Brooks, the Blue Jays' senior vice president of business operations. "It started out really as a Toronto-based foundation, working with Toronto community housing, providing educations and recreational programs for youth, really in the greater Toronto area. About three or four years ago, we really embraced the idea that we are Canada's only Major League Baseball team, and we can do more.
"Through the efforts of those at the foundation, we brought that vision to life and to some 40,000 children annually across Canada -- 200 communities, 10 provinces, one territory. There's no other professional sports team -- certainly in Canada -- doing something on that scale. I say that because I'm very, very proud of the work that Jays Care has done in that regard."
Past Patterson Award recipients from baseball include Chicago White Sox Charities, the Reds Community Fund, The Red Sox Foundation, the Giants Community Fund and The Moyer Foundation.
"Commissioner [Bud] Selig has often said that Baseball is a social institution with social responsibilities, and our league and our 30 clubs embrace this concept by giving back in meaningful ways," said Tom Brasuell, MLB vice president of community affairs. "The Patterson Award is a wonderful outlet for recognizing excellence in philanthropy, and we're proud to say that with those two organizations, no sport has won more Patterson Awards than Baseball, in the last 10 years."
Harlem RBI, a part of MLB's Reviving Baseball in Inner Cities initiative, has grown to aid more than 1,500 boys and girls -- now also including South Bronx -- since it started in 1991 with 75 kids. Youth are first exposed to Harlem RBI through its summer baseball program. Program components include Rookie League, REAL Kids, TeamBuilders, TeamWorks, Legends and Social Work. Since 2005, 97 percent of Harlem RBI seniors have graduated high school and 94 percent have matriculated at college.
"We've been working with MLB for close to two decades now, long before the idea that children were other than somebody else's," said Rich Berlin, Harlem RBI's executive director. "Not only has Major League Baseball been a really critical part of our growth and development as an organization, but Tom personally has been wind in our sails that whole time.
"When we got started in this work, the idea that sports was kind of a legitimate way that institutions would recognize how kids get healthy was just not on the landscape. There were no public or private institutions who would support this type of work. 'Oh, that's Little League, you go out and throw out some balls and hopefully some good things happen to kids.'"
Berlin said the Patterson Award has been a "beacon and a leader in that movement, in the idea that sports can change children's lives, and whole communities' lives." Indeed, Steve Patterson was a UCLA basketball center, NBA player and Arizona State basketball coach who was wont to help others with little fanfare. His wife, Carlette, continues to carry the torch for him through this award, which was established in his name in 2005.
"It's a huge honor to really be able to take Steve's legacy of giving back, and his huge passion and love, for just honoring the people that so many of us don't know about," she said. "Sports is great about really bringing the champions that are on the field, and you know all about their stories. But for every champion that's on the field, there have been many, many people behind them, that have helped nurture them as young kids, to bring up sports and all the amazing life skills and lessons that they've learned.
"Every winner of this award has really gone out and blessed kids in their community. They've rolled up their sleeves and they've said, "As much as we love sport, we want to use it as a gift to give back to our community.' It's amazing to watch the life stories, and the transformation that happens off the field in the hearts and souls of the kids in these communities that change."
Mark Newman is enterprise editor of MLB.com. Read and join other baseball fans on his MLB.com community blog. This story was not subject to the approval of Major League Baseball or its clubs.