MLB.com Columnist
Phil Rogers
Credit due for Mariners' handling of Felix
Recent history proves big pitch counts detrimental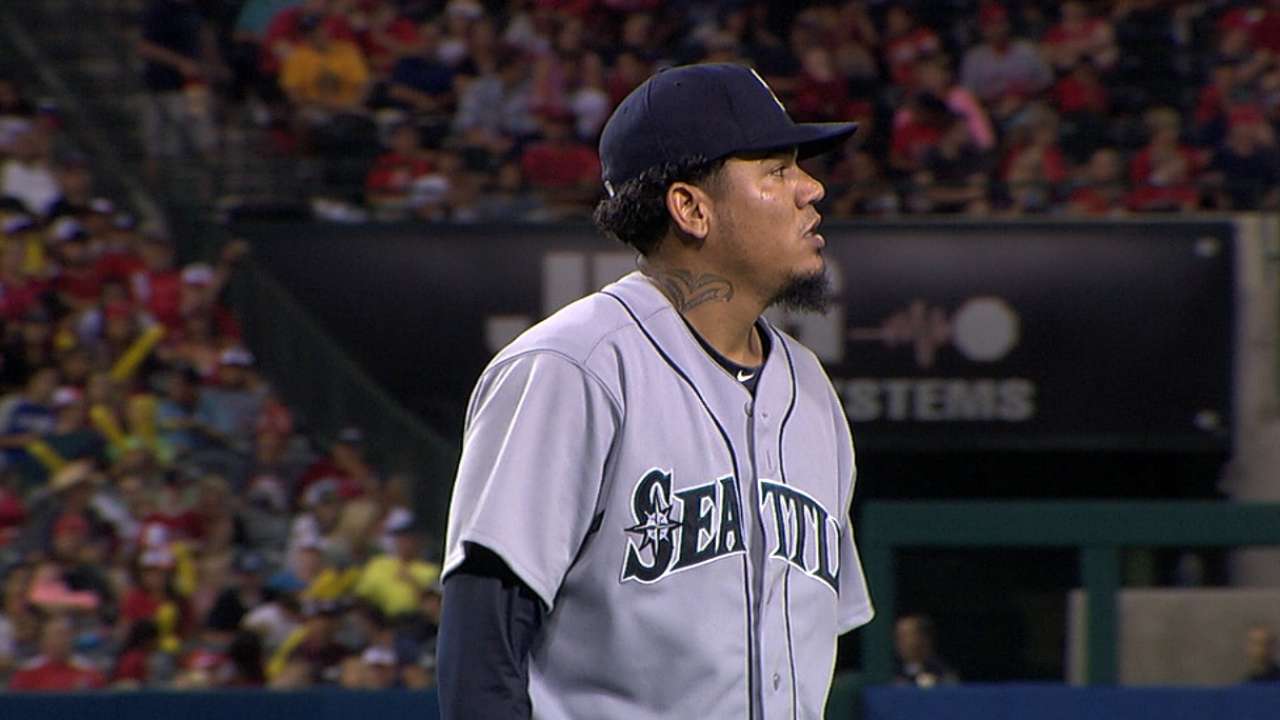 With no ifs, ands or buts, the Mariners had to win Thursday night's game against a stripped-down Angels lineup in a game that followed a wild division-clinching celebration. Felix Hernandez was starting against Wade LeBlanc, who got the start so that Jered Weaver could be rested and Mike Scioscia's rotation arranged for October.
There are no such luxuries for Seattle as the club pursue its first playoff appearance since 2001. So it's safe to say that it was tense at Safeco Field when the game remained scoreless through seven innings -- and that was before Lloyd McClendon lifted King Felix to turn the game over to relievers Charlie Furbush and Tom Wilhelmsen, even though Hernandez had thrown a mere 97 pitches. Yet try to find mention of that decision in Friday's coverage of the game, which the M's eventually won 3-1. It's a non-issue -- not to say it would have been if the Halos had won -- and that says a lot about the stretch-run handling of starting pitchers has changed in the past few years.
With one Hall of Fame manager after another retiring, the responsibility to manage the game has steadily shifted upstairs, to the general manager. And the guys who control the payroll and the long-term well-being of their clubs are nowhere near as willing to extend starting pitchers as, say, a Jim Leyland was.
So far this September, there have been only two starters who have made 120-pitch starts -- the Tigers' Max Scherzer (124) on Sept. 4 and the Red Sox's Joe Kelly (120) on Sept. 8. In 2010, Leyland allowed Verlander to throw 120-plus pitches in each of his last five starts.
But there's more going on here than just the Tigers' managerial change. Across the Major Leagues, there were 10 120-plus starts last September and eight in 2012.
Perhaps watching Verlander trying to remain successful with diminished stuff is having an effect all across baseball. No pitcher in this generation has been ridden harder than Verlander, who has thrown 120-plus pitches 57 times in his career, including starts on May 30 and June 11 this year. His ERA in 24 starts since the first of those: 5.40.
Verlander made nine 120-pitch starts in 2012 and five more last season, including two in September. But he is hardly alone in causing baseball executives to consider the impact of high-pitch games on a pitcher's arm.
Here were the leaders in 120-pitch starts last season: Verlander, Yu Darvish (4), Adam Wainwright (4), Homer Bailey (3), Clayton Kershaw (3) and Cliff Lee (3). Among those guys -- who provide a nice cross section of some of the strongest arms in the sport -- only Kershaw and Wainwright have turned in strong, healthy 2014 seasons, and even they gave their organizations scares with Kershaw's disabled-list stint in April and Wainwright's "dead arm" period after the All-Star break.
Some general managers were protecting their top guys' arms years ago. Theo Epstein and Terry Francona were on the same page in regards to preserving assets, and as a result, you didn't see Pedro Martinez, Curt Schilling or Josh Beckett extended to 120 pitches in Boston's World Series championship seasons of 2004 and '07. But as a rule, it has always been tough to expect a manager paid to win to hook his ace, especially as the stakes raise.
Consider the Cubs' use of Kerry Wood. In his National League Rookie of the Year Award season of 1998, he carried the Cubs to an unlikely playoff spot, making eight 120-pitch starts, including a 133-pitch effort shortly after he turned 21.
Jim Riggleman was his manager, and he admits he looks back with some regret on riding a kid so hard. But he says the only time anyone in Chicago complained was when he took Wood out of games. Riggleman is right about that, in part because the bullpen was a house of cards.
It was no better in 2003, when the Cubs were as hard on a 22-year-old Mark Prior as they had been on Wood. While they eventually advanced within five outs of the World Series, Wood led the Major Leagues in total pitches and Prior in pitches per start. The twin aces had 21 120-pitch starts between them, including five of 130-plus.
There are lots and lots of other examples, including the Phillies' use of Roy Halladay, Cole Hamels and Lee. It has always been natural for a manager to try to get an extra inning here or two extra innings there from their big guns down the stretch. But the multi-tiered postseason tournament requires more from starters than was the case before the Wild Card, and fans feel almost as unkindly to a team that loses in its first playoff series as they would to one that misses the playoffs altogether.
Should the Mariners wrap up one of the AL's two Wild Card spots, they'll be glad that McClendon didn't overextend Hernandez. If anything, he's done the opposite, with him throwing 105 pitches or less in each of his last five starts.
Maybe you think this is part of America becoming oversensitive. It sounds like smart baseball to me, especially when your bullpen is good enough to carry its weight.
Phil Rogers is a columnist for MLB.com. This story was not subject to the approval of Major League Baseball or its clubs.