MLB.com Columnist
Roger Schlueter
MLB Notebook: No King's ransom for Felix
Lack of run support has often been the norm for Mariners' ace right-hander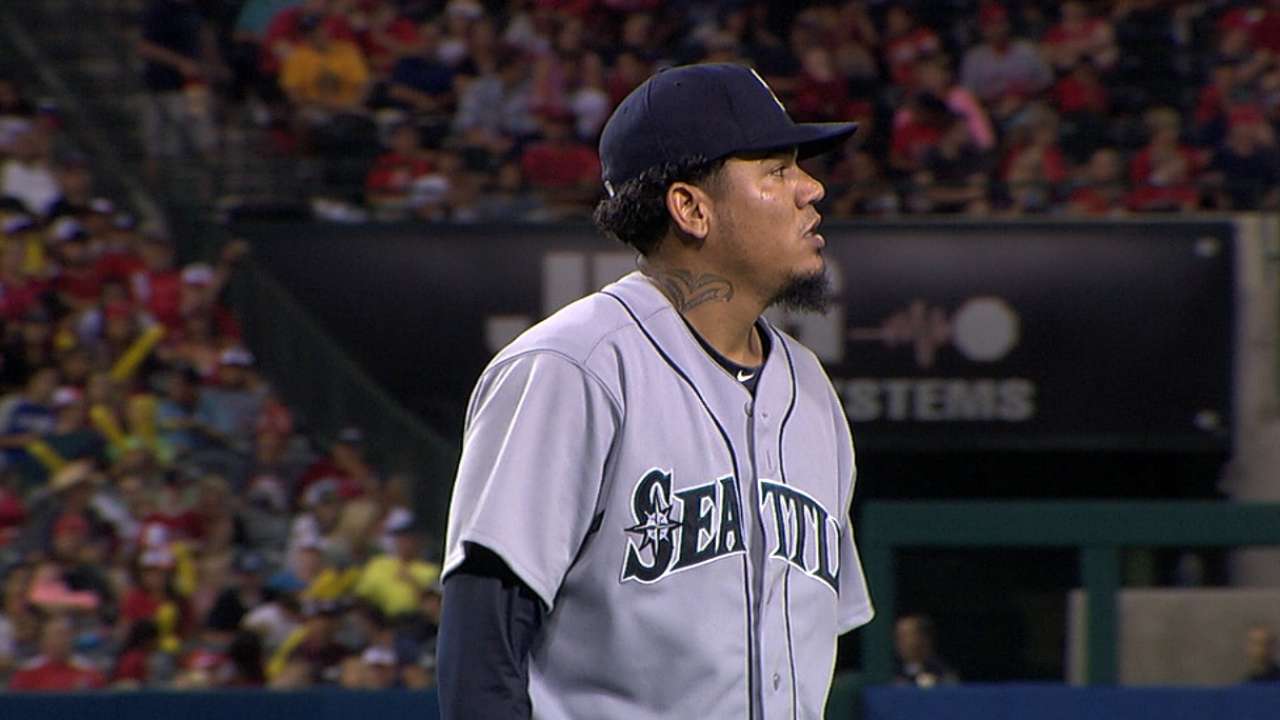 In September 1992, Nolan Ryan made four starts for the Rangers. And although he wasn't at the apex of his hit-suppressing, strikeout-recording abilities (with 22 hits allowed and 20 strikeouts in 27 1/3 innings), The Ryan Express was pretty nasty when it came to holding the opposition away from the runs column.
Ryan posted a 0.99 ERA in his four starts, but he ended up having no wins to show for his work. Dating back to 1914, there has been only one other pitcher to have at least four September/October starts with an ERA below 1.00 and yet conclude with only one win or no wins. In 1999, Bret Saberhagen was 1-1 with a 0.90 ERA in four starts. This season might just see a doubling of that total.
The Rangers' Derek Holland currently sports a 0.99 ERA and a 1-0 record in four September starts, while his American League West counterpart Felix Hernandez has gone 1-0 with a 0.96 ERA in his four starts this month.
Hernandez goes seven scoreless
Hernandez fanned 11 in seven scoreless innings Thursday, but he came away with a no-decision in the Mariners' 3-1 victory over the Angels.
Here's how Hernandez stacks up against (qualifying) right-handed pitchers in AL history:
• His 2.07 ERA is tied for the 91st lowest since 1901, and tied for the fourth lowest in the DH era (since '73).
• His 178 ERA+ is the 30th best since 1901, the 11th highest in the DH era.
• His 0.912 WHIP is tied for the 13th lowest since 1901, and second lowest in the DH era.
• His 6.49 hits per nine are tied for the 45th lowest since 1901, and 16th lowest in the DH era.
• His 5.49 strikeout-to-walk ratio is the 18th highest since 1901, and 14th highest in the DH era.
• His .545 OPS against is tied for the 10th lowest since 1961, and it ranks as the second-lowest mark in 2014 behind Garrett Richards' .529.
Since debuting in 2005, Hernandez has been on the mound for eight no-decisions in games in which he has tossed at least seven scoreless innings. Those eight since '05 tie him with Cole Hamels for the most in the Majors. Jose Quintana has been a part of seven such outings -- all since 2012. Hernandez's eight are the most in Mariners franchise history, with Jamie Moyer's six ranking second. Going all the way back to 1914, Greg Maddux and Roger Clemens are tied for the most, with 12 apiece.
With the 11 strikeouts Thursday, Hernandez now has 1,939 in his career. His latest effort moved him past Don Drysdale and into the fourth slot for the most since 1893 for any pitcher through his age-28 season. While Drysdale had 1,934, Sam McDowell (2,159), Walter Johnson (2,117) and Bert Blyleven (2,082) still rank ahead of Hernandez.
Cole mines late-season wins
In the Pirates' 3-2 win over the Red Sox, Gerrit Cole allowed two runs in seven innings and improved to 10-5 for the season. Cole has gone a combined 7-1 in nine career September starts.
Since 1914, he is one of 23 pitchers to have a winning percentage in September/October of at least .875 through his first two years (minimum eight starts). Of these 23, Cole is one of 18 to have an ERA of less than 3.00 (his stands at 2.98), with Dwight Gooden's 0.76 ERA in 1984-85 the lowest.
In the Bucs' win, Starling Marte connected on his 13th homer of the season, and eighth since the All-Star break. In the season's second half, Marte has posted a .356/.427/.616 slash line in 164 plate appearances.
Among all players with at least 150 trips to the plate in the second half, Marte ranks fifth in batting average, third in on-base percentage, first in slugging and first in OPS. Since 1933, there have been seven Pirates to finish a second half with at least 175 plate appearances and a .300/.400/.600 line: Ralph Kiner in 1947 and '51, Willie Stargell in '73, Dave Parker in '78, Barry Bonds in '92, Brian Giles in '99 and Matt Stairs 2003.
Bryce's big night lifts Nats
Bryce Harper went 3-for-4 with a double in the Nationals' 6-2 victory over the Marlins. For all players in history through their age-21 season, Harper's 128 extra-base hits are 18th most, and his 602 total bases are 22nd most.
Harper owns a career .879 OPS in 279 plate appearances in September/October. There have only been 38 players since 1914 to have at least 250 career trips to the plate in September/Octobers through their age-21 season. Among this group, Harper's .879 ranks fourth highest, behind Ted Williams (1.182 in 251 plate appearances), Mel Ott (1.039 in 366) and Mickey Mantle (.964 in 280).
Wilin walks off with a win
Wilin Rosario's two-run blast in the bottom of the ninth turned an impending 6-5 loss to the D-backs into a 7-6 win for Colorado, and it put Rosario on a short list of Rockies heroes. In the franchise's history, it was the fifth time a player hit a walk-off homer with two outs and the team trailing.
The first four occurrences:
• May 23, 1999: Dante Bichette hit a three-run blast with the Rockies trailing, 6-4, to the D-backs.
• Sept. 18, 2007: Todd Helton hit a two-run homer with his team trailing, 8-7, to the Dodgers.
• April 14, 2012: Helton hit a two-run long ball with the team trailing, 7-6, to the D-backs.
• Aug. 17, 2014: Drew Stubbs hit a three-run homer with his team trailing, 9-7, to the Reds.
Here and there
• In their 7-6 loss to the Rockies, the D-backs did something that was very difficult: play at a game at Coors Field, plate at least six runs and finish the game with no extra-base hits. There have been 1,639 examples of a team scoring at least six runs in a game at Coors, and this was just the third time a team collected only singles. The Pirates did this on July 28, 1998 (six singles in a 12-6 loss), and the Rockies did it on Aug. 29, 2012 (15 singles in a 10-8 loss to the Dodgers).
• Cleveland's Danny Salazar allowed one run in 7 1/3 innings and the Indians defeated the Astros, 2-1. Over the past two seasons combined, Indians starters own a Major League-best 3.06 second-half ERA.
• In the Blue Jays' 3-2 loss to the Yankees, Jose Bautista connected on his 33rd home run of the year, and seventh against New York. Only two Jays have hit more vs. the Yanks in a season: Jose Cruz, Jr. (nine in 2001) and John Mayberry (eight in 1980).
• Down, 2-0, to the Brewers in the bottom of the eighth, the Cardinals rallied for two in that inning and then won the game on Tony Cruz's single in the bottom of the 13th. The game marked the 18th time this season a Brewers starter (in this case, Kyle Lohse) left the game in line for the win, but that possibility was subsequently blown by the bullpen. Those 18 are tied for the second most in the National League, with only the Rockies having more (19). This was the seventh such game for Lohse -- the most in the NL.
Roger Schlueter is senior researcher for MLB Productions. This story was not subject to the approval of Major League Baseball or its clubs.