MLB.com Columnist
Mike Bauman
Pitching staff remains bright spot for Braves amid struggles
Atlanta still dominant on mound despite setbacks from injuries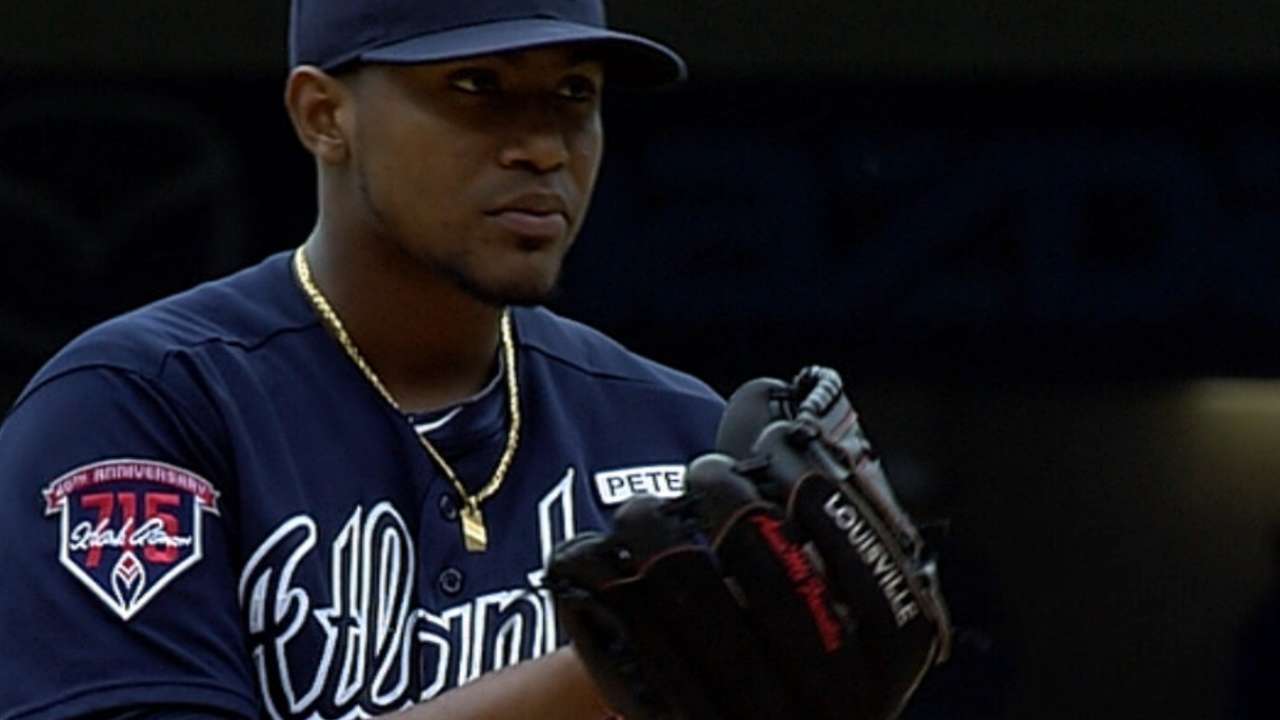 It is true that the Braves have gone from first place in the National League East to the margins of the NL Wild Card race due to a numbing offensive slump. But for the longer-term future of the Atlanta franchise, there will be the usual solace: A core of pitching strength that should be around for many seasons to come.
The Braves, despite losing three starting pitchers to injury this season, rank third in the NL in team ERA. They lead the league in quality starts. Atlanta has a strong bullpen, anchored by one of the best closers in the game, Craig Kimbrel.
You consider these facts and you are reminded of the 2013 Atlanta team that won 96 games and won the NL East by 10 games. The fact that the Braves are currently a .500 team is not the result of a diminished pitching staff. Had the Braves received any sort of consistent offense in recent weeks, they wouldn't have won 96 games again, but they also wouldn't have been eliminated from the NL East race on Sept. 16.
Atlanta manager Fredi Gonzalez has seen the pitching hold up regardless of what else has gone on with his club. He's suitably appreciative.
"I'm proud of the fact that our starters -- we lead the league in quality starts, but we lost two starters in a matter of two, three, four days in Spring Training," Gonzalez said. "And our guys have picked it up.
"I think you've also got to give a lot of credit to our scouts, the guys who recommended [Aaron] Harang just before Spring Training ended. And you've got to give our front office credit, to go get [Ervin] Santana after [Brandon] Beachy and [Kris] Medlen went down.
"And then the emergence of [Alex] Wood, that's a big piece right there. Julio [Teheran] has gotten better and better with every start. And Mike [Minor] has made a nice run here of late."
After losing Beachy and Medlen to Tommy John surgery, the Braves also lost Gavin Floyd with a broken elbow. And yet the advances made by their young pitchers more than compensated for these setbacks.
Teheran, 23, is 13-12 with a 2.89 ERA and a WHIP of 1.07. Minor, 26, appeared to turn a corner in the second half, putting together a five-start stretch with a 2.31 ERA, which included 7 1/3 innings of one-hit ball against the Reds in August.
Wood, 23, has been a revelation. He is 11-10 with a 2.78 ERA and a 1.13 WHIP, and he's getting even better. Wood has gone 4-2 with a 1.84 ERA in his past 10 starts.
"This guy competes and he's prepared," Gonzalez said. "He is way better than any young guy I've ever dealt with in terms of how he prepares himself, how he competes. He'll finish today's start, and tomorrow he'll be ready for the next one."
Santana and Harang have also been major contributors, but they are with the Braves on one-year deals and it is unclear at this point how they will fit into Atlanta's future.
Beachy and Medlen, who have both displayed the ability to be major factors for the Braves, can be expected to return at some point next season. But both have had two elbow ligament replacement surgeries, and it will be difficult to put a timetable on their return to full effectiveness.
Still, for a club that has gone 4-15 in September, pondering the long-term pitching possibilities can lead to some serious down-the-road optimism.
Even during these difficult days, when Atlanta's collective lineup slump has cast a shadow over what had seemed to be bright postseason possibilities, the pitching has given the manager daily reason to hope.
"Every time I drive to the ballpark, I feel comfortable," Gonzalez said. "I feel that our starters are going to give us a great chance to win a ballgame, one through five.
"This may have been the only year since I've been doing this that I've felt this way. [In] every rotation, there's usually one guy where you go, 'Oh, no, he hasn't been pitching that well.' You just don't know what's going to happen. With this rotation, even if they don't have their best stuff, they're going to give you six solid innings and keep you in the game."
There is an excellent chance that the Braves will be able to approach seasons to come with that same kind of comfort level with their pitching.
Mike Bauman is a national columnist with MLB.com. This story was not subject to the approval of Major League Baseball or its clubs.