MLB.com Columnist
Phil Rogers
Dodgers counting on Kershaw, Greinke down the stretch
Los Angeles is 38-17 in games started by its top two hurlers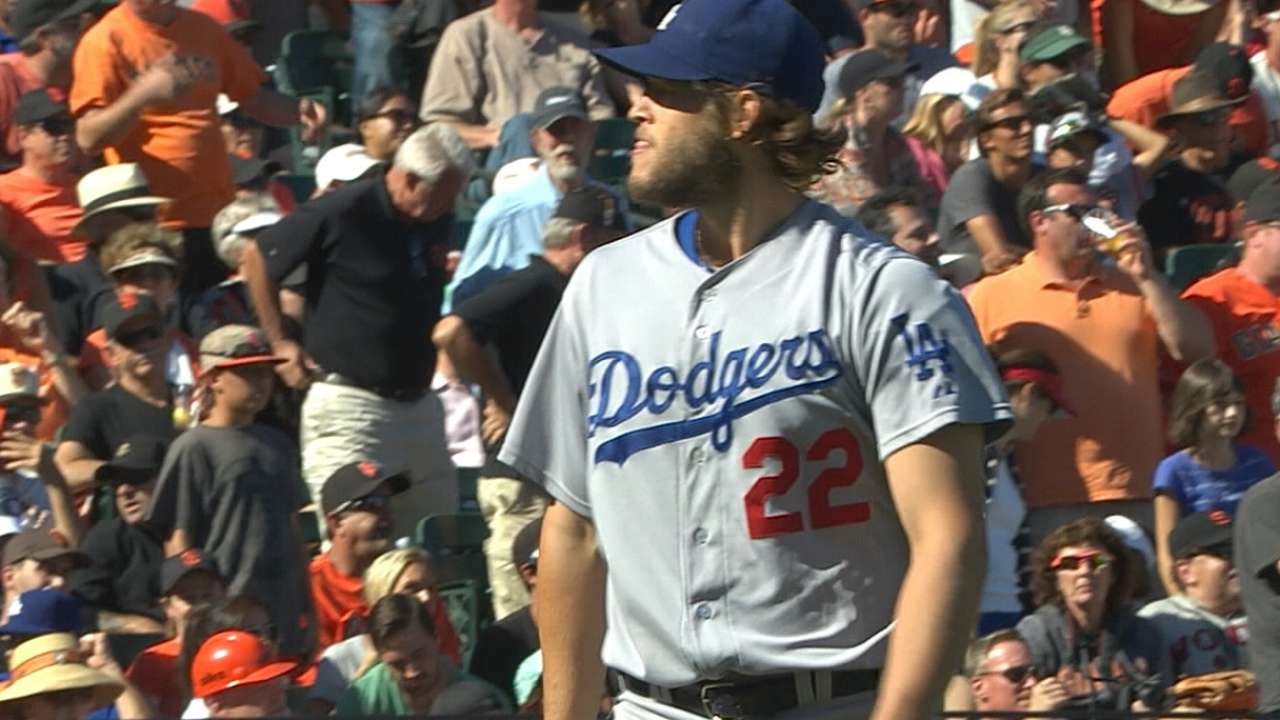 CHICAGO -- There's a popular Twitter account that tracks the number of consecutive games the Cubs have played without being no-hit -- a total that stands at 7,816 since Sandy Koufax's perfect game.
The person who runs the account dutifully updates the total on a daily basis and tosses in witty insight for no extra charge. But the account was silent for a couple innings after noting Chris Coghlan's leadoff single against Zack Greinke on Thursday.
"You're awfully quiet tonight. Nervous about tomorrow?" a follower Tweeted.
Replied @CubsNoHItStreak: "Terrified."
Clayton Kershaw, who seems to have already been awarded the National League Cy Young Award and the NL MVP Award, starts for the Dodgers.
No wonder Don Mattingly wasn't getting too worked up about his team arriving at Wrigley Field on the heels of 16-2 and 10-4 losses in Denver, which allowed the Giants to creep back into the NL West race.
With Hyun-Jin Ryu still recovering from a sore shoulder, Mattingly isn't sure who will start for him against San Francisco on Monday. It's not an ideal situation, by any means. But with Kershaw and Greinke on his side, the Dodgers' manager figures he'll be OK.
"Right now, I'm comfortable because I've got Greinke tonight, and that's the only game I'm worried about," Mattingly said before an 8-4 victory, which leaves Los Angeles 2 1/2 up with nine games to play.
When the Dodgers got rocked in Colorado on Tuesday and Wednesday, their starting pitchers were rookie Carlos Frias and Dan Haren. That left the non-Kershaw/Greinke portion of the rotation 1-5 with a 6.02 ERA in 10 games in September.
Yikes.
But Mattingly isn't inclined to get too worked up as long as he can lean on Kershaw and Greinke.
"I think if I had to worry about going through 162 games, right now would be a little different feel," Mattingly said. "We're not really in that situation. We've only got 10 games [left in the regular season]. I feel like we're OK where we're at now. We're going to get Hyun-Jin back. It's going to be a few days, but we're going to get him back. If you were trying to start the season like this, you'd probably be in a little bit of a box, but right now, [I] feel OK."
There are a lot of things Mattingly doesn't know. He isn't sure about the health of Hanley Ramirez, the power hitting of Yasiel Puig (two homers since July 4), his starting pitcher in the opener of Monday's showdown series with the Giants and who knows, maybe the first names of some of his players. He's got 37, after all.
But Mattingly knows he has the best 1-2 combination of starters in the Major Leagues, and he's counting on Kershaw and Greinke to matter more than any of the nagging questions.
Mattingly won't take anything for granted. He didn't do this math. Mattingly's focus is much more day to day, as it has to be with the Giants refusing to disappear. But he has a pretty good idea how it works.
Counting Thursday night, the Dodgers are positioned to have Kershaw and Greinke (a combined 34-11 with a 2.23 ERA) start nine of 15 games, assuming they win the West and play a five-game NL Division Series.
Since I've gone there, if they went to the World Series, with every postseason series going the distance, the Dodgers could use Kershaw and Greinke 17 times in 29 games. As the rotation currently sets up, with Greinke on track to start the last day of the season and Kershaw working the NLDS opener -- or, worst case, the NL Wild Card Game -- that scenario could play out if Mattingly twice went to Kershaw on three days' rest (as he did in the NLDS against Atlanta last year).
Greinke is 15-8 with a 2.76 ERA. The Cubs caught him on an off night but couldn't beat him. Greinke needed 30 pitches and an ill-advised bunt by Ryan Kalish to get through a two-run first inning, then threw 23 more in the second. He wound up throwing 112 pitches in five innings and, worse, leaving with a 4-1 deficit.
But, in an unusual turn, the Dodgers' bench rescued him. A five-run rally off Neil Ramirez in the seventh inning -- including pinch hits by Carl Crawford and Andre Ethier -- helped Los Angeles raise its record to 2-54 in games it has trailed after six innings.
The Dodgers are 38-17 in games started by Kershaw and Greinke. That's a .691 winning percentage -- and Mattingly would love to see if they can keep that up for another month, and ideally even a little longer.
Phil Rogers is a columnist for MLB.com. This story was not subject to the approval of Major League Baseball or its clubs.