Mental mistake by Reynolds costs Crew
First baseman forgets number of outs in eighth, doesn't attempt double play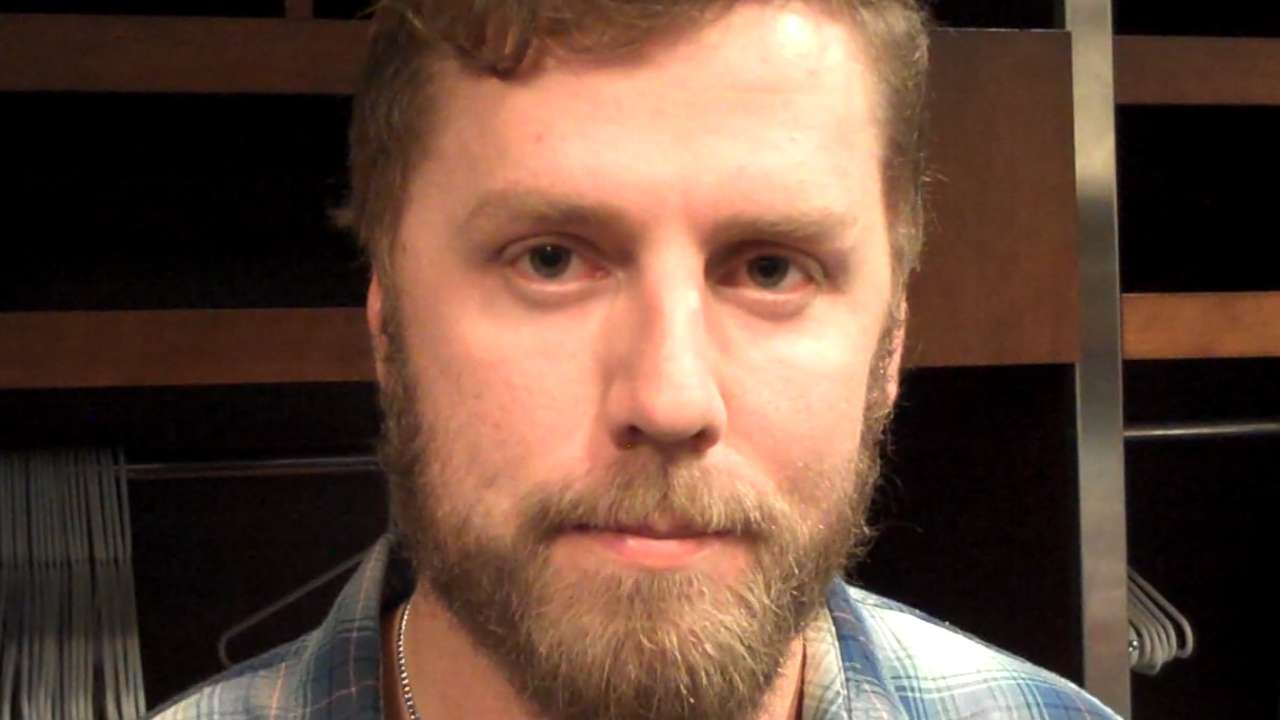 ST. LOUIS -- Brewers first baseman Mark Reynolds realized his mistake the moment he turned around and saw his teammates standing there.
"Everyone had their hands on their heads," a dejected Reynolds said after a 13-inning, 3-2 loss to the Cardinals at Busch Stadium on Thursday night, a must-win game that turned against the Brewers after Reynolds lost track of the outs in the eighth inning.
"It happens; it just happened to be in a crucial part of the game in a crucial game we needed to win," Reynolds said. "I feel bad about it. I messed up."
His mess-up came with the Brewers holding a 2-0 lead and a runner at first base. Brewers reliever Jonathan Broxton had just entered the game to face Cardinals pinch-hitter A.J. Pierzynski with -- Reynolds was about to realize -- one out. Pierzynski smacked the first pitch right to Reynolds, who had entered the game as a pinch-hitter in the seventh and remained in the game for his defense.
Reynolds has far exceeded expectations in the field this season, his first in Milwaukee, and has proven particularly adept at just this sort of play. But instead of throwing to young shortstop Hector Gomez covering second base, trying for a 3-6-3 double play, Reynolds simply stepped on first.
"It happens," Brewers manager Ron Roenicke said. "But obviously it came at a bad time. We put him in there for defense because he is our best defender, and it happens."
Reynolds turned around, took one step toward the dugout, noticed the rest of the Brewers standing in place, and froze.
"Mistakes like that can't happen, obviously," Reynolds said, "especially at this point in the season. [Brewers starter Kyle] Lohse pitched his [rear end] off, these guys battled hard and I got in the game and just messed up."
The inning continued and the Cardinals made the most of their extra base and the extra out, getting to Broxton for two singles and two walks, including Matt Holliday's infield single that was initially ruled an out, but overturned upon replay review. Matt Adams was up next, and he worked a bases-loaded walk from Broxton that tied the game at 2-2.
Asked about the Reynolds misplay, Broxton said, "It's not that. I walked those two guys. I mean, that's on me, and that's what hurt. Those two walks, that's what kept them going."
Tony Cruz delivered a walk-off single for St. Louis in the 13th inning.
The Brewers fell six games behind the Cardinals in the National League Central race, and 3 1/2 games behind the Pirates for the league's second Wild Card berth.
"In a game like that, any little thing is huge," said Holliday. "We found a way to win. Lohse pitched great. We found a way to win again. It's all about winning games this time of year. It took longer than most of us hoped, but it's all good."
Adam McCalvy is a reporter for MLB.com. Read his blog, Brew Beat, and follow him on Twitter at @AdamMcCalvy. This story was not subject to the approval of Major League Baseball or its clubs.