Holliday safe at first as Cards win challenge
Originally ruled out to end eighth, call is overturned following a replay review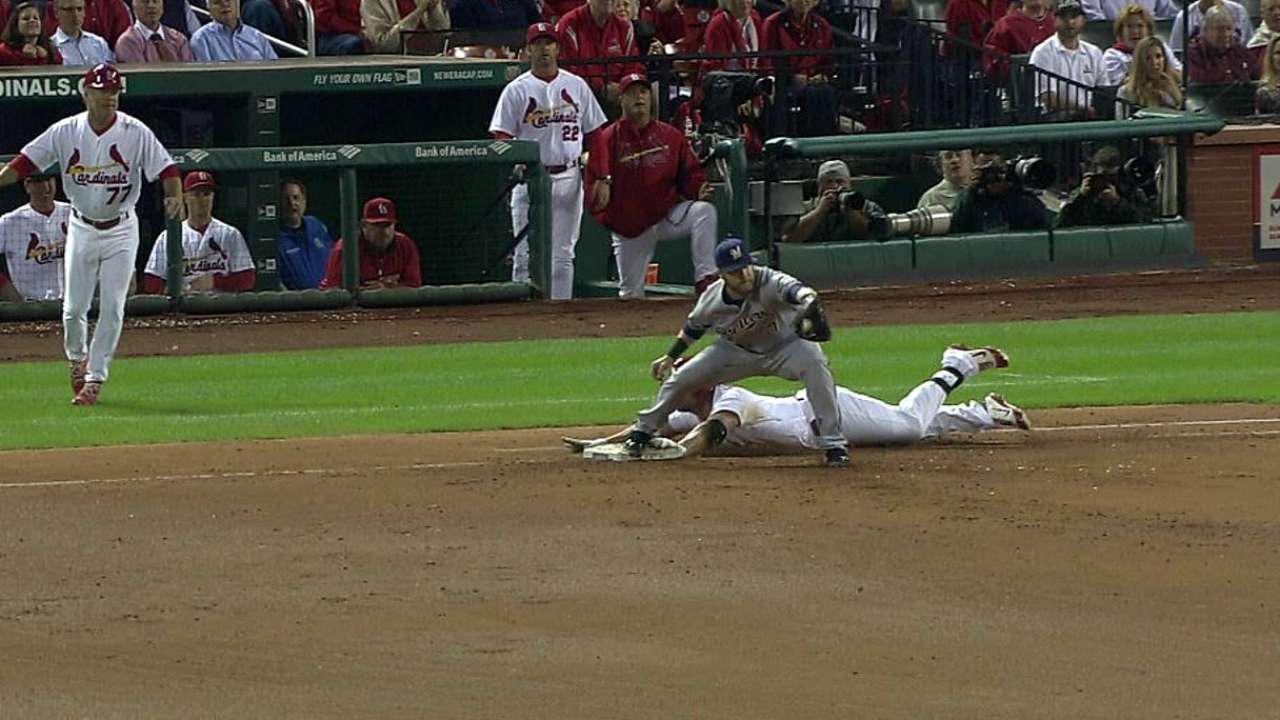 ST. LOUIS -- In one of their biggest replay reversals to date, the Cardinals leaned on an overturned call in order to extend the eighth inning of Thursday's game long enough to finish erasing a two-run deficit. The Cardinals would eventually finish the comeback with a game-winning hit in the 13th to send the Brewers to a 3-2 defeat.
The call in question came just after Cardinals outfielder Jon Jay shaved the Brewers' lead to one with his two-out single to left. Matt Holliday followed with a slow ground ball and finished his sprint to first with a dive into the base. The throw from second baseman Scooter Gennett arrived nearly simultaneously, though first-base umpire Fieldin Culbreth initially ruled Holliday as the third out of the inning.
"I had no idea," said Brewers first baseman Mark Reynolds, when asked for his instant reaction to the call. "I couldn't feel. Normally if a guy hits it with his foot you can feel it. He hit it with his hand and I have no idea."
Cardinals manager Mike Matheny, who had won 10 of 27 challenges this season, requested a review. Video evidence was convincing enough to overturn the call and put Holliday back on first base. It was also ruled that Matt Carpenter, who had circled all the way home from second on the play, return to third.
"Would I have been safe standing up or sliding? I don't know," Holliday said. "It felt like a desperate act. I wasn't thinking about it. I just did it. It worked out, thankfully. I would have questioned myself if it was faster to run through it, if I would have been out. It worked out."
The Cardinals briefly argued Carpenter's placement, though it wouldn't matter, as he would soon trot home on Matt Adams' bases-loaded walk to tie the game at 2.
"I don't think many of us are a big fan of the diving-into-first-base trick," Matheny said. "But apparently it worked today."
Jenifer Langosch is a reporter for MLB.com. Read her blog, By Gosh, It's Langosch, and follow her on Twitter @LangoschMLB. This story was not subject to the approval of Major League Baseball or its clubs.