Kendrick, offense unable to find rhythm in SD
Starter struggles with command; Phillies missing timely hits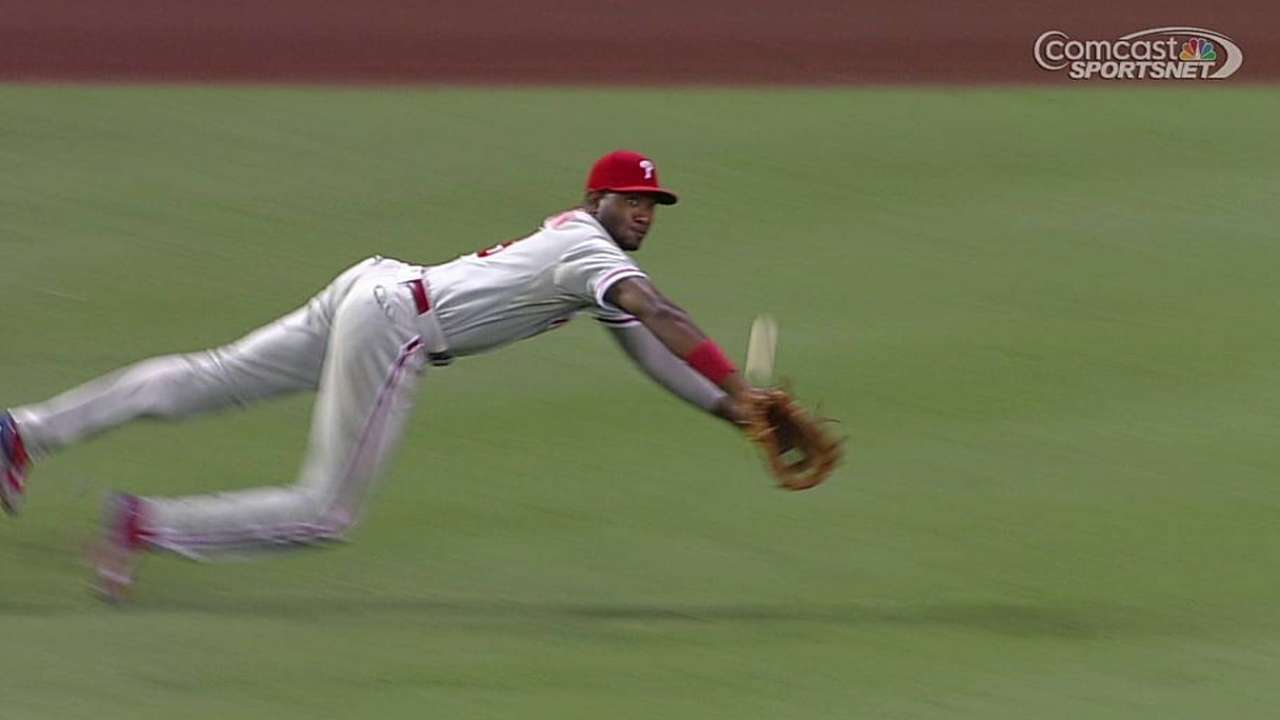 SAN DIEGO -- This is not the season Kyle Kendrick or the Phillies imagined when Spring Training opened in February.
It will be over soon enough. Kendrick struggled with his command in five innings in Thursday's 7-3 loss to the Padres at Petco Park. He fell to 9-13 with a 4.73 ERA, which is the eighth-highest ERA out of 91 qualifying pitchers in baseball, while the Phillies fell to 70-83 as the offense continued to struggle.
The Phillies have lost eight of their last 12 games after a 19-14 run from July 31 through Sept. 6.
"Coming up with the clutch hit or a two-out hit with men on base, the Padres got some of those and they minimized us in those situations," Phillies manager Ryne Sandberg said about the Padres winning three of four in the series.
Sandberg had started to feel a little better about his team during that 33-game stretch, which was the eighth-best record in baseball, but harsh realities have returned. The Phillies have hit .205 and averaged just 2.9 runs per game in their past 12 games. They pieced together just five hits and one run in six innings against Padres left-hander Robbie Erlin, who improved to 4-4 with a 4.53 ERA.
"They hit a couple of balls on the nose," Padres manager Bud Black said. "We played a solid game defensively."
The Phillies will have to find offense somewhere in the offseason.
Kendrick will have to figure out his future, too. He is a free agent after the season. He wiggled out of a jam in the first inning before he allowed a home run to Alexi Amarista in the second to hand the Padres a 1-0 lead.
Kendrick has allowed 25 home runs this season, which is tied for fifth-highest in the Majors.
The Phillies tied the game in the fourth. Darin Ruf hit a one-out double to left field and advanced to third on a wild pitch. Domonic Brown singled to left field to make it 1-1.
But Kendrick could not hold the score. He quickly loaded the bases in the fourth before Amarista's sacrifice fly made it 2-1. It could have been worse, but Brown threw out Seth Smith at third for the second out.
Kendrick retired the first two batters he faced in the fifth then allowed a single to Jedd Gyorko and walked Yasmani Grandal. Smith singled to right field to score Gyorko and make it 3-1. Antonio Bastardo allowed a run in the sixth, and Cesar Jimenez allowed three on Will Venable's home run in the eighth.
Kendrick allowed six hits, three runs, five walks, a home run and struck out two in five innings. It was the seventh time in his career and second time this season that he walked at least five batters in a start.
"I didn't have any command from the start really," Kendrick said. "I walked the first hitter. That's pretty rare for me, but I had to battle. I was pretty fortunate just to give up three runs there. I had no command. It's tough to pitch like that."
But here is the inning that encapsulated the offensive woes. The Phillies had runners on first and third with no outs in the eighth, but Padres right-hander Dale Thayer struck out Marlon Byrd, Ruf and Maikel Franco swinging in succession to retire the side.
Sandberg said he gave some consideration to having one of the many left-handed hitters on his bench hit against Thayer but added, "It's a chance to see some of these guys in that situation -- Ruf, Franco."
Sandberg has talked recently about a more consistent offense next season, especially when it comes to putting the ball in play. The eighth inning drove home that point pretty clearly when nobody could put the ball in play with a runner on third.
"Especially in the situation with the men on base right there," he said. "Just looking for some contact."
The Phillies have struck out 1,334 times this season, which is a franchise record.
Todd Zolecki is a reporter for MLB.com. This story was not subject to the approval of Major League Baseball or its clubs.