Crew falls in 13th to fall back in Wild Card race
Mental mistake helps allow Cards to tie game in eighth inning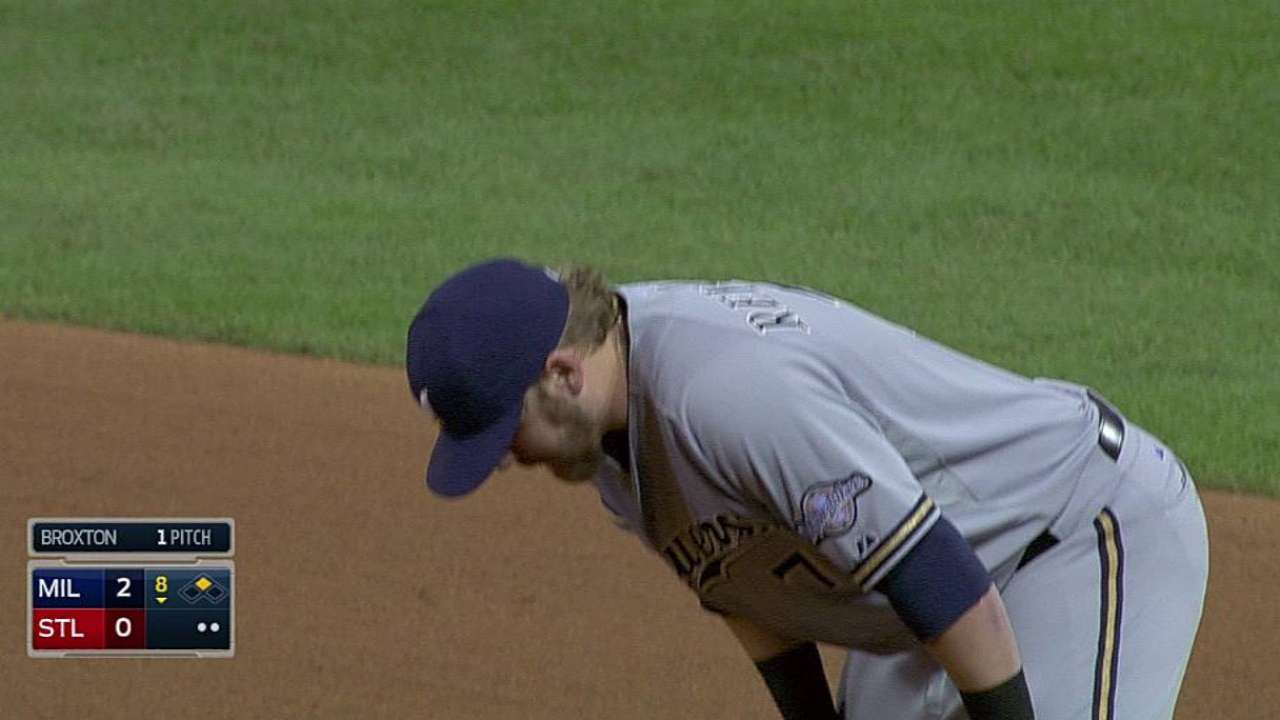 ST. LOUIS -- There are tough losses, and then there was the marathon of hurt that befell the Brewers at Busch Stadium on Thursday night.
With the team's postseason hopes on the line, first baseman Mark Reynolds lost track of the outs in the eighth inning, a mental lapse that contributed to the Cardinals' tying rally in what became a 13-inning, 3-2 Brewers loss. Instead of riding a second consecutive series victory into a make-or-break weekend in Pittsburgh, the Brewers fell six games behind the Cardinals in the National League Central and 3 1/2 games behind the Pirates in the chase for the league's second Wild Card.
"We can't give any games away," said Reynolds, who owned up to his mental error. "We've got to bring it every day. We're running out of time and our backs are against the wall. We need these wins. Tonight would have been nice to win, but we've just got to keep pushing forward. We're not out of it yet. It's getting to that point where you win or go home."
For weeks, the Brewers have spoken of "controlling their own destiny," but with Thursday's loss they now need help. Even with a weekend sweep of the Pirates at PNC Park, Milwaukee will enter the final week of the regular season on the outside of baseball's postseason picture.
"We put ourselves in this situation; we've got to get ourselves out. It starts [Friday]," said Kyle Lohse, whose solid 7 1/3-inning start went to waste. "We can't look forward and get distracted. You saw a little thing today that cost us. We can't do that stuff."
The Brewers were five outs away from a big win after Lohse carried a three-hit shutout into the decisive eighth, Jonathan Lucroy tied a Major League record for doubles by a catcher and Aramis Ramirez and Scooter Gennett delivered two-out RBIs.
Then, with one misplay, it started to get away.
Lohse had thrown 88 pitches and surrendered four singles when Brewers manager Ron Roenicke removed him with a runner at first base, one out and pinch-hitter A.J. Pierzynski coming up in the eighth. Pierzynski was 2-for-10 lifetime against Lohse, and Matt Carpenter, the batter on-deck, was 1-for-16, but Roenicke preferred new setup man Jonathan Broxton, who had not allowed a run to score in his first seven dominant appearances in a Brewers uniform.
"We were really thinking of going to him at the start of the inning," Roenicke said. "Kyle had pitched so well and his pitch count was fine, and he felt great. So we decided to let Kyle go out there but getting Broxton up along with him. Any trouble at all and then we'd go get [Lohse]."
Against Broxton, Pierzynski smacked a sharp grounder to Reynolds, who stepped on first base instead of throwing to second to start a potential double play. Reynolds hung his head when he realized his mistake, then watched the Cardinals rally to tie the game on two walks and two singles -- including Matt Holliday's infield hit that was first called an out, but overturned upon review of Holliday's headfirst slide.
After that call, Broxton walked Matt Adams with the bases loaded to tie the game.
"It was a crazy inning all the way around, but those two walks, they come back to haunt you," Broxton said.
The teams remained tied for an hour and a half, with the Brewers stranding runners in scoring position in the 10th, 11th and 12 innings. In the 13th, Holliday, Jhonny Peralta and Tony Cruz singled against Brewers reliever Jimmy Nelson to win the game, Cruz's one-out single rolling into center field.
The teams combined to score only 12 runs in 34 innings in the series.
"It's not the type of game that comes down to a single play," said Brewers right fielder Ryan Braun, who had two hits but struck out with a runner at second base to end the 12th inning. "We all had plenty of opportunities there in the late innings. We just weren't able to get the big hit."
Instead of beginning their series in Pittsburgh well-rested, Roenicke used every player on his expanded roster but emergency catcher Matt Pagnozzi. The Brewers' busses departed Busch Stadium at 12:45 a.m. CT, bound for the St. Louis airport and a moonlight flight to Pittsburgh.
"We'll bounce back. We'll play well [Friday]," Roenicke vowed. "Hopefully we'll get a bunch of runs so we don't go this many innings without scoring. We're getting people on base. We're getting them in scoring position. We just need some consistent at-bats and hopefully get in some runs."
Adam McCalvy is a reporter for MLB.com. Read his blog, Brew Beat, and follow him on Twitter at @AdamMcCalvy. This story was not subject to the approval of Major League Baseball or its clubs.