Jackson keeps focus on Mariners' task at hand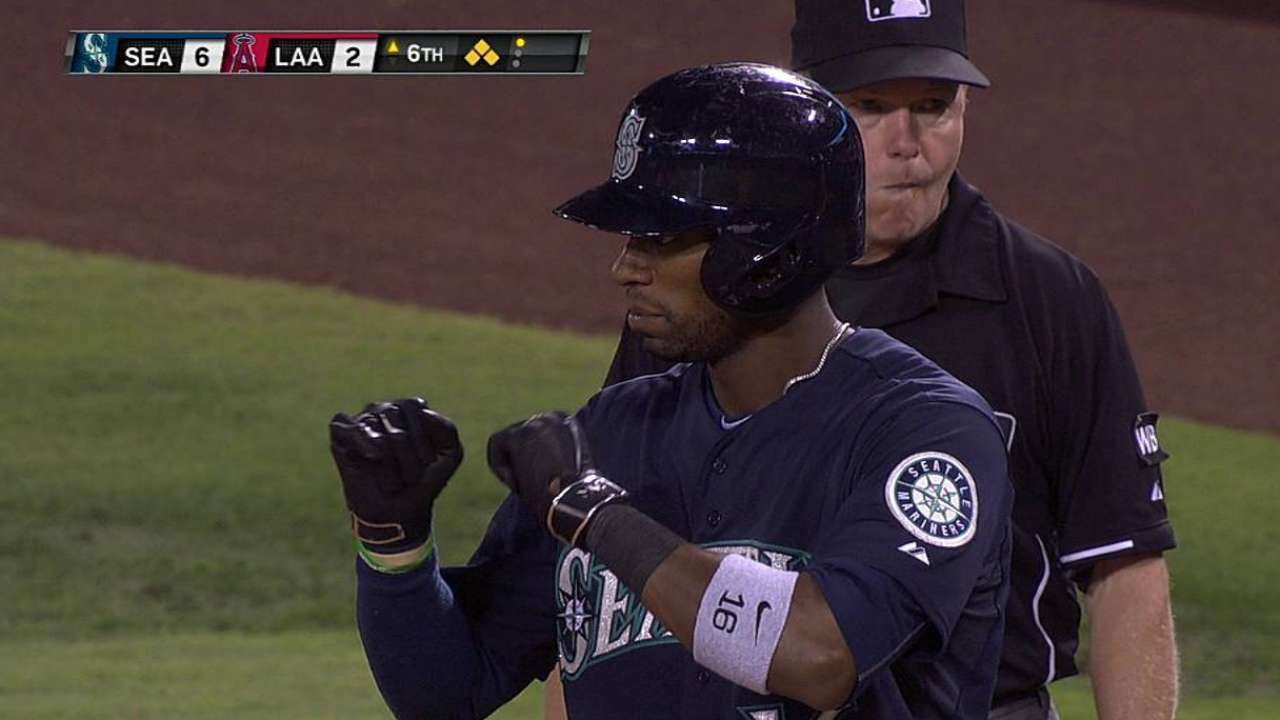 ANAHEIM -- As a veteran of one World Series and three straight postseason appearances with the Tigers, Mariners center fielder Austin Jackson has his own theory about scoreboard watching: Don't do it.
As the A's loss to the Rangers on Tuesday night played out on a prominent television set in the Mariners' visiting clubhouse at Angel Stadium -- a loss that clinched the American League West title for the Angels -- Jackson sat quietly as his locker ignoring the drama on the screen.
The Mariners had just dropped a 5-0 decision to the Angels and Jackson was more concerned with his own club and their effort to finish strong.
"It's tough, but we're still good," he said after the Mariners' club-record 18th shutout loss of the season left them two games out of an AL Wild Card spot.
His approach?
"We just have to stay off of that," he said, nodding toward the TV. "Put some cartoons on or something. When you start watching that stuff, you get to thinking too much."
Jackson said the same thing goes on in most clubhouses and it's a matter of personal preference. The Tigers had televisions tuned to other games as well and every player does some scoreboard watching.
"It was on," he said of clubhouse TVs during his Tigers times. "I'm not going to act like I've never peeked up there and looked at what's happening. But I know what it does to me. You start thinking, 'Oh, we've got to do this," and the next thing you know a ball gets hit to you and you weren't thinking about that. It's human nature."
Jackson's personal focus now is on getting some rhythm going at the plate. He's hit .240 with five doubles, one triple, no home runs, 16 runs, 13 RBIs and nine stolen bases in 43 games since being acquired by Seattle on July 31 after batting .273 with 25 doubles, five triples, four home runs, 52 runs, 33 RBIs and nine stolen bases in 100 games for the Tigers.
The 27-year-old emerged from a recent funk by going 4-for-12 with a pair of RBIs in three games before an 0-for-4 on Wednesday night while C.J. Wilson and two relievers combined on a one-hitter.
"It's tough to win ballgames with one hit," he said. "When you've got a guy out there pitching like that, it makes it tough. And it's all the more frustrating when you've got a guy like [James] Paxton matching him pitch for pitch.
"When we did get the opportunity, we just couldn't get that big hit. That seems to be the thing we've been struggling with. But with us being able to put ourselves in that position more times than not, we'll eventually be successful. We just have to keep pushing."
Greg Johns is a reporter for MLB.com. Follow him on Twitter @GregJohnsMLB as well as his Mariners Musings blog. This story was not subject to the approval of Major League Baseball or its clubs.