Arenado might not play again this season
Third baseman fighting to overcome effects of pneumonia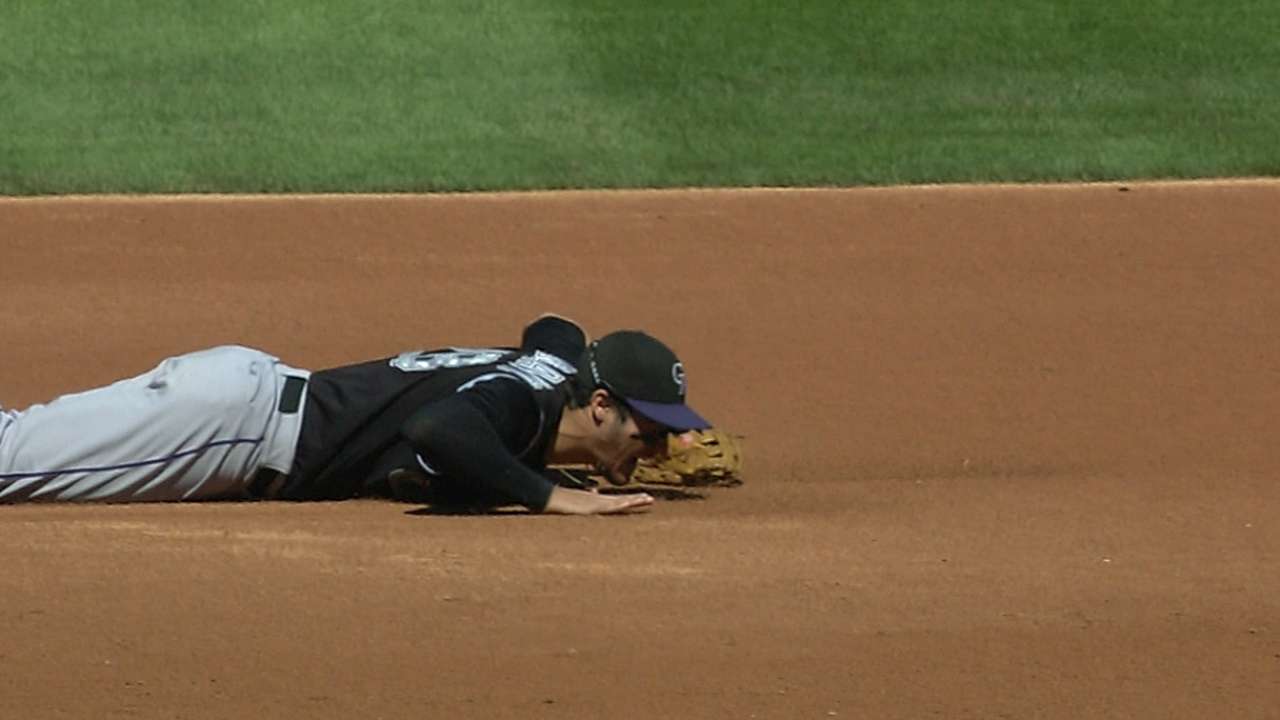 DENVER -- Energy is a trademark of Rockies third baseman Nolan Arenado, a can't-sit-still 23-year-old who should win his second Rawlings Gold Glove Award this season and has emerged as an offensive force. But pneumonia has zapped him of his energy, so much that it's unlikely he'll play again this season.
Arenado left Sunday's game at St. Louis with a chest contusion, but an MRI and CT scan also revealed the early onset of pneumonia in addition to the bruise. Arenado returned to the Rockies' clubhouse Thursday to pack some gear. Arenado wants to go on the final 2014 road trip, to San Diego and Los Angeles next week, and would like to play, but not at further risk to his health.
"I felt awful -- I'd never felt like that," Arenado said. "It's one thing after another. I want to be out there. I don't like being sick. I don't like not being part of a team. But at the same time this is important; I've got to make sure I don't risk anything. This is not something to mess around with."
Numerous injuries have helped ruin the Rockies' season, Arenado's fractured middle finger on May 3 seemed to be the one that broke the club. Colorado was 26-23 when the injury occurred, but went 10-27 while Arenado was on the disabled list. After Arenado returned, he did a credible job in a lineup that has been missing Troy Tulowitzki and Carlos Gonzalez, and at times Michael Cuddyer and National League batting leader Justin Morneau. Arenado has a .287 batting average with 18 home runs and 61 RBIs in 111 games, and has a .328 on-base percentage and just 58 strikeouts in 432 at-bats.
Manager Walt Weiss believes if Arenado can mitigate any risk to his health going into the offseason, that's more important than pushing him back onto the field.
"It's not like we need to get another look at Nolan," Weiss said. "If that's the case, it's not a big deal. It's just always nice for a guy being on the field when the season is over and going to the offseason having played.
"It's going to zap him for a while. Even when he feels like he's ready to go, he's going to be short-winded out here for few days. So that probably takes us right up to the end of the season."
Thomas Harding is a reporter for MLB.com. Read his blog, Hardball in the Rockies, and follow him on Twitter @harding_at_mlb. This story was not subject to the approval of Major League Baseball or its clubs.