D-backs' bullpen unable to protect five-run lead
Reed gives up walk-off home run; Nuno works 5 1/3, allows three runs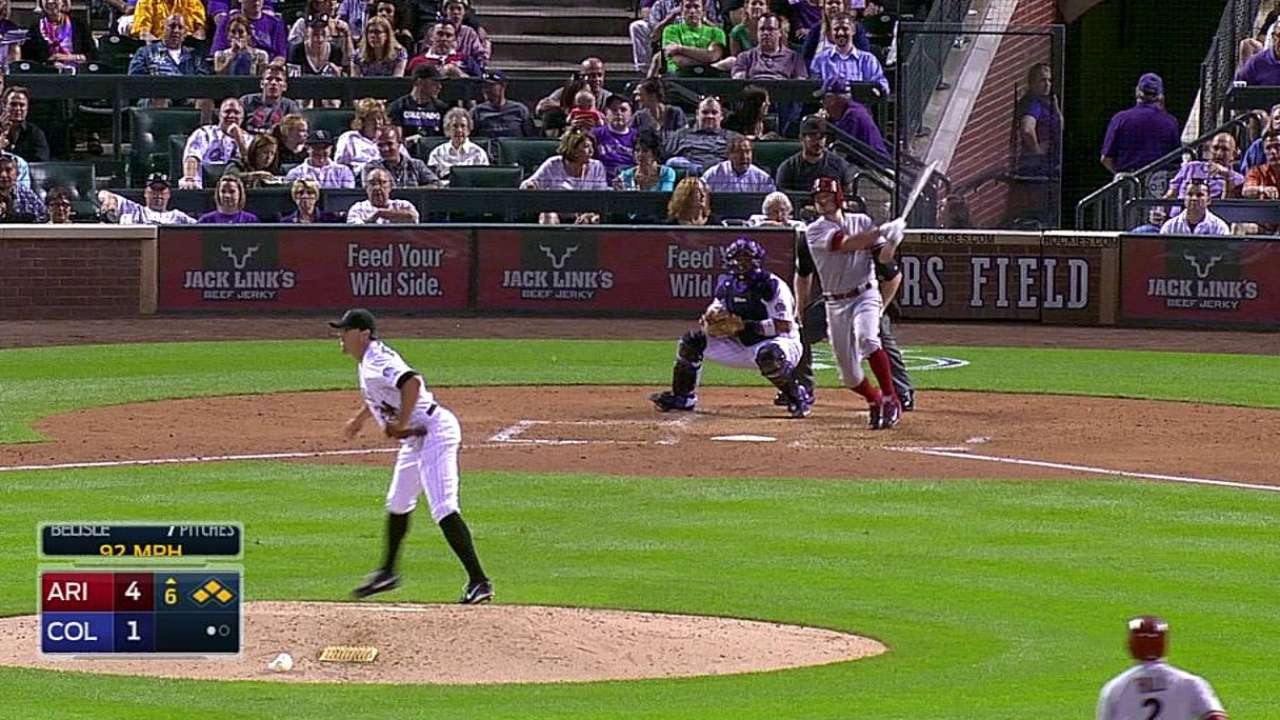 DENVER -- Vidal Nuno has pitched well enough to get at least one win in his 13 starts for the D-backs this season, but for the most part, the offense has not given him much support.
Thursday night it was the bullpen that cost Nuno a win, as the relievers coughed up a five-run lead and the Rockies walked off the D-backs, 7-6, at Coors Field.
Wilin Rosario struck the winning blow with a two-out, two-run homer off of Addison Reed in the bottom of the ninth.
"In that situation, you only have one option: try to hit the ball hard and see what happens," Rosario said. "I knew the ball was going to fly. I had the opportunity to find that pitch up in the zone and I did my thing."
It was the sixth blown save of the season for Reed (1-7), who allowed a single to begin the ninth before retiring the next two hitters.
Just when it looked like he might nail down the win, though, Reed hung a slider and Rosario crushed it to left.
"Up until that pitch, I felt like I was throwing the ball where I wanted to throw it," Reed said. "Command felt fine. That last pitch was definitely the worst one I threw all inning and was pretty much the only pitch I was disappointed with. He didn't miss it. He was sitting on that mistake and he didn't miss it."
Reed has allowed two runs in each of his last three outings.
Before the game, D-backs manager Kirk Gibson said that Reed had been warming up or gotten into five of the team's last six games, but Reed said after the game that his workload was not an excuse.
"I talked to him, he wanted to pitch," Gibson said. "He's done a pretty good job and he wanted the ball tonight and it didn't work out."
Nuno, who was acquired by the D-backs from the Yankees in a July trade that sent Brandon McCarthy to New York, has pitched well enough before to get a win, and this time it seemed like he would finally get one as the D-backs used a four-run sixth to take a 6-1 lead.
Rather than fade away, Colorado continued to chip away.
The Rockies scored a pair of runs in the sixth to cut the D-backs lead to 6-3, and they plated two more in the eighth to pull to within 6-5.
"We got up 6-1 and they kept coming at us and we couldn't keep them off the board and they had a lot more pressure on us than we had on them," Gibson said. "So give them credit, they came back and beat us."
The D-backs struggled to do much damage against Rockies rookie starter Yohan Flande, who left after allowing just two hits over five innings.
The D-backs proceeded to rough up the Rockies' bullpen in the sixth, scoring four times against Tommy Kahnle and Matt Belisle.
Kahnle began the inning and did not retire any of the four batters he faced, with Aaron Hill drawing a bases loaded walk to force in a run.
Cody Ross added a sacrifice fly later in the frame and former Rockie Jordan Pacheco capped the frame with a two-run single that put the D-backs up 6-1.
"I feel sorry for V," Gibson said of Nuno. "He's pitched really good for us. He pitched good for us tonight. Bullpen just couldn't hold them."
Steve Gilbert is a reporter for MLB.com. Read his blog, Inside the D-backs, and follow him on Twitter @SteveGilbertMLB. This story was not subject to the approval of Major League Baseball or its clubs.