Rosario ignites Rockies' ninth-inning celebration
Launches two-out, two-run homer to complete comeback victory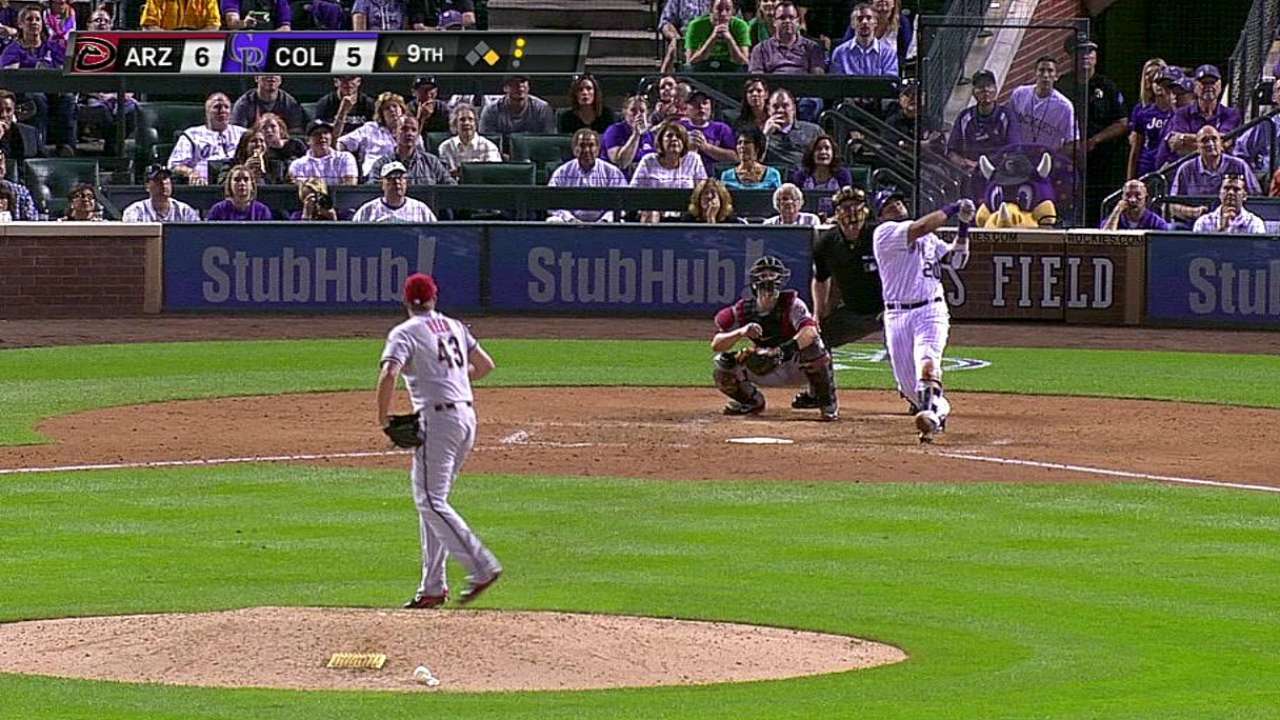 DENVER -- When Wilin Rosario saw Addison Reed's hanging slider, he "knew the ball was going to fly." What he didn't know was how good it would feel to tee off on a season's worth of frustrations.
Rosario walked the Rockies off, 7-6, with a towering, two-run shot Thursday to complete a five-run comeback against the D-backs at Coors Field. The Rockies' third straight win over a division foe moved them into a tie with the D-backs for the worst record in the National League.
Trailing 6-5, it appeared the Rockies were going to strand Corey Dickerson after he led off the ninth with a single off the bench as Reed got the next two to fly out.
That's when Rosario, having already extended his hit streak to six games, stepped to the plate.
The catcher known as "The Baby Bull" hasn't had it easy this season, landing on the disabled list twice, including an early May stint that saw him lose nine pounds from a case of the flu. His power has noticeably suffered since with just 11 homers after leaving the yard a combined 49 times in the previous two seasons.
But on the first pitch with the game on the line, he did what he did best, leaving no doubt on a 447-foot moonshot that landed on the left-field concourse.
"In that situation, you only have one option: try to hit the ball hard and see what happens," Rosario said after finishing 4-for-5 with three RBIs.
And as Rosario reached for the sky to signal for a touchdown, Reed knew what he had done.
"A terrible slider," Reed said of the deciding pitch. "A hanging slider, probably higher than belt-high. I made one mistake to Rosario and the outcome didn't turn out the way I wanted it to."
Rosario's first career walk-off homer bailed out the Rockies' bullpen after a miserable sixth inning.
Held to a strict pitch count, Yohan Flande matched D-backs left-hander Vidal Nuno pitch for pitch before being pulled after allowing two runs on two hits in five innings.
With the Rockies trailing, 2-1, right-hander Tommy Kahnle came on and let the game slip away.
Two singles and a walk loaded the bases before Aaron Hill drew a five-pitch free pass to end Kahnle's night.
Right-hander Matt Belisle did his best to bail Kahnle out, but Cody Ross' sacrifice fly and a two-run single from Jordan Pacheco built the D-backs' lead up to 6-1.
The Rockies got two back in the sixth as Brandon Barnes and Charlie Culberson each drove in runs off Nuno, who wound up departing with seven strikeouts against three runs in 5 1/3 innings.
Colorado crept closer in the eighth as four of five Rockies registered hits to begin the inning before Zeke Spruill was pulled. But after right-hander Will Harris came on and plunked pinch-hitter Charlie Blackmon, he was able to get Josh Rutledge to fly out to right to end the threat.
Right-hander LaTroy Hawkins earned the win in his 996th career appearance following a 1-2-3 ninth. Michael Cuddyer finished the evening 3-for-5 with three runs scored, including one on a second-inning solo shot that put the Rockies on the board.
Cody Ulm is an associate reporter for MLB.com. This story was not subject to the approval of Major League Baseball or its clubs.