Dodgers creep closer to playoffs with big, late rally
LA posts five-run seventh after Greinke struggles; magic number at 2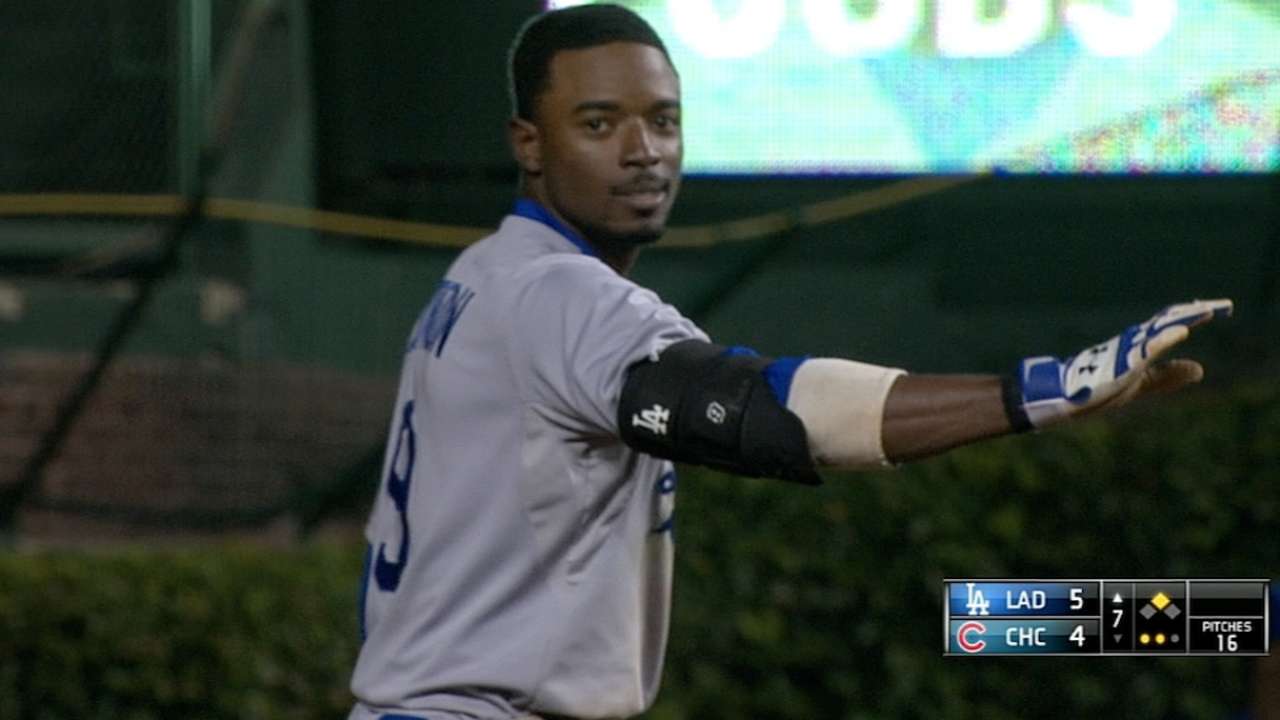 CHICAGO -- Coming from behind late as they've rarely done this year, the Dodgers produced a five-run seventh inning and pulled away from the last-place Cubs on Thursday night for an 8-4 victory at Wrigley Field.
With nine to play, they lead the idle Giants in the National League West by 2 1/2 games. The magic number to clinch a playoff spot is two -- and it is eight to win the division.
Dee Gordon broke the tie with an RBI double and Yasiel Puig chased rookie reliever Neil Ramirez with an RBI single in the inning that started with a single by Hanley Ramirez, who returned to the lineup with a pair of hits after missing two games in Colorado because of a strained right elbow. Ramirez is 10-for-19 on the trip.
"We fall behind, and the way we lost the last couple of games and with the wind blowing in, it made it seem like we were further than [three] runs down," said Adrian Gonzalez. "But we put a great rally together and came up clutch."
The rally included pinch-hitter Carl Crawford's single, a crushing error by Cubs second baseman Logan Watkins on Juan Uribe's potential double-play grounder and a clutch RBI double by pinch-hitter Andre Ethier. The tying run scored on pinch-hitter Justin Turner's groundout. Four of the runs were unearned.
"It always seems like that -- you make an error and the wheels come off," said Watkins, charged with two of the Cubs' three errors.
Puig had three hits and is batting .400 on the trip. Gordon is hitting .357 during an 11-game hitting streak. Uribe, with two hits, is batting .397 in 16 games since being activated from the disabled list. And nobody hit the ball harder than Matt Kemp, but two pitches he crushed were no match for the wind and turned into outs.
"After Matt's first rocket," manager Don Mattingly said, "the guys decided it was better to hit line drives."
All of those runs helped overcome a wobbly five-inning start from Zack Greinke, who allowed four runs on nine hits with the club desperately trying to restore order after rookie swingman Carlos Frias' record-setting, two-thirds-of-an-inning debacle at Coors Field on Wednesday. Greinke made 112 pitches, the tone set by a 31-pitch, two-run first inning. Dodgers starting pitchers have a 14.34 ERA in the last three games.
"I guess this is pretty darn big," Greinke said of the win. "By the fifth, it didn't look very good. To pull it out, it's almost like stealing a win. I don't know how many times we've done it all year."
Told the Dodgers have trailed 56 games this year after six innings, and this was only the second time they've won, Greinke said: "Really? Maybe doing it gets you going."
Paco Rodriguez, in his second appearance since being activated off the disabled list, got the win. Pedro Baez was allowed to pitch out of a tight seventh-inning jam, Brian Wilson pitched the eighth and Kenley Jansen, little used lately because of blowouts, pitched the ninth despite a non-save situation.
With a chilly wind blowing in, Greinke allowed the first four Cubs to reach base -- and committed his first error in four years on a wild pickoff -- for a 2-0 lead. Before a batter was retired, pitching coach Rick Honeycutt visited the mound as if it was Frias out there.
"I'd describe it as pretty bad fastball location," Greinke said. "I got behind in counts and wasn't able to use the offspeed."
Ryan Kalish helped Greinke with a puzzling bunt back to the mound for a force at third base before Greinke struck out Mike Olt and got Watkins on a grounder to first.
Kemp bailed Greinke out of a potential mess in the third inning, when Luis Valbuena's sharp leadoff grounder went through first baseman Gonzalez for an error. Valbuena tried for second on the play, but Kemp gunned him down for his seventh assist.
The Dodgers had their baserunning adventures -- with Gordon caught stealing in a pickoff/rundown, and Uribe thrown out on what would have been a double if he hadn't watched the ball momentarily until realizing the wind wouldn't let it clear the wall.
"We kind of shot ourselves in the foot early, but we were able to rally," Mattingly said.
Ken Gurnick is a reporter for MLB.com. This story was not subject to the approval of Major League Baseball or its clubs.