Cubs let NL West-leading Dodgers off hook
Error helps erase advantage in five-run 7th; Wada strong in final start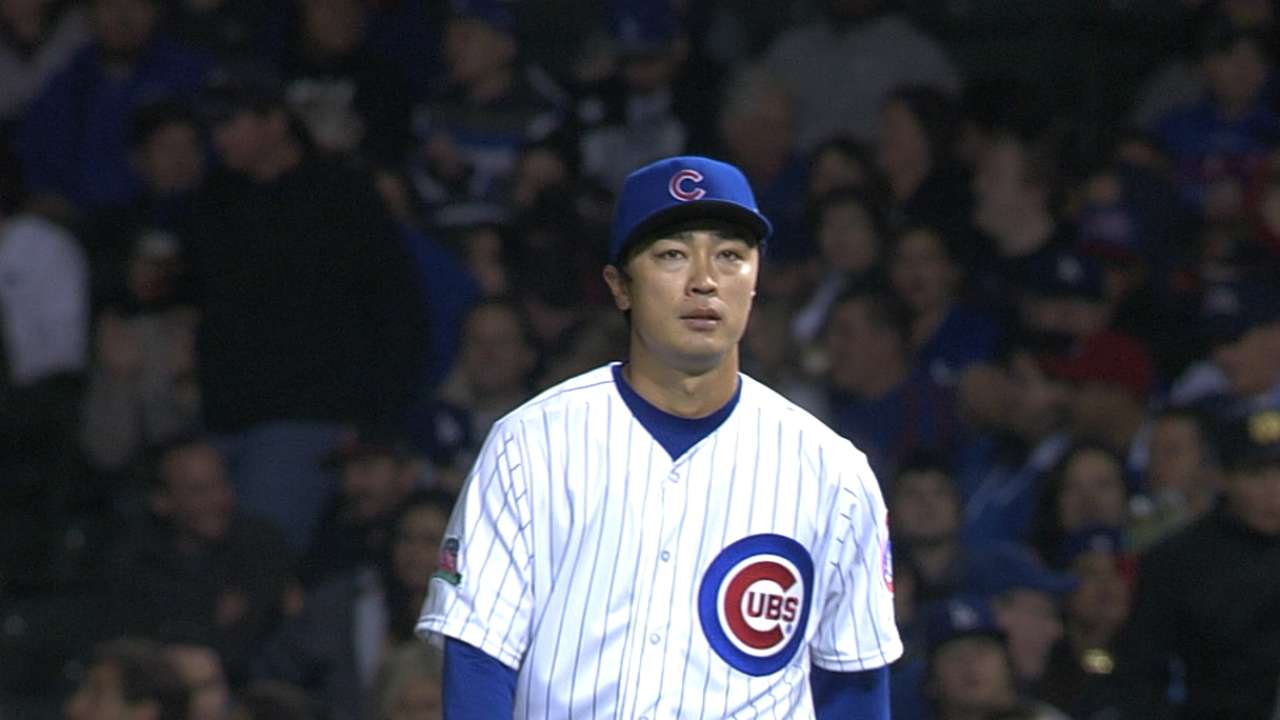 CHICAGO -- Cubs manager Rick Renteria said it was going to be a challenge to face the National League West-leading Dodgers, and it was.
The Dodgers took advantage of an error by rookie second baseman Logan Watkins to score five runs in the seventh and post an 8-4 come-from-behind victory Thursday night over the Cubs at Wrigley Field, inching closer to securing a playoff berth. Los Angeles increased its lead over San Francisco to 2 1/2 games, and its magic number to clinch a playoff spot is two.
"They hit a couple balls hard, for sure," Renteria said of the Dodgers, "but there were a couple plays we could've made."
The Cubs had a 4-1 lead after six innings, but in the seventh, Los Angeles had two on and one out against Neil Ramirez and tallied on an error by Watkins, who couldn't get a glove on Juan Uribe's potential double-play ball. The miscue was costly. Pinch-hitter Andre Ethier followed with an RBI double, and another run scored on a groundout by pinch-hitter Justin Turner to tie the game at 4.
Dee Gordon then smacked an RBI double and scored on Yasiel Puig's single to chase Ramirez for a 6-4 lead. Of the five runs off Ramirez that inning, only one was earned.
"Uribe hit a pretty hard ball, right up the middle, and the first instinct was to knock it down and keep it in front of me, and it kicked to the left," Watkins said.
Watkins also was charged with an error on a throw in the ninth that led to another Dodgers run.
"I can honestly look back and say I wouldn't have done anything different on both balls," Watkins said. "That one there [in the seventh], I didn't want it to go to the outfield. The other one, a diving play, just try to get it to first as fast as possible.
"It's baseball. I'll make more. It did [stink] because I wanted to get Neil out of that inning right there, because it was a possible double play. I wouldn't have done anything different. ... It always seems like that -- you make an error and the wheels come off."
The win snapped the Dodgers' two-game losing streak, and it was a rarity. Los Angeles now is 2-54 when trailing after six.
"I guess this is pretty darn big," said Dodgers starter Zack Greinke, who allowed four runs on nine hits over five innings while throwing 112 pitches. "By the fifth, it didn't look very good. To pull it out, it's almost like stealing a win. I don't know how many times we've done it all year."
Which is part of the reason the loss stung even more for the Cubs.
"All things being equal, we haven't had a lot of games like that," Renteria said. "The guys have been pretty good. This one just got away. It's just baseball."
Renteria said he didn't need to reprimand Watkins or shortstop Javier Baez, who also made a throwing error in the ninth.
"They know they have to make those plays," Renteria said. "The last thing I need to do is pounce on [Watkins]. ... He wants to make those plays, and I'm sure he'll tell you that he should've made those plays. The next time, hopefully, he will make those plays."
While the Dodgers are preparing for postseason play, Chicago's Tsuyoshi Wada made his last start. The Cubs want to get a look at rookie Eric Jokisch in one of their final nine games. Wada, 33, who was told Thursday was his final outing, struck out five and gave up five hits over five innings.
"He's done a nice job," Renteria said of Wada. "He's been very efficient and given us a chance every time he's gone out."
The left-hander said his hamstring has been tender and may have been a factor Thursday. He was grateful to the Cubs for the opportunity.
"If I look back personally, I feel it was a very good year in regards that the Cubs picked me up without me having any Major League numbers and gave me the opportunity to start in this big league atmosphere," Wada said through interpreter Ryo Shinkawa. "When I look back, it was a very good year."
Carrie Muskat is a reporter for MLB.com. She writes a blog, Muskat Ramblings, and you can follow her on Twitter @CarrieMuskat. This story was not subject to the approval of Major League Baseball or its clubs.