Fortuitous play helps widen Bucs' WC lead
Batted ball hits runner on third to thwart Boston's rally in ninth inning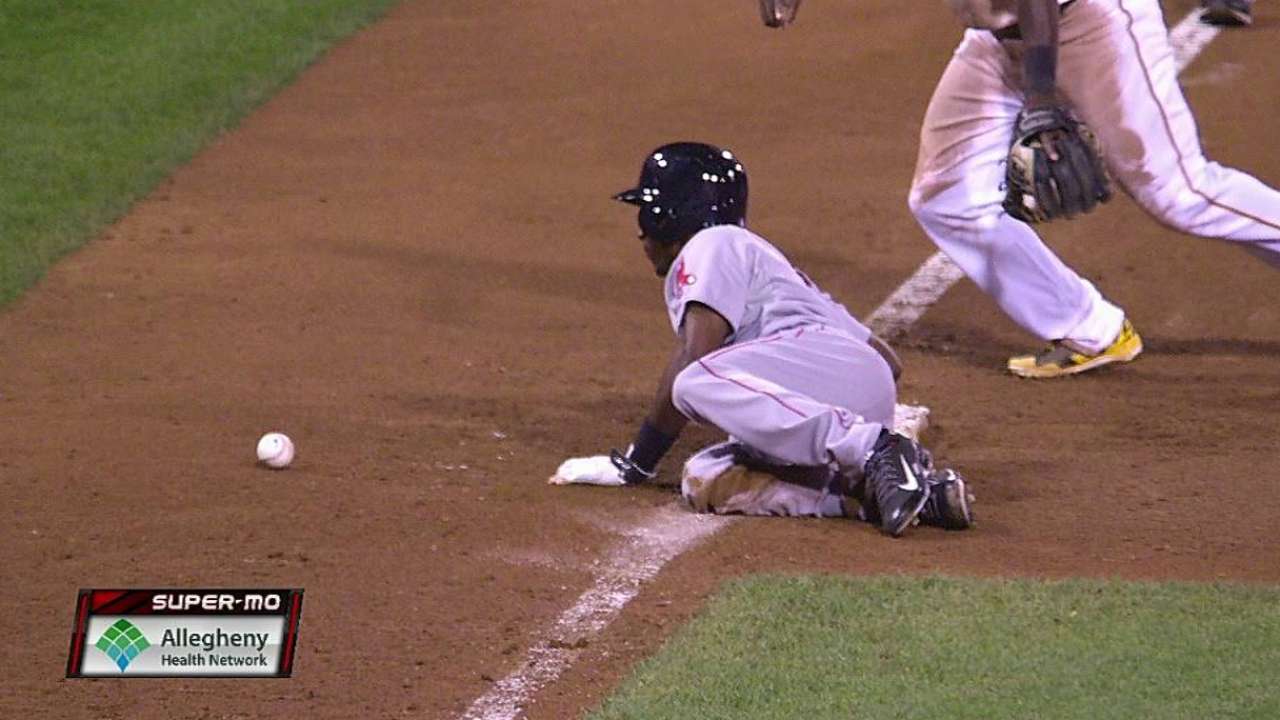 PITTSBURGH -- After yet another play to make you rub your eyes, after his Pirates' 11th win in 13 games -- and before the fill-and-bring-down-the-house home season finale -- Clint Hurdle on Thursday finally let down his guard.
No, the Pittsburgh manager did not drop words like "destiny" or "fate." Crusty baseball people don't subscribe to such things. They just have their own way of describing plays such as the one that helped the Bucs edge Boston, 3-2, to complete the Interleague sweep of the Red Sox at PNC Park.
With their win and Milwaukee's extra-inning loss in St. Louis, the Bucs lowered their magic number for clinching the National League's No. 2 Wild Card spot to 7 on the eve of a three-game set with the Brewers, now 3 1/2 games behind them. Pittsburgh also moved within two games of the Giants, who hold the No. 1 Wild Card spot, and stayed within 2 1/2 games of the Cards' NL Central lead.
"Sometimes you're just meant to win the game," Hurdle said soon after having watched the runner representing Boston's tying run -- on third base with none out in the ninth -- get himself out by diving under a batted, fair ball.
Hurdle has been there before. In 2007, his Colorado Rockies streaked into a 163rd postseason tiebreaker game against San Diego -- and won when Matt Holliday slid past catcher Michael Barrett with the winning run in the bottom of the 13th inning.
"There are people who still don't know if he was safe, don't know if he was out, seven years later," Hurdle said.
"I saw something tonight I'd never seen before," he added.
Mark Melancon had entered in the ninth, which got off to an annoying start as his 0-1 pitch barely grazed the loose jersey of Allen Craig. Still, a hit batter it was, and Jemile Weeks pinch-ran, and he was soon running to third on Daniel Nava's single.
Will Middlebrooks rolled an 0-1 pitch toward third base, as Weeks started home and Josh Harrison started charging the ball. Weeks had a change of heart.
"His first reaction was to score, and he realized, 'You know what? He's going to throw home.' And that little step he took towards home," Harrison said, "got him caught up."
As Weeks tried to get back to the bag, the ball caught up to him -- and caught him on the right leg, one bounce before it would have veered foul.
"That extra step just allowed it to hit him," Harrison said. "The next hop probably would've made it bounce foul."
"I didn't anticipate it going foul," Weeks said. "It was coming pretty much right in front of me at first, so I'm guessing the way he hit it, it kind of spun and came at me a little bit. I tried to get back as fast as I could and I didn't think it was going to come right on top of me like that."
"[Weeks] played it the right way. But that was the first time in my life I've ever seen that happen," said Boston's John Farrell, making it unanimous between the managers. "Sometimes when it rains it pours."
This cloudburst ended with Jackie Bradley Jr. striking out and Christian Vazquez rolling the 27th out to second. Melancon had his 30th save, for Gerrit Cole's 10th win.
And the Pirates remained faithful to Hurdle's "just keep playing" mandate through the first week of this final homestand. They pulled rank on some of the lesser teams in both Major Leagues. And it has gotten them here: A head-to-head with their chief postseason rivals, and a chance to kick sand in the bully Brewers' faces.
The Cole Train kept the Bucs on track for October, pitching into the eighth inning for their fourth straight victory, the seventh time they have reached that point. The Pirates now again get to try to take five.
Cole had to depart after surrendering consecutive singles to Vazquez and pinch-hitter Garin Cecchini to open the eighth. The appreciative roars of 36,862 escorting him to the dugout had to be thrilling to the ears of his grandfather, Adrian, who had come from his Detroit home to watch him pitch in the Majors for the first time.
Tony Watson entered to give up a one-out sacrifice fly to Xander Bogaerts, but ended the inning by striking out David Ortiz.
The Pirates are in their hottest stretch since a similar 11-2 run last year from June 20 through July 5. That run also involved Interleague Play, including sweeps in Anaheim and Seattle. So the Bucs have put their Interleague record of 26-14 the last two seasons to good use.
The fuel in this engine is not hard to identify. The team's two phases, hitting and pitching, have synced as they never had in the season's first four months. The Bucs' potent offense (second in scoring in the NL) has partnered with a pitching staff that has not allowed more than three runs in 19 of the last 26 games.
After Wednesday night's 9-1 letup, the pressure was dialed back up. This was more Pirates-like; nearly half of their games (74 of 152) have been decided by one or two runs.
Boston right-hander Brandon Workman gave the Bucs a leg up with a first-inning bases-loaded walk of Ike Davis. The Red Sox got that run back two innings later, on Mookie Betts' RBI single.
Chris Stewart snapped the 1-1 tie with a run-scoring single in the fourth, and Starling Marte added his 13th homer the following inning.
Tom Singer is a reporter for MLB.com and writes an MLBlog Change for a Nickel. He can also be found on Twitter @Tom_Singer. This story was not subject to the approval of Major League Baseball or its clubs.