MLB.com Columnist
Jesse Sanchez
Cuba's next big thing ready to impress scouts
Tomas, a 6-foot-4, 240-pound outfielder, will work out Sunday in the Dominican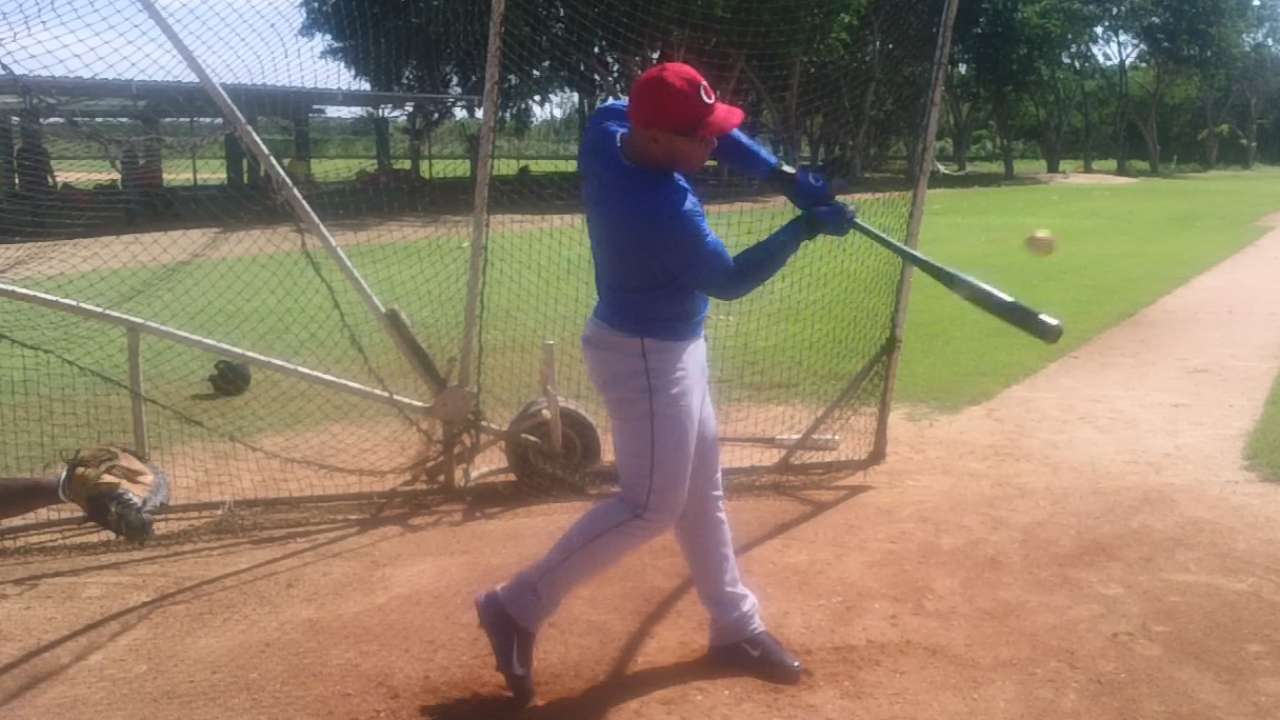 SANTO DOMINGO, Dominican Republic -- It's 12:15 p.m. in the island's capital city. It's unusually windy, and the air is extraordinarily humid because of the week's torrential rains. Cuban outfield prospect Yasmany Tomas is sitting on the patio of his trainer's home, with his cousin Yasiel Rodriguez and longtime friend Carlos Damas watching videos on his phone, and raising his arms in disbelief. Tomas covers his face with both hands.
The day's training -- a grueling six-hour workout at an abandoned academy -- starts in 45 minutes. On Sunday, the slugger will take the next big step in his journey from Cuba to the United States with his first showcase in front of representatives from all 30 Major League teams at the San Francisco Giants' academy in nearby Boca Chica, but the slugger has other things on his mind right now.
"What's his name? What's his name? You know, the one just sold to Manchester United?" Tomas says in Spanish . "Uh, uh, Angel Di Maria! He leaves Real Madrid, goes to another team and he's in every play there. C'mon, what's that about? Incredible."
Tomas mimics kicking a soccer ball. He raises his hands to a phantom crowd after scoring a make-believe goal and belts out a deep laugh. His broad shoulders move up and down as he giggles.
If Tomas is nervous about this weekend's showcase, he doesn't show it. What is clearly on display is his size -- he's every bit of the 6-foot-4 and 240 pounds that he is listed as -- and his youthful enthusiasm. The 23-year-old is already having a ball, and he's ready for the next phase of his career.
Tomas is the next top Cuban prospect, and he's expected to command a contract that rivals fellow countrymen Rusney Castillo (who recently signed a seven-year, $72.5 million deal with the Red Sox), Jose Abreu (six-year, $68 million contract with the White Sox) and Yasiel Puig (seven-year, $42 million deal with the Dodgers).
"I have expectations of myself and what I want to do in my career," Tomas told MLB.com in Spanish. "Sunday will be a new experience, but I'm ready for it. I've played in Cuba, around the world and in the World Baseball Classic against tough competition. This is a new challenge, but I look forward to that. I might be a little nervous in my first at-bat, but it's still baseball. I'll do the best and I plan on showing the scouts who I am."
The son of a fuel truck driver, Tomas is from the La Cuevita San Miguel del Padron section of Havana. He began playing baseball at age 6 with the other neighborhood children in the street, and he often tagged along with his grandfather to watch the hometown Havana Industriales play. He's one of six children, and he's arguably the funniest member of the family.
"You should hear him tell a joke or stories. He's hilarious," said Damas, who has known Tomas for 15 years. "He's always laughing. You spend two hours with him and you'll see what kind of humble person he is. The people in the United States are going to love him."
The details of Tomas' escape from Cuba remain mysterious, but here's what we know: Tomas, Damas and Rodriguez left the island in June and landed in Haiti, where he later established residency. He was unblocked by the U.S. Department of Treasury's Office of Foreign Assets Control (OFAC) last week and he is waiting to be declared a free agent by Major League Baseball.
Tomas has been running and lifting weights six days a week since he left the island almost four months ago, but rules kept him from working out on a baseball field until three weeks ago.
His daily activities now include batting cage work, live batting practice, 60-yard runs, baserunning techniques and defensive drills.
"It was really difficult to leave Cuba. It is for all us who do it," Tomas said. "But it's difficult there with the way the security is and how they control the players. I made an important decision to fulfill my dream and see if I was at the level of Major League players. Here I am, and now I go forward."
As a player, Tomas is known for his power and has a reputation for launching long home runs. But he also has a reputation for big swings and misses. Some scouts have characterized him as a "high-risk, high-reward" type of player, but nobody has seen him work out in person since he left Cuba in June.
Tomas has trimmed down and added more muscle tone since leaving Cuba. He now runs his timed 60-yard run in 6.65 to 6.68 seconds.
Back in Cuba, Tomas played five seasons for the Havana Industriales in the Serie Nacional, which means he will not be subjected to the international signing guidelines when he is declared a free agent. Overall, he hit 30 home runs with 104 RBIs in 205 regular-season games for the Industriales, starting in 2008. However, he never played more than 69 games during the Serie Nacional's 90-game regular season and did not play during the 2010-11 season.
"My dream was always to play with the best players in the world," Tomas said. "Everyone knows there is good baseball in Cuba, but Major League Baseball is the top level in the world. Everybody wants to play there."
Tomas said he fell in love with Major League Baseball after watching the 2003 World Series between the Yankees and the Marlins, and he wanted to be just like Miguel Cabrera. He also considers Toronto's Jose Bautista and Seattle's Robinson Cano among his favorite players to watch.
"Sunday is my chance to show Major League organizations that I can be a player," he said. "There have been a lot of good Cubans to come here and I hope to follow in their footsteps. I know I can do it."
Jesse Sanchez is a national reporter for MLB.com. Follow him on Twitter @JesseSanchezMLB. This story was not subject to the approval of Major League Baseball or its clubs.