Rangers set at second base with 'hard-nosed' Odor
Profar's potential return in 2015 could give Texas plenty of depth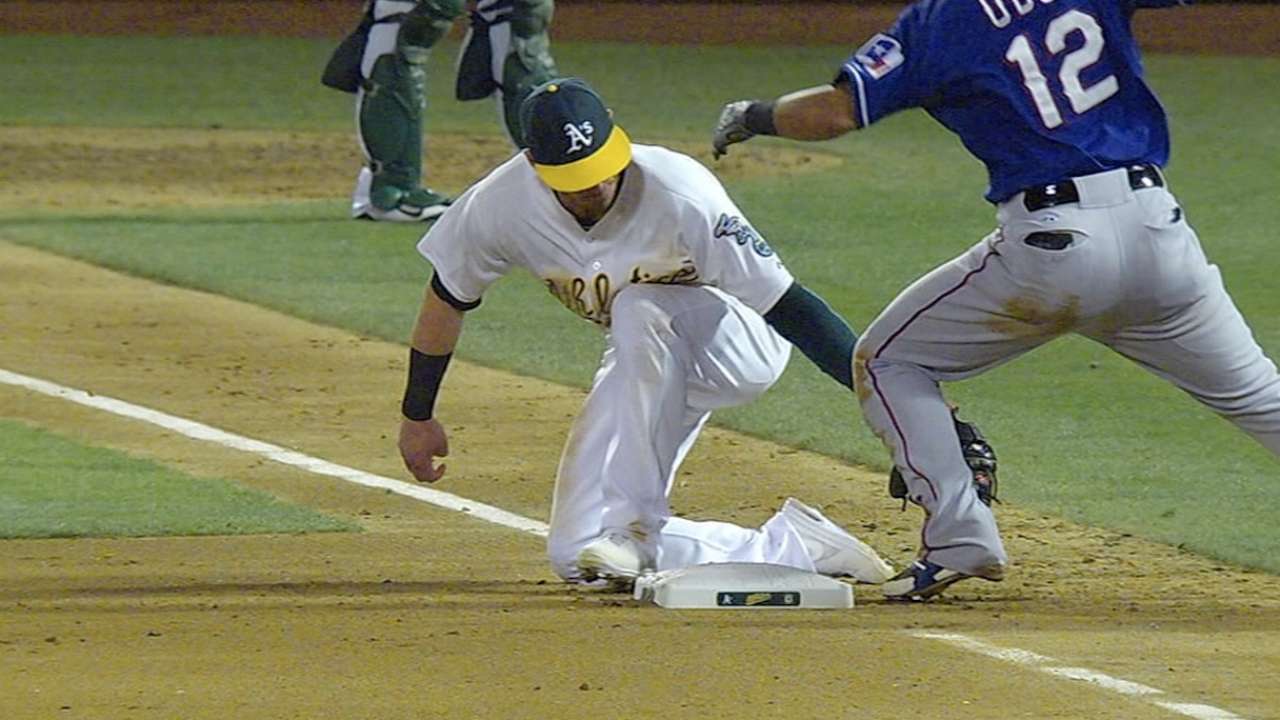 OAKLAND -- The Rangers have a lot of questions for next season. Second base may not be one of them.
Rookie second baseman Rougned Odor may have provided a convincing answer to that question. He has handled himself well at the plate, improved significantly on defense and impressed people with the fire that he plays with as a rookie.
"He's got a great grit about him," manager Tim Bogar said. "He's a hard-nosed player who wants to win and compete in everything he does. That drives him to win and be better than the other guy. He has baseball [smarts] and applies the things he learns to his craft. That's why he's going to be a good player."
Odor, a left-handed hitter, has struggled against lefties this season, hitting .228 against them. But he had a big hit off a left-hander on Wednesday. With the Rangers down to the A's, 1-0, Odor came to the plate in the ninth inning with Elvis Andrus on first and one out. Facing left-hander Sean Doolittle, who has held lefty-swinging hitters to a .127 average, Odor belted a double to deep left-center that tied the game.
"I faced him before," Odor said. "I know he throws a lot of fastballs. I was looking for it and hit it good."
The Rangers' injuries have forced some of their young players into tough positions. Odor is starting to be used in the No. 3 spot in the order, a place normally reserved for a team's best hitter. Prince Fielder was Texas' No. 3 hitter at the beginning of the season.
But Odor is finishing strong. He went into Thursday's game hitting .333 with two home runs and 10 RBIs in his last 16 games.
"I think he's starting to feel better about his at-bats," Bogar said, "When you do that, you feel good about yourself. Every at-bat he has had in the last 3-4-5 games has been a quality at-bat, and that gives you confidence going forward."
Jurickson Profar was supposed to be the Rangers' second baseman this season, but he has been sidelined with a torn muscle in his right shoulder. Texas is hoping he'll be at full strength next season, but he may find a road block at second base. Odor is showing that he belongs in the big leagues, even though he had to make a quick jump from Double-A.
"They've known me for four years," Odor said. "They know how I play. They know everything. They know I play hard every day, I'm a good teammate and I help my team win."
T.R. Sullivan is a reporter for MLB.com. Read his blog, Postcards from Elysian Fields, and follow him on Twitter @Sullivan_Ranger. This story was not subject to the approval of Major League Baseball or its clubs.