Gordon using all tools to fuel Royals' playoff push
Sensational defense, strong arm, clutch hits have left fielder in AL MVP race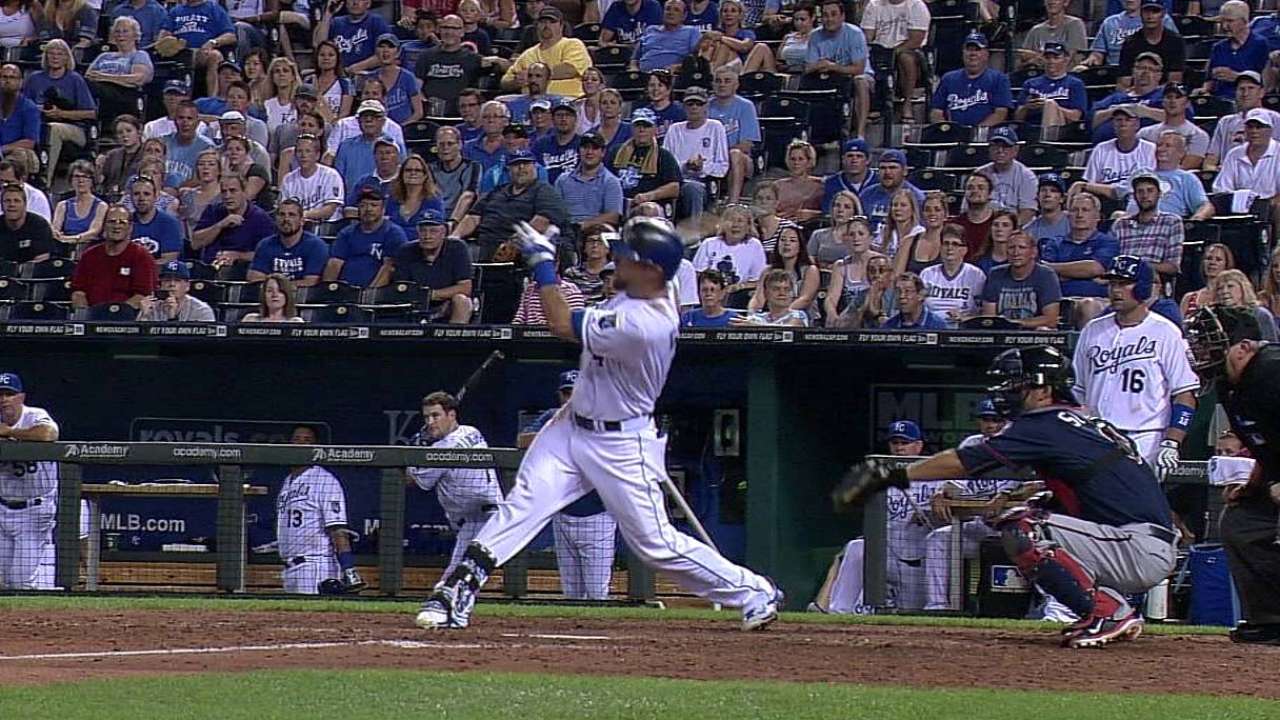 There are countless figures and anecdotes that underscore Alex Gordon's brilliance in left field -- like his Major League-leading 64 outfield assists since 2011, or Royals outfield coach Rusty Kuntz's proclamation that Gordon might be the best left fielder he's seen over roughly 35 years around MLB.
As a massive home series with the Tigers looms, one could even point to the integral role Gordon's exploits in left have played in the Royals heading into the final week-plus of the season just a half-game behind Detroit in the American League Central.
But to best appreciate Gordon's defensive genius and exceptional athleticism, look no further than a sly, innovative trick of his that eschews outfielder fundamentals.
When a baseball is hit down the line, Gordon often will field it, and instead of setting his feet and using a crow-hop to get power on his throw -- like most outfielders are taught -- he'll simply gather the ball and throw in one motion, a maneuver fit for an infielder.
This occurred on Aug. 26 when the Twins' Brian Dozier smacked what appeared to be a standup double down the left-field line. Somehow, Gordon got to the ball in foul territory and, using a jump throw, made it a close play.
"When it's down the line, my whole goal is to keep him at first," Gordon said. "I just put my head down and run as hard as I can to wherever I think it's going to be, and [I] get it and let go of it as quickly as I can."
Did Gordon learn this jump throw from Kuntz?
"Heck no!" Kuntz said. "But think about it. Where's his background? Third base. Ball down the line, he comes up -- whether it's the right foot or the wrong foot, I don't know. But when he does quick things like that, they remind me of when he played third base."
Gordon echoed this sentiment: "I think third base helped me with that, the quick release and the footwork."
The athleticism displayed on that play helped for a seamless transition from the hot corner to left field in 2011.
Gordon now profiles as the best defensive left fielder in the game on one of the best defensive clubs in MLB -- a factor the 30-year-old saw as paramount in Kansas City's chase for its first playoff appearance in 29 years.
"All nine guys take a lot of pride in it," Gordon said. "I think [general manager] Dayton [Moore] has built this team around pitching and defense, and really every position is really solid."
But no position is as solid as left field, where fangraphs.com credits Gordon with a 21.8 Ultimate Zone Rating, a figure that blows away his positional brethren. The next closest left fielder is Christian Yelich, at 13.8.
Kuntz sees some of these metrics and knows they derive from the full package Gordon possesses -- namely his strong, accurate arm; his infielder-like fielding instincts; and his range, akin to that of a center fielder's.
The defense gets most of the attention, but an indelible offensive moment helped insert Gordon's name into the AL Most Valuable Player Award discussion when he enthralled Kauffman Stadium with a walk-off home run in late August against the Twins. The Angels' Mike Trout seems like the safe bet to take home the award, but Gordon should contend this year after never finishing higher than 21st in the voting.
Gordon's .269/.351/.438 slash line is nothing to scoff at, but it's also not necessarily in line with a traditional MVP candidate's offensive numbers.
However, as Kuntz described, the concept of a traditional MVP candidate -- where average, home runs and RBIs reign supreme -- is being uprooted for a more all-around approach that encompasses defensive-minded players like Gordon.
"It's not just across the board where you go, 'OK, here's all the offensive numbers, who've you got for MVP?'" Kuntz said. "It's an accumulation of a lot of other things, and that's why I think -- even if his numbers don't stack up necessarily to a lot of those other guys -- the other things that he does are probably even more important than just walking up there and hitting a home run all the time."
While Gordon fights for AL MVP Award votes, prepares for arguably the biggest series of his eight-year Royals career and looks to end the longest postseason drought in the four major professional sports leagues, he also finds time to mentor outfielder Lane Adams, a September callup from Double-A Northwest Arkansas.
From the day Adams arrived in Kansas City on Sept. 1, Kuntz sent the rookie to study under Gordon, who's known for his meticulous preparation and care for his body.
"Rusty sat me down and said to me, 'Here's what you're going to do: first round of BP, you're going to stand behind Gordo. Stand on the warning track, get out of his way and just watch him take batting practice,'" Adams recalled.
Kuntz assigned Adams to Gordon because of the rarefied air in which he holds the left fielder.
"The best I've ever had," Kuntz said. "Period. As far as left fielders go, he's No. 1. That's the best left fielder I think I've ever seen. For sure, the best I've ever coached."
Jackson Alexander is an associate reporter for MLB.com. This story was not subject to the approval of Major League Baseball or its clubs.