Inbox: How can club improve next season?
Beat reporter Rhett Bollinger answers Twins fans' questions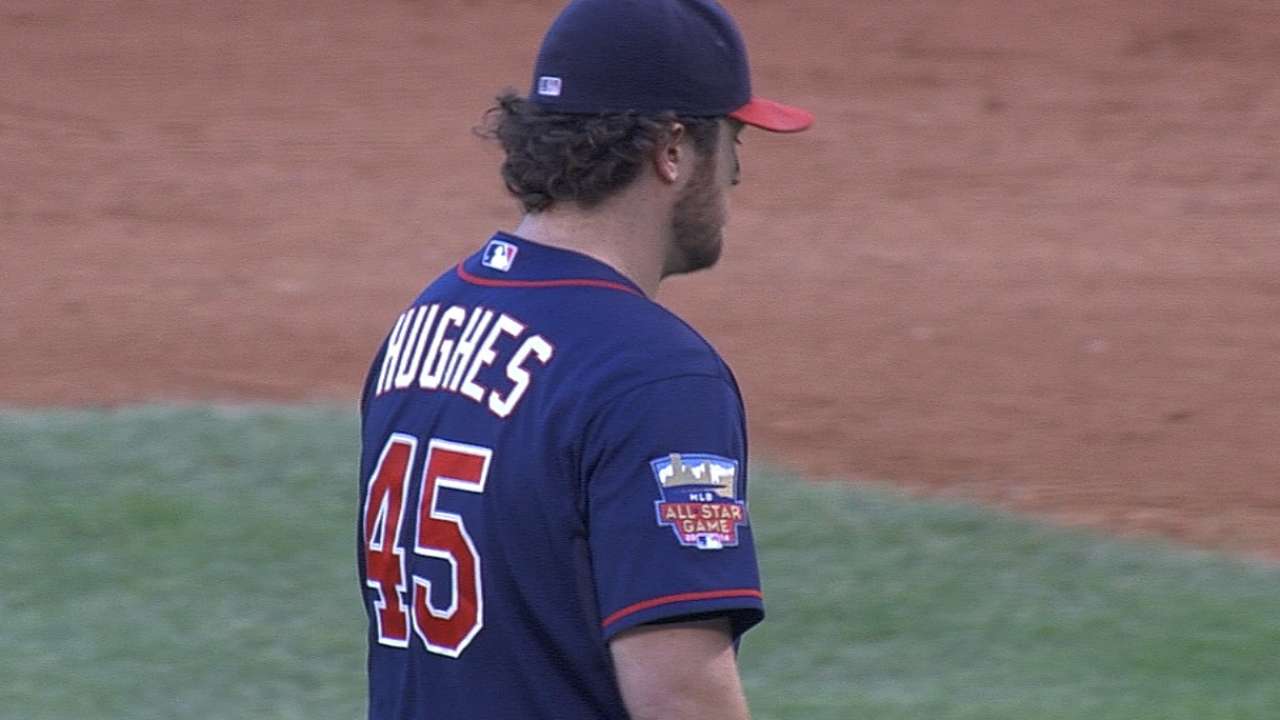 MINNEAPOLIS -- The Twins' season is winding down, and the club is heading toward a fourth straight season with at least 90 losses.
Minnesota hung around .500 through most of the early part of the season and entered the All-Star break at 44-50, but the club has gone just 21-37 since and is 65-87 with 10 games to go.
It's been another trying year for the Twins, and there remain several questions about what they need to do to turn it around. So with that in mind, here's the final Inbox of the regular season:
What's been the biggest reason for the Twins' struggles this year? It just seems like they can't put it all together. When the pitching is good, they can't hit. And vice versa.
-- Barry L., St. Paul, Minn.
Starting pitching has been the club's biggest issue for four years now. Twins starters have combined for a 5.08 ERA that ranks as the worst mark in the Majors this season. Minnesota also ranked last in that category last year with a 5.26 ERA.
Phil Hughes has been the only consistent starter throughout the year, while Kyle Gibson has been mostly solid but has struggled recently. Ricky Nolasco has looked better of late, but it doesn't mask his 5.34 ERA in 25 starts in the first season of a four-year, $49 million deal.
The bullpen also hasn't been as good as it was last season, posting a 3.82 ERA after a 3.50 ERA in 2013. It's led to a few late-inning meltdowns .
It's hard to blame the offense, as the Twins rank sixth in the Majors with 670 runs scored. It's a marked improvement over last year, when Minnesota scored just 614 runs to finish 25th in the Majors.
So it's obvious the Twins need to upgrade their rotation next year, which leads right into the next question.
What areas do you expect the Twins to address via free agency or trade this offseason?
-- Pat O., Minnetonka, Minn.
The Twins aren't likely to be big players in free agency -- at least for position players -- because they have so many top prospects coming up.
Minnesota has Trevor Plouffe at third base, with Miguel Sano waiting in the wings, while Byron Buxton is the center fielder of the future despite Danny Santana's emergence. Santana is likely to move back to his natural position of shortstop to share time with Eduardo Escobar, who could move into a super-utility role.
Joe Mauer is firmly entrenched at first base, as are Brian Dozier at second and Kurt Suzuki at catcher. Kennys Vargas has played well enough to get a shot at designated hitter, while Oswaldo Arcia figures to be in right field.
The only position they could really look to upgrade via free agency would be left field, but they could just opt to use Jordan Schafer and Aaron Hicks there. Former Twins outfielder Michael Cuddyer could be an intriguing target for a corner-outfield spot, but it's just speculation on my part at this point.
So really, the Twins should be looking to add a top-tier starter and perhaps some bullpen help for next year. Minnesota has been hesitant to spend top dollar for an ace, and the commitment to Nolasco hasn't panned out so far. But that shouldn't stop the club from trying to sign an elite starting pitcher to help anchor the rotation along with Hughes.
Hughes, Nolasco and Gibson figure to be among the starting five, and the Twins have several other candidates to fill in the rotation such as Tommy Milone and Mike Pelfrey and prospects Trevor May and Alex Meyer.
But Minnesota should take a hard look at some of the top options on the market such as James Shields, Jon Lester and Max Scherzer. Given the Twins' history, it might be unlikely they'll do it, but they have the payroll flexibility and starting pitching is a clear need.
Why does Rick Anderson keep getting a pass year in and year out for how poor the starting pitching is? Most coaches have been rearranged, or reassigned during these losing years, except for him.
-- Ryan R., North St. Paul, Minn.
The short answer is there is only so much a pitching coach can do with the talent he's given. The Twins' rotation has struggled over the last four years, but Anderson hasn't exactly had many top arms to work with.
I get the frustration when Minnesota fans see pitchers such as Francisco Liriano and Vance Worley depart and have success elsewhere, but Anderson also deserves some credit for his work with Hughes this year and even for helping Glen Perkins develop into a top closer. So in that sense, it goes both ways. Anderson isn't the problem, as it's been more about a lack of talent in the rotation over the last four years than anything.
Santana has been having a great year. What do you think his chances of winning Rookie of the Year are?
-- Scott M., Los Angeles
In other years, Santana could've had a real chance to win the American League Rookie of the Year Award, but he has no chance their year with the kind of season Jose Abreu is having with the White Sox.
But Santana figures to get some support and could finish within the top three in the balloting. He's been one of the club's best hitters, with a slash line of .324/.360/.484, while also filling in capably in center field despite playing out of position. Santana figures to be a big part of the Twins' future whether he moves back to his natural shortstop position or sticks in center until Buxton is ready.
Rhett Bollinger is a reporter for MLB.com. Read his blog, Bollinger Beat, and follow him on Twitter @RhettBollinger. This story was not subject to the approval of Major League Baseball or its clubs.