MLB.com Columnist
Megan Zahneis
Reds, MLB planning to make 2015 All-Star Game a hit
Club and league working hard behind scenes to showcase Cincinnati in July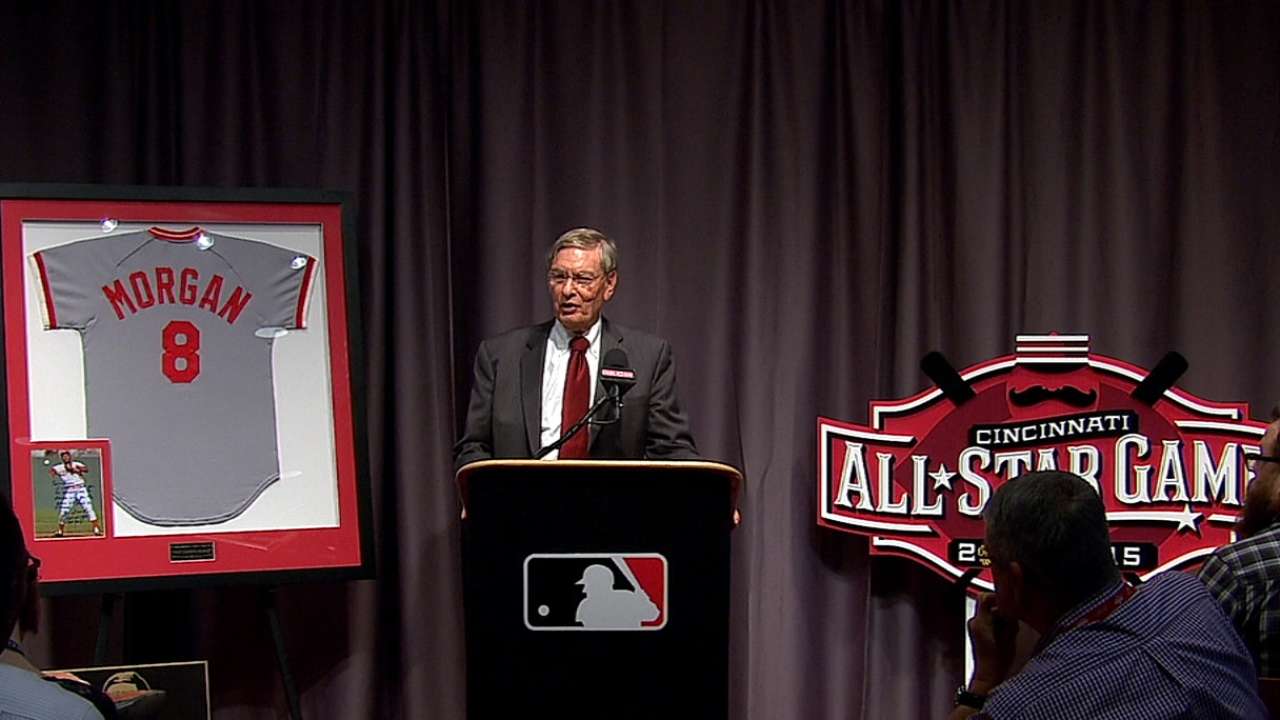 While the Reds would certainly prefer to be gearing up for October baseball as well, the club and Major League Baseball have started planning for the 2015 All-Star Game, which will be held in the Queen City on July 14. While most of us probably aren't counting down the days for something that's still nine months away, MLB senior vice president of special events Marla Miller is.
"I oversee the operational and logistical planning for jewel events, primarily All-Star, postseason, World Series as well as other events and meetings and initiatives that baseball determines that they are going to support throughout the season," Miller explained.
And while her job entails many things, the All-Star festivities are chief among them. That means that Miller and her team have been preparing for the 2015 All-Star Game since Commissioner Bud Selig awarded it to Cincinnati on Jan. 23, 2013.
The process goes something like this.
"Once the Commissioner officially awards a club and a host city the All Star Game, my team starts working hand-in-hand with the host club to start to lay the groundwork for the planning and implementation of the multiple events," Miller said. "This August, we unveiled the Cincinnati 2015 All-Star logo, and in September, [we have] the first large-scale meeting that is represented by the various departments who contribute to all of the plans and activities of All-Star [Week].
"It's special events, it's design services, it's sponsorships, it's marketing, it's community, it's broadcasting, it's international, it's MLB.com, it's MLB Network. Everybody comes in to meet with the club and their counterparts."
That first meeting took place earlier this week in Cincinnati.
But before any of this could happen, the hotels had to be booked, convention centers reserved, parade routes plotted and events planned.
"[We are] responsible for getting all of the assets that we need to showcase the game, Home Run Derby, as well as All-Star Sunday [including the Celebrity Softball Game and Futures Game], the Red Carpet route, and hospitality elements to host 5,000 people, most often nearby the ballpark or a few blocks away," Miller said.
No pressure.
"It's very important to not only create the very best All-Star experience that we can for the fans, as well as the club, [but] that we stay on target for what's important to baseball," Miller explained. "We have a large community program, and a lot of the community programs are part of the legacy that we leave behind after we've hosted; we make sure that our national sponsors have an opportunity to activate on a world stage as well as locally.
"And we try to create as many activities inside and outside of the ballpark so that we can have 250,000-300,000 fans share in some All-Star experience over the course of the five days that we are there [in a city]. … We want to showcase the best of baseball, and we want to make sure we leave a lasting legacy in the city that is hosting and supporting us to host the game. At the same time, we're trying to make sure everything we do is available to as many people as possible that are either in the city or the surrounding region."
Miller is no newbie to this type of large-scale event planning. She has been heading up MLB's special events department since 1998, and she worked in other roles for MLB and the NFL prior to that.
Yet the challenge grows as the years pass.
"Over the years, it has become not just a game, it has become multiple full days of events and activities," she said. "It extends well beyond the game. It's an All-Star experience that's been created, so you have the opportunity to be part of something that is a once-in-a-lifetime experience as a fan."
Every year -- and every new venue -- brings its own set of challenges and opportunities for Miller and her 14-person special events crew.
"Every city has its own personality," explained Miller, "and sometimes we have the benefit, as we do in Cincinnati, that the ballpark is downtown and is an easily accessible walk from the hotels and the various areas to the ballpark. When you are in a city as spread out as New York, you have a challenge to create the same type of environment that you could in a smaller city like Cincinnati or Minneapolis or St. Louis. So we try to take a look at the city that is hosting and make sure we understand what the challenges might be."
In past years, Miller has had to contend with crowded space around the ballparks -- which makes setting up ancillary events, like a block party or broadcast location, difficult -- as well as make tough decisions on factors like outside vendors and suppliers.
The biggest curveball of all? That'd be Mother Nature herself.
"The only real challenge that we always have a game plan for is the weather. The weather is a factor in everything we do," Miller said. "We're a summer sport. Even if we are in a city with a stadium that has a roof for the ballpark events, we have plenty of other events that are outside, and it's always a concern if the weather is not good. We have a rain plan so that we are as least-impacted as possible."
So, what kind of unique logistical challenges will Cincinnati present as a host city?
So far, so good, as it turns out.
"Right now, we don't have very many," Miller said. "We have the hotel properties, we have the convention center, we have the ballpark, we have a lot of the major venues on hold. We have the support of the mayor and the city council representatives, the county. And we have a very rich history and tradition of the Cincinnati Reds, which is great for us -- as well as having Great American Ball Park host for the very first time. My feeling is that they are going to do a first-class job.
That doesn't mean there won't be any challenges along the way.
"Promoting all of the events so that everyone in the community and region has an idea of what they can be involved in [is difficult]," Miller explained. "Obviously, not everyone can go to the All-Star Game. But over the years, we've gotten very aggressive to package things so that even though you're not a sports fan, you could participate in something. You could go to a free concert. You could be a runner in the All-Star-themed run. You can walk downtown and go into an interactive area and be part of a block party. You could come out and see the greatest players in our game showcased on the Red Carpet in a way that no other sports league has done before.
"It's about accessibility, but also promoting the game on a world stage outside of the market that is hosting … to watch the game on FOX, to watch the Home Run Derby on ESPN and the Futures Game and Red Carpet Show on MLB Network. We have become more of a global event. This past year, the game was broadcast in 223 countries and we had 60 broadcast outlets in Minneapolis. We credentialed over 3,000 writers, so it's big!"
So these words of Miller's, then, ring especially true:
"I used to say it takes a village, but it really takes a city to pull off what we have grown into as All-Star Summer, All-Star Week and the All-Star Game."
Cincinnati, you're up.
Time to deliver in the clutch.
Meggie Zahneis, winner of the 2011 Breaking Barriers essay contest, earned the job of youth correspondent for MLB.com in the fall of '11. This story was not subject to the approval of Major League Baseball or its clubs.