Washington reveals reason for his resignation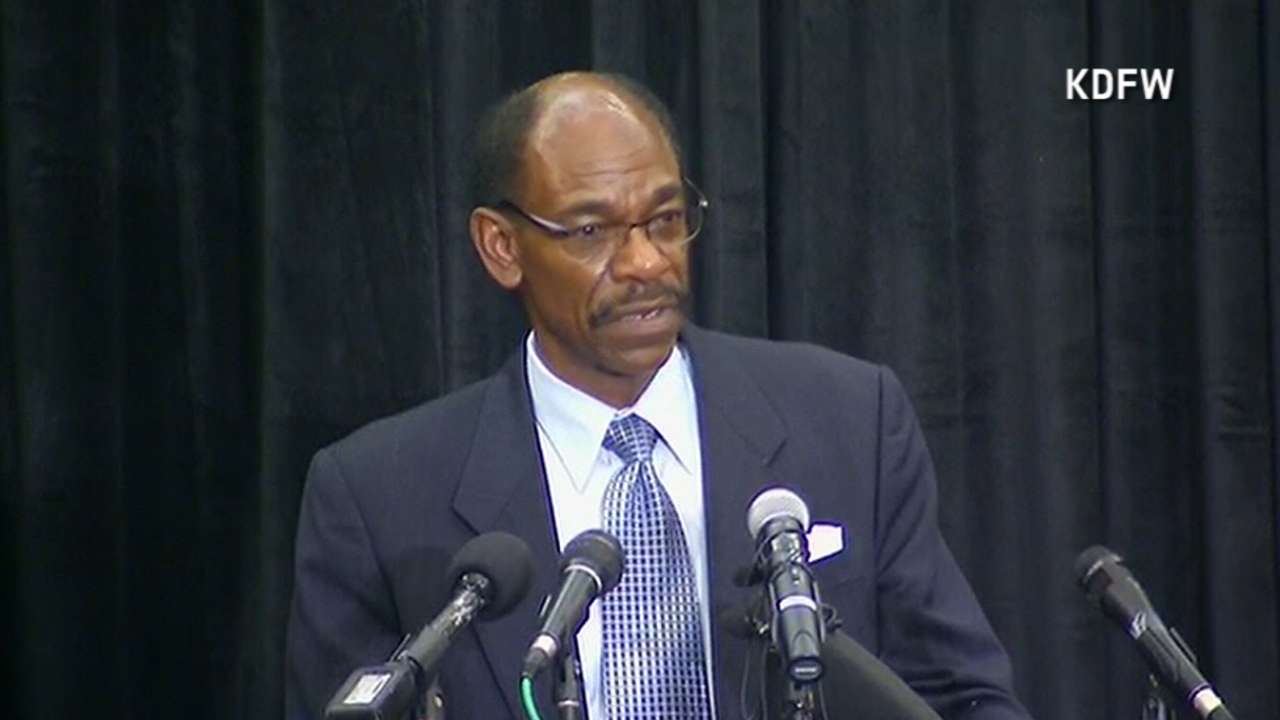 IRVING, Texas -- Almost two weeks after he abruptly resigned without explanation, former Rangers manager Ron Washington broke his silence in a brief, apologetic statement Thursday, saying only that he left the team because he "was not true" to his wife, Gerry.
In a hotel ballroom filled with more than 50 media members, Washington strode to a podium while his wife of more than four decades took a seat at the side of the room. Washington then delivered a three-minute, 30-second statement and didn't take questions.
"I made a mistake and I'm embarrassed more than I've ever been in my life," said Washington, who resigned on Sept. 5. "I don't run when I make mistakes. When you put yourself in situations, you own it. Those are the types of things that my wife always says to me.
"I was not true to my wife after 42 years. I broke her trust. I'm here today to own that mistake and to apologize to her and to those I disappointed and those who have trusted in me. I let them down. ... Today I'm at a very low time in my life. I'm sorry for breaking the trust that I had with my wife and for disappointing my players, for disappointing my coaches, for disappointing Major League Baseball and for disappointing the Texas Rangers."
Washington was the most successful manager in Rangers franchise history, going 664-611 (.521) in 1,275 games over almost eight seasons. He led Texas to back-to-back American League championships in 2010 and '11. Prior to managing the Rangers, Washington was an assistant coach for the A's for 11 seasons. As a player, he appeared in 564 games over 10 seasons.
Washington, 62, said he hopes to be back in baseball soon.
"I was born to be a baseball player -- I'm a baseball lifer," Washington said. "The Rangers gave me a home, and I'm thankful for that and also thankful for the experience to have the opportunity to manage here in Texas. I look to the future and getting back in the game and continuing my career."
The Rangers did not elaborate Thursday on their original statement regarding Washington's departure.
"Ron Washington resigned as Rangers manager in order to turn his full attention to addressing an off-the-field personal matter," the Rangers' latest remarks read.
In his short statement, Washington talked about going to the Mexican League as a young player and sharing his progress with Gerry.
"I remember calling my wife and letting her know that I feel like I have arrived and I have figured this game out," Washington said. "... I did tell her to quit her job. It was a really proud moment for me and it was something that I'll always remember and she's always stood by me."
Washington closed his statement with a "final thanks to the fans" in Texas.
"You've been good to me, and I will miss the Metroplex and I will miss you," he said.
Dave Sessions is a contributor to MLB.com. This story was not subject to the approval of Major League Baseball or its clubs.