Loss to Rangers drops A's to second Wild Card spot
Four-run first inning creates too big a hole for Gray, Oakland offense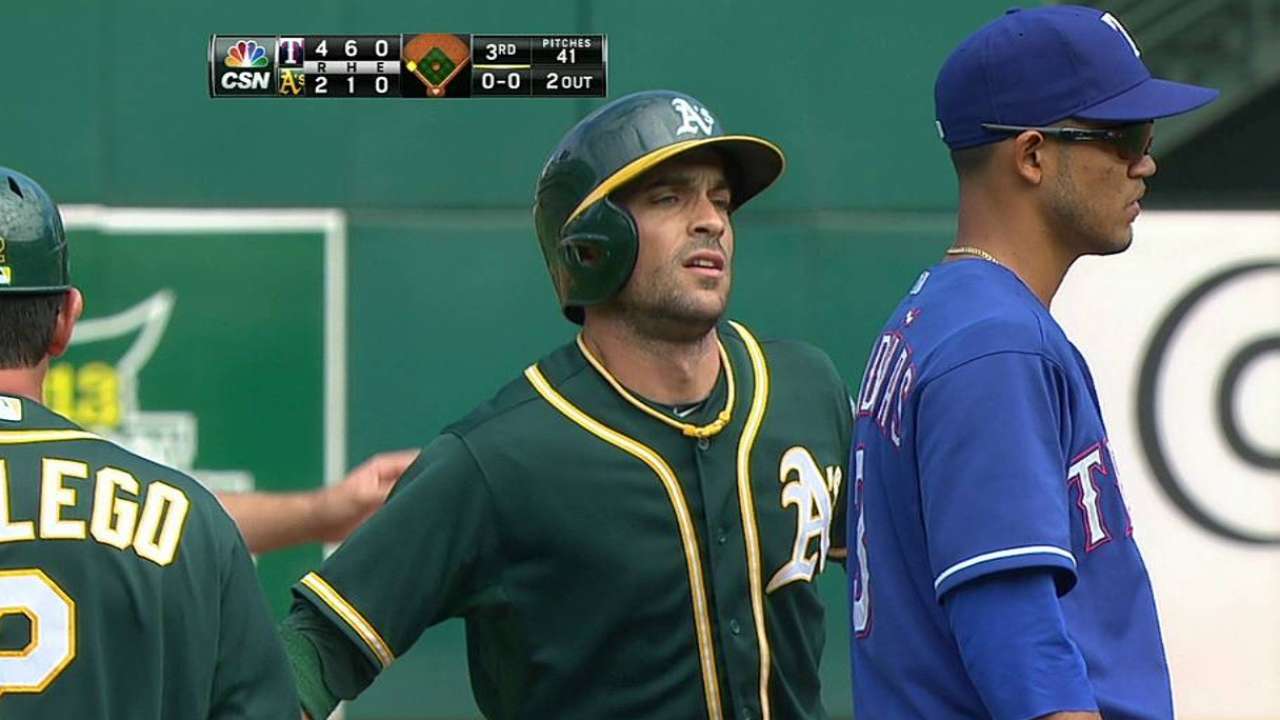 OAKLAND -- This was supposed to be a historic season for the A's -- just not like this.
They shouldered baseball's best record for nearly the entirety of the first half, sent more All-Stars (seven) to Minnesota than any other team and, for good measure, added another to their roster in Jon Lester not long after. But, on Thursday, less than 24 hours after a ninth-inning collapse and officially surrendering the American League West, they lost grasp of the next best thing -- the top AL Wild Card spot -- with a 7-2, series-sweeping loss to the Rangers at the Coliseum.
"When you're in a race, it's supposed to be fun. But I don't see anyone in this clubhouse having any fun," said Brandon Moss, "because it's not."
Their downward plunge in full free-fall mode, reaching deeper depths by the day, the A's are now 32-37 since the All-Star break, 17-28 since the Lester trade and 11-25 dating to Aug. 10, when they held a four-game division lead. Amazingly, they still hold a 1 1/2-game lead over the Mariners for the second AL Wild Card, not that they've fought for it.
That, too, could fall from their hands just as quickly as the division did.
"Every day we're talking about how we're still in the Wild Card, we're still in first in the Wild Card," said manager Bob Melvin. "All that's moot unless we start to play better. We'll find ourselves in no position if we continue to lose, so it's all about tomorrow's game."
"The good thing is we're still in a position to make the playoffs," said Jed Lowrie. "We just need to forget what's happened and try to hit the reset button, take a deep breath and move forward."
The A's need more than a short memory in their final 10 games. They were outscored by the Rangers, who carry the Majors' worst record, by a 19-6 margin, and they have managed two runs or fewer in nine of their last 19 games.
It would be easy to connect the departure of Yoenis Cespedes in the Lester trade to such a disastrous about-face. But this collapse has been a complete team effort, for the bullpen, too, has endured its share of woes at times, much like the defense has.
Cespedes' absence undoubtedly weakened the lineup, but the A's also crowded the trainer's room while watching several of their leftover healthy players, notably Moss and Derek Norris, endure sudden, prolonged slumps. Along the way, the A's stopped scoring, leaving their envied pitching staff little margin for error.
At this time of year, when inning totals are reaching or surpassing the 200-mark, they could use some wiggle room. Sonny Gray needed plenty of help on this day, allowing the Rangers four runs (three earned) on five singles in the first inning before settling down to get through five.
"I just dug us in a hole a little bit too deep," said Gray. "If you give up four in the first, nine times out of 10 you're not going to recover.
"Today was just -- just ugly, it was bad."
For a second straight day, Sam Fuld was responsible for the A's only runs, notching a two-run triple in the third off starter Nick Martinez to pull within two. But, these days, such small deficits are out of reach for these A's, who went 1-for-9 with runners in scoring position.
Alas, they take home another loss -- and, with it, growing despair.
"It's not easy, and I think we've had some carryover," said Lowrie. "But for us to accomplish what we want to, it's going to have to happen sooner rather than later.
"Every team goes through a little funk, it seems, and we don't have much more time to get out of this."
"We're pretty frustrated," said Moss. "We're disappointed. But it's not over, and we know that. I think we're definitely pressing to right the ship. You can see it in our demeanor, in the way things happened. But you're danged if you do, danged if you don't. If you go out there and look like you're just having fun, then you look like you don't care. But obviously we do, and it's just been frustrating."
Jane Lee is a reporter for MLB.com. This story was not subject to the approval of Major League Baseball or its clubs.