MLB.com Columnist
Phil Rogers
Hawk, Stone provide soundtrack to Aoki's big series
White Sox announcers perplexed by Royals outfielder's 11-for-13 performance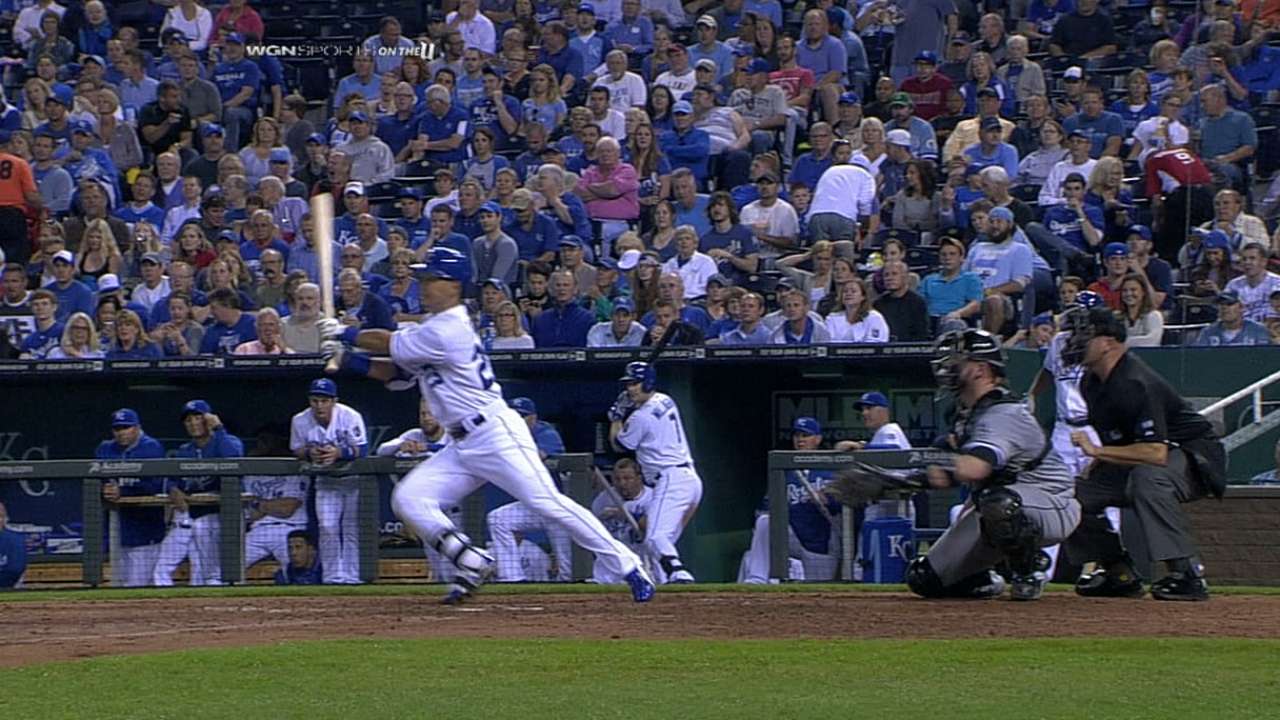 Like Justin Bieber and Taylor Swift, the hits just kept coming for Nori Aoki.
The wily little right fielder was a ridiculous 11-for-13 with two walks to help the Royals take two out of three from the White Sox, moving K.C. within one-half game of the Tigers in the American League Central and into a tie with the A's for the top AL Wild Card spot. Aoki collected hits off six Chicago pitchers in the series to set a Kansas City record for most hits in a three-game set, and there wasn't a line drive in the bunch.
After rookie Chris Bassitt shattered Aoki's bat on a single that carried just over the infield on Tuesday, the White Sox broadcast team marveled at Aoki's success.
"Aoki now is 20-for-42 against us [this year]," Ken "Hawk" Harrelson said.
"Pretty amazing," said Steve Stone, "because I'm not sure he's hit any of them hard."
"I'm just trying to think, and I can't come up with one."
"Little loopers, little grounders."
"Ducksnorts."
Harrelson and Stone had a point -- at least in this series. Aoki's collection of hits against the White Sox included two infield singles, three bloop singles, five ground balls that found holes and one chopper over the infield.
They were the kind of hits that made pitchers hate facing Pete Rose and Wade Boggs, the ones that showed good things can happen when you get your bat on the ball. That's always been a beautiful thing about the game -- although that beauty is, of course, in the eye of the beholder.
Here's a rundown of Aoki's 11-hit series, with the soundtrack provided by Hawk and the Stone Pony.
MONDAY
• First inning, one out, nobody on, facing John Danks: Walk
• Third inning, man on first, two outs, facing Danks: Infield single to third base on a check swing
Steve: "An excuse-me swing and it keeps the inning alive."
Hawk: "And you can cancel the postgame show."
• Leading off the sixth inning against Danks: Ground-ball single up the middle, past Danks
(Before Aoki settled into the box, there was an exchange between the broadcasters.
"Three-nothing, good guys, bottom of the sixth inning on what has been a cloudy day in Kansas City," Harrelson said. "But the temperatures have been very comfortable. Starting to get a little chilly, 65 when the first pitch was thrown. Supposed to get down into the 50s. I think something similar for tomorrow as well."
"Tomorrow's supposed to be a sunny day," Stone said.
"My thing said cloudy. I have a couple new apps that are pretty good, My Radar and, of course, Bing. But my Weather Channel thing said cloudy. Hmmm.")
Hawk: "So here we go. Aoki, a walk, an infield, check-swing, excuse-me little ground ball down the third-base line, and that's the only hit they have. … And now, the only two hits."
Steve: "Aoki has had a lot of success against left-handers this year. One of the things he does is he stays around, chokes up on the bat and guides it right back through the middle. John reaches back with his pitching hand and cannot flag it down."
• Leading off the eighth inning against Zach Putnam: Infield single on a check swing, with third baseman Conor Gillaspie throwing wild to first trying to get Aoki.
Steve: "Aoki, perfect night tonight. He walked in the first, a couple of base hits in the third and the sixth. The outfield fairly shallow and straight away."
Hawk: "A contact-type hitter, a walk, a check, excuse-me-type swing, dribbler down the third-base line and a chopper up the middle. There's another excuse-me, but he throws it away."
Steve: "He had him if he gets off a good throw, but that being said, it will probably be a base hit and E-5, but we'll wait for the official scorer. It is a base hit and an E-5. … He had some time but threw it into the ground."
• Two outs, 3-3 tie, nobody on base in the ninth, against Jake Petricka: Opposite-field grounder just inside third base for a double, which would set up the winning run to score in dramatic fashion.
Hawk: "Aoki, 3-for-4 tonight, 3-for-3 with a walk. … And there's a double, just inside the line. His 20th two-bagger."
Steve: "Four hits tonight for Aoki. That fastball [was] right down the middle of the plate. The ball hit right inside the bag."
TUESDAY
• Facing Bassitt, first inning, nobody on: Groundout to shortstop Alexei Ramirez, whose throw barely beats Aoki to first.
• Third inning, man on first, no outs, facing Bassitt: Broken-bat single to right on a hit-and-run.
(Before that sequence, as Bassitt faced leadoff man Alcides Escobar, a resumption of Monday's conversation about the weather.
"Beautiful day here in Kansas City, beautiful night," Stone said. "Temperature in the low 70s."
"Just what my weather app said," said Harrelson.
"It said to stay in your room because you might get rain on your head."
"That's exactly what it said, and that's exactly what I did."
"It couldn't have been a better day … And he lost [Escobar], and it's a baserunning situation.")
Hawk: "Beautiful evening, beautiful evening here in the heart of Middle America. There he goes. And there's a broken-bat base hit. That's a typical Aoki hit right there. Escobar is sitting on third."
Steve: "That's absolutely the way Ned Yost has to work this offense. They have a few contact hitters. They have a lot of speedy baserunners. If you put them on, you're going to wind up in trouble. There's a hit-and-run. There's a shattered bat. And with runners on the corners, middle of the order coming up, this is dangerous for Chris Bassitt."
• Fourth inning, two outs, man on first, facing Bassitt: Opposite-field bloop single
Hawk: "And here is Aoki. … And that changeup just popped out there into left field. This man against us gets the softest base hits maybe of anybody I've ever seen."
Steve: "He just reaches out -- you're not going to strike him out too often -- and puts the bat on the ball. Runners at the corners, two outs."
• Sixth inning, man on second, one out, facing Matt Lindstrom: Opposite-field bloop single to drive in a run
Starts off hitting a line-drive foul.
Hawk: "Aoki has two hits tonight, four hits last night. Finally hits one hard, but it's foul."
Steve: "I don't know how he grounded out the first time up tonight."
Then. Crack of the bat.
Hawk: "And it's a 5-4 Kansas City lead."
Steve: "RBI 38, seemingly most of them against Sox pitching. And this is another attempt at a slider low and in, but he doesn't let it get there. Unbelievable run for Aoki."
• Eighth inning, two outs, nobody on, facing Ronald Belisario: Single grounded up the middle.
Hawk: "3-and-0, come back and get him. There's one. … Another base hit. Eight hits. Eight hits in this series."
Steve: "It's pretty amazing. You would think that one of these would go at somebody, but they haven't. "
WEDNESDAY
• First inning, one out, nobody on base against Chris Sale: Double, grounded just inside first base.
Steve: "Aoki can lay 'em down, and you might think against Chris Sale that's his game plan, but they're very close on the corners."
Hawk: "All he is is 8-for-9 in the first two games. [He's] 8-for-9, and only one of those hits may -- just may -- [hurt you] if it hit you. … And that's yanked. When you're hot, you're hot. So he will pull up with a double."
Steve: "One of the reasons why [Jose] Abreu was off the line is you never figure Aoki is going to pull the ball against Chris Sale. Sale got this ball inside, but not inside quite enough, and Aoki takes it right down the line."
Hawk: "Now 9-for-10."
• Third inning, one out, runner on first, facing Sale: single chopped over Gillaspie's head at third.
Hawk: "Look at this. When you are hot, you are hot. Wow. Wow."
Steve: "The sad part about this is you have to play a little shorter at third than you normally would, and when you do, this little bouncer goes right over the head of Conor Gillaspie."
Hawk: "So he is now 10-for-11 in the series."
• Fourth inning, two outs, nobody on base following Escobar's home run, facing Sale: Single swatted softly to center field.
Steve: "That will bring up Nori Aoki, who has swung a magic wand in this series. He's 10-for-11, tying him for the all-time record in any series … the all-time record as far as the Royals are concerned. When you're tying anything George Brett did, you're doing a pretty good job of it."
Crack
Steve: "He's now 11-for-12, that gives him the all-time Royals record in any series. It's been absolutely amazing to watch, because he's done it up the third-base line on a squibber, down the third-base line, broken bats, that one into center field, and he's 3-for-3."
• Sixth inning, two outs, nobody on, facing Maikel Cleto: Walk
• Eighth inning, one out, nobody on base, facing Lindstrom: Groundout to Gillaspie.
In the background, the Kauffman Stadium crowd is chanting "Nori, Nori, Nori."
Hawk: "That is sucked up, so two outs."
Steve: "A standing ovation for Aoki and what he accomplished in this series."
Hawk: Silence
Phil Rogers is a columnist for MLB.com. This story was not subject to the approval of Major League Baseball or its clubs.