Hot corner belongs to Gillaspie on South Side
Third baseman entrenched at position after strong '14; Davidson to continue development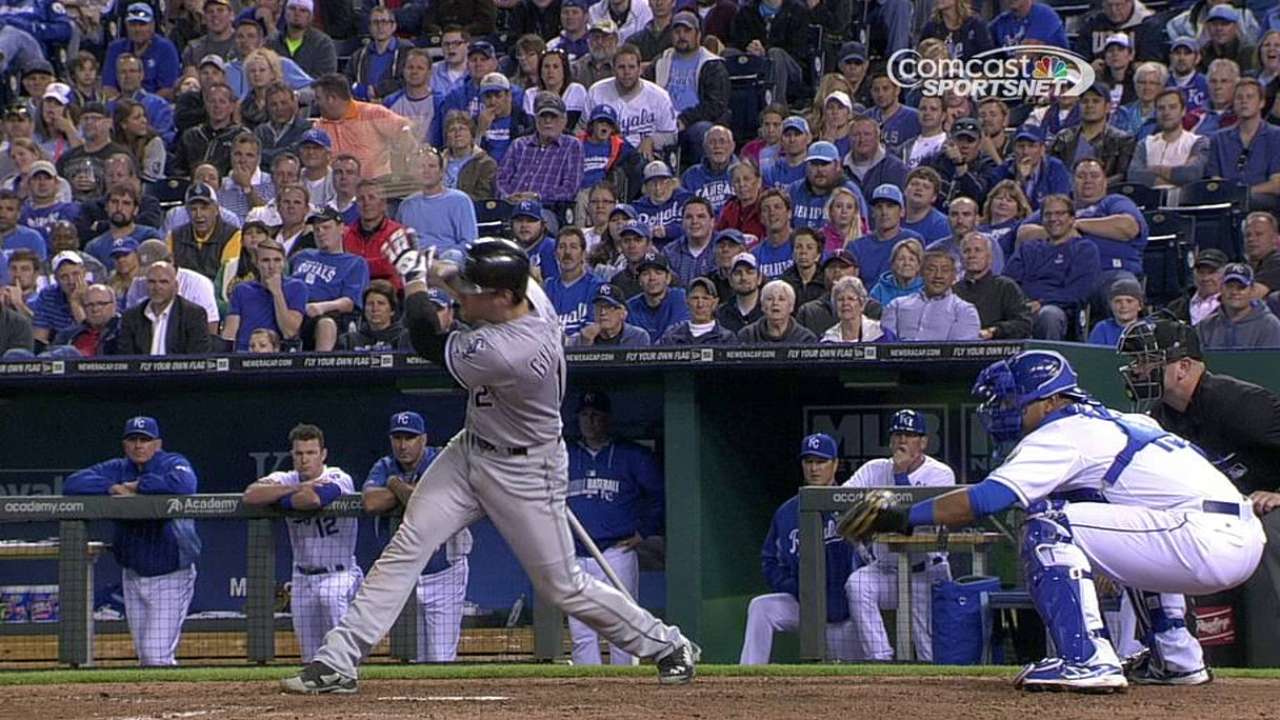 CHICAGO -- When the White Sox acquired Matt Davidson from the D-backs in exchange for closer Addison Reed last offseason, they appeared to have their third baseman of the future, and maybe even the present.
But with 10 games remaining in the 2014 regular season, it looks as if that position belongs to Conor Gillaspie, the same individual who hit .245 over 452 plate appearances for the team in '13. Gillaspie became more of a full-time option by improving his offensive numbers across the board, aside from a small drop in home runs.
Gillaspie's average stands at .290, and it sat at or above .300 from Opening Day through Aug. 29. The White Sox always have liked the easiness and fluidness of Gillaspie's swing, which has produced 31 doubles, five triples, seven homers, 57 RBIs, a .771 OPS and a .324 average with runners in scoring position. He has line-drive, gap-contact power that could put him anywhere in the lineup.
"You look at his numbers compared to third basemen across the league, and he measures up against just about all of them, from an offensive standpoint," said White Sox general manager Rick Hahn. "Defensively, I think he's improved as well. The kid works extremely hard, and it's paying off for him."
"The more you play up here, the more difficult it gets, truthfully for me anyway. Especially if you can hit at all, it gets harder," Gillaspie said. "Most days are grind-for-your life days in baseball terms. Just fighting and scrapping. You have some times where everything goes well, but the rest of the time, it's pretty much just fighting, fighting, fighting, fighting. Try not to give too many away."
No tougher critic existed for Gillaspie than Gillaspie himself in his first big league season, and that fact remains true at a more comfortable level in his first season as an everyday player. As Hahn pointed out, though, Gillaspie trails only Adrian Beltre among American League third basemen average-wise. He ranks among the top five in doubles, triples, on-base percentage and slugging percentage.
Gillaspie plans to take the first month after the 2014 season and replay bits and pieces of what happened before trying to figure out what he needs to do to get better as a player. That plan worked well for Gillaspie going from the '13 offseason into the present campaign.
"I try not to dwell on those things I know I succeeded at," Gillaspie said. "I prepare myself for the following year in the offseason: just little bits and pieces at a time. I'm always going to be the guy that prepares as much as anybody at this level."
"We are fully comfortable going into next year with Conor at third base," Hahn said.
Where does that team confidence in Gillaspie leave the 23-year-old Davidson?
The left-handed-hitting Gillaspie has posted a .310/.369/.462 slash line over 342 at-bats against right-handed pitching, while producing a .223/.250/.320 slash in 103 at-bats vs. southpaws. There's certainly room for a right-handed hitter to work in at third base, and while that hitter could be Davidson at some point, there is nothing guaranteed for the White Sox eighth-rated prospect per MLB.com.
Davidson hit 20 homers and knocked in 55 runs for Triple-A Charlotte, but he also batted just .199 with 164 strikeouts over 478 at-bats. This subpar showing came after Davidson hit .308 during Spring Training.
"Matt would be the first to tell you it was a disappointing year," Hahn said. "He obviously wasn't able to pick up where he left off at the end of Spring Training, at which time we got a little bit of criticism for not breaking camp with him since he looked so good the last few weeks. You are still talking about an extremely talented kid, who is one of the better third-base prospects in the game at the end of the year.
"That ability doesn't just evaporate. We still very much believe in his upside. This year highlighted for Matt some of the areas in which he needs to improve, and some of the areas we talked about with him in need of refinement."
Hahn explained that Davidson was working with a timing mechanism in his swing back in Glendale, Ariz., and got locked in pretty well during those final few weeks of March. It got away from him for whatever reason at Charlotte, and once Davidson got deeply derailed, it takes a little time to get back on track.
"He heads into the offseason with fairly specific goals in terms of where he needs to get better," Hahn said. "He's still very young with a significant amount of upside, although based on the year, you don't head into the offseason penciling him in come Opening Day 2015 because of the season he had. He still can very easily work himself into our long-term plans over the coming year."
With Gillaspie entrenched at third base, Davidson has time to fix what ails him.
"Again, he gets it," said Hahn of Davidson. "He's a talented, talented kid. It's unfortunate the year went the way it did, but at the same time, he can learn from it. And in the long run, it will hopefully make him better."
Scott Merkin is a reporter for MLB.com. Read his blog, Merk's Works, and follow him on Twitter @scottmerkin. This story was not subject to the approval of Major League Baseball or its clubs.