Britton becomes unlikely rock at back of bullpen
Left-hander's rise to ninth-inning prominence a big reason for O's winning AL East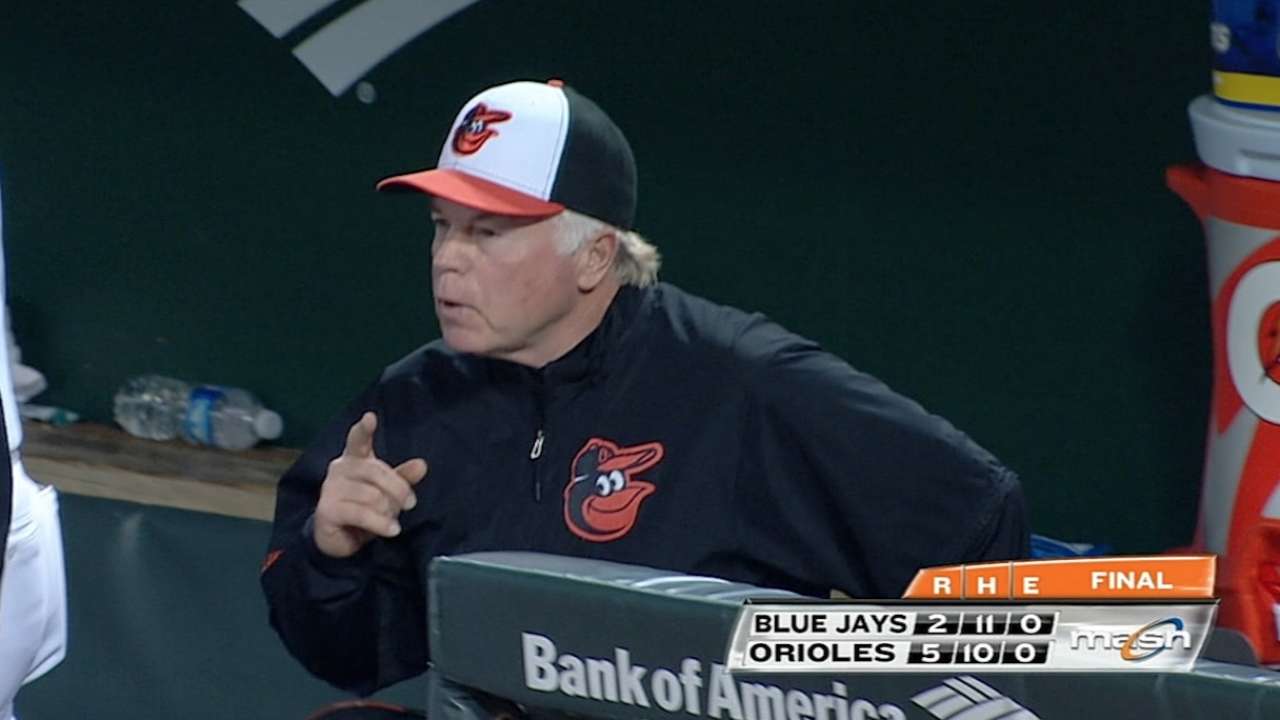 BALTIMORE -- Last winter, the idea of Zach Britton closing games for the Orioles was comical. Even to him.
Britton -- who spent the offseason working out near his California home with vice president of baseball operations Brady Anderson -- was out of options and had a career 4.86 ERA as a big league starter. He was just trying to get healthy and make the team. If not with the O's, another club perhaps. But the 26-year-old was throwing significantly harder, and one day during offseason workouts, Anderson started spitballing: how hard did he think he could throw for one inning? Could he maintain his stuff?
"That was probably the only time anyone had ever mentioned [closing]," Britton said Monday, hours before converting his 35th save for the now American League East champion Orioles. "We were kind of joking about it. How funny it would be. And I guess here we are now. I'm closing games. Kind of funny how it works out."
There is, it seems, a certain karma among the baseball gods that manager Buck Showalter references often. But humor? Perhaps only on this O's team, where the improbable -- Steve Pearce's 20 homers -- and the unpredictable -- late acquisitions Kelly Johnson and Alejandro De Aza having big roles -- collide into one cohesive unit of overachievers.
And perhaps Britton is the most important of them all.
Since taking over the closer role on May 15, the lefty has allowed 12 earned runs in 51 games, good enough for a 2.12 ERA. Britton has struck out 43 and walked 15 while holding opponents to a .187/.253/.269 slash line. And he's done it almost exclusively on one pitch.
"The other pitching coaches in the league call it the turbo sinker," first-year pitching coach Dave Wallace said of Britton's trademark pitch. "Because it's 95, 96 [mph] with great sink -- late, quick."
Britton has thrown that sinker 891 times this season, according to fangraphs.com, with another 22 fastballs likely not generating enough movement to be categorized as his two-seamer. Beyond that? Britton has thrown 82 sliders -- a pitch that's evolving slowly with help from teammate Brian Matusz -- and one changeup.
The singular focus is exactly what Wallace and bullpen coach Dom Chiti drilled this spring using a plate with a pair of strings and a moveable target. Britton did bullpen session after bullpen session off to the side of the regular work sessions, with one string at the top of the strike zone and one at the bottom. The theory was simple: if he could command his sinker in a short stint to both sides of the plate, why would he need anything else?
"It narrowed his focus, and I think made him understand how important it was," Wallace said of the string strike zone that forced Britton, who could get overly anxious before starts, to zero in on one square. "He'd back off and try to start talking and we'd say, 'No, let's just do this one thing and do it well.' And he did that. And Dom was on him in Spring Training. He was probably over there every other day."
Britton was also the Orioles' most consistent pitcher in camp, treating it more like a showcase in the scout-filled seats and less of a headache wondering if he still fit in the O's plans. The strings, coupled with getting stronger last winter thanks to Anderson's workouts and a weighted-ball program, had Britton deeply entrenched in Baltimore's Opening Day plans. That power sinker was a natural fit for the ninth inning when the need arose, though Britton never had an idea it was coming until the afternoon of his first save in Kansas City.
"He comes off the field after a save and I say, 'Nice going,' and walk on to the next guy. But where would we be without him?" Showalter said of Britton, whose favorable ground-ball rate has taken all the drama out of the ninth inning. "To have that anchor at the end, it really brought everything kind of ... it made it fit."
Britton has four blown saves this season, never in back-to-back tries, a telling stat for a first-year closer. He approaches each one as simply a bad inning, almost a starter's mindset, a mentality that has been enforced by Wallace and Chiti. Britton knows that when his sinker is on, he doesn't need another pitch. But Britton, who has made tweaks to his slider with Matusz's help, is making an effort to mix in his offspeed stuff to up the ante for opposing hitters.
"It's going to be difficult to do with one [pitch] all the time," Wallace said of Britton's success rate. "But if somebody was going to do it with just one, it'd be him, because it's that good.
"He's starting to learn how to use his breaking ball. ... When he adds that to his repertoire and knows when to do it, it's going to be pretty special."
Britton was among the Orioles who paid homage to late public-relations director Monica Barlow during the club's clinching celebration on Tuesday night, offering up a toast among the champagne-filled chaos.
No stranger to loss, his childhood friend Sandi Stephens was killed by a drunk driver on May 28, 2007. Britton and Showalter had some heart-tugging conversations amid Tuesday's celebration. As the O's skipper would say, Britton gets it.
"I try to not assume anything," said Britton, who still warms up in the sixth inning and doesn't approach the closer role as if it's his. "I think that's how you get in trouble -- you just assume you're the guy here or there. I'm ready for the seventh, eighth or ninth inning. If Buck needs to use me earlier, I'm ready. I try not to think, 'I have this or that.'"
Brittany Ghiroli is a reporter for MLB.com. Read her blog, Britt's Bird Watch, and follow her on Facebook and Twitter @britt_ghiroli. This story was not subject to the approval of Major League Baseball or its clubs.