Inbox: How's Tampa Bay's bullpen shaping up for next season?
Beat reporter Bill Chastain answers questions from Rays fans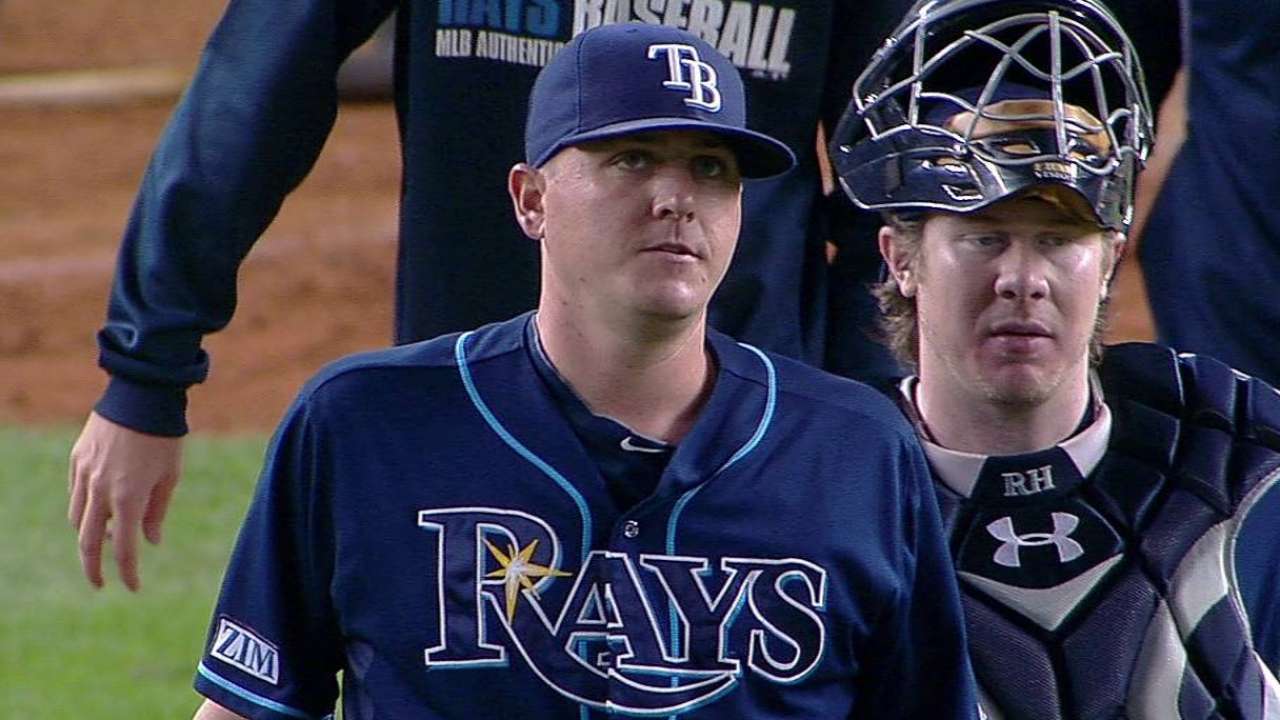 "Jake and The Box" -- Jake McGee and Brad Boxberger -- have done a great job this season, which is a development that came after Joel Peralta and Grant Balfour didn't exactly distinguish themselves. How do you see next year's bullpen shaking out?
-- Sam J., Brooksville, Fla.
Good question. Based on how the season is wrapping up, I would be surprised to see anything besides McGee as the closer and Boxberger as the top setup man. However, there's cause to believe that Balfour can make a successful comeback from a disappointing season, and he'll surely be given the chance based on the fact that the Rays are on the hook to pay him $7 million next season. Tampa Bay has an option of $2.5 million for Joel Peralta's services for 2015, so the club will have to make a tough call there. Meanwhile, plenty of other candidates will be in the mix like Brandon Gomes, Cesar Ramos, Jeff Beliveau, Steve Geltz, C.J. Riefenhauser and Kirby Yates, to name a few.
I'm disappointed in Ryan Hanigan this season. I thought he was going to be the answer at catcher. Are the Rays going to be happy to run him out there again next season with Molina as his backup? Why don't they trade for a better catcher? It's frustrating to watch.
-- Bill R., Tampa, Fla.
First, unless Molina decides to retire, it's likely he'll again be the team's second catcher in 2015. Hanigan isn't going anywhere, either, since he's signed through 2016 with an option for '17. I would expect to see Hanigan catch more games in 2015, which is contingent upon him remaining healthy. Based on the number of games Hanigan missed this season, I don't think you can entirely judge what he did. As for trading for a better catcher, I'll quote a scout who told me: "There ain't no Johnny Bench out there." And if there was, I don't believe the team that had him on its roster would be willing to make a trade, do you?
With Matt Moore coming back next season, why don't the Rays trade Jeremy Hellickson for a power hitter?
-- John H., St. Petersburg
I don't look for the Rays to head into the offseason looking to trade any of their pitchers. Having a wealth of young starters is the strength of the organization, and you saw what happened this year when they got a little thin in their starting rotation. So I believe that Tampa Bay will be perfectly happy to head to Spring Training with the likes of Cobb, Archer, Odorizzi, Smyly, Hellickson, Moore (though he won't be back until late May or early June), Alex Colome and Nathan Karns competing for five spots. And like my previous remarks about catchers, there aren't a lot of quality designated hitters for sale. And if they were, they would be expensive. Finally, manager Joe Maddon likes to rotate the position to allow players a day away from playing defense.
Jake Odorizzi seemed to make strides this season. With Matt Moore coming back and Nathan Karns and Alex Colome on the horizon, how do you see him fitting in with the Rays in the future?
-- Baily H., Clearwater, Fla.
Odorizzi did make great strides this season. After battling to win the fifth-starter spot in Spring Training, the right-hander struggled to begin the season, going 2-6 with a 5.31 ERA in his first 12 starts. After that, Odorizzi just seemed to get it, navigating the strike zone with expertise -- and generating a lot of swings and misses without an overpowering fastball. In short, he showed he knows how to pitch, and he showed he belongs.
Wil Myers doesn't look like the same player he was last season when he won the American League Rookie of the Year Award. What happened to him this season? And what are the Rays' future plans for him? They sure seem to have a lot of outfielders.
-- Don N.
While Myers did struggle, keep in mind he was not healthy for much of the season. He injured his left hand in the sixth game of the season, then he went on the disabled list after fracturing his right wrist. Based on what I saw in 2013, I expect Myers to return to form next season, giving the Rays a legitimate power threat in their lineup.
Bill Chastain is a reporter for MLB.com. This story was not subject to the approval of Major League Baseball or its clubs.