Voice actor DiMaggio joins 'Express Written Consent'
'Futurama' star sounds off on his career, love for baseball while taking in recent Dodgers game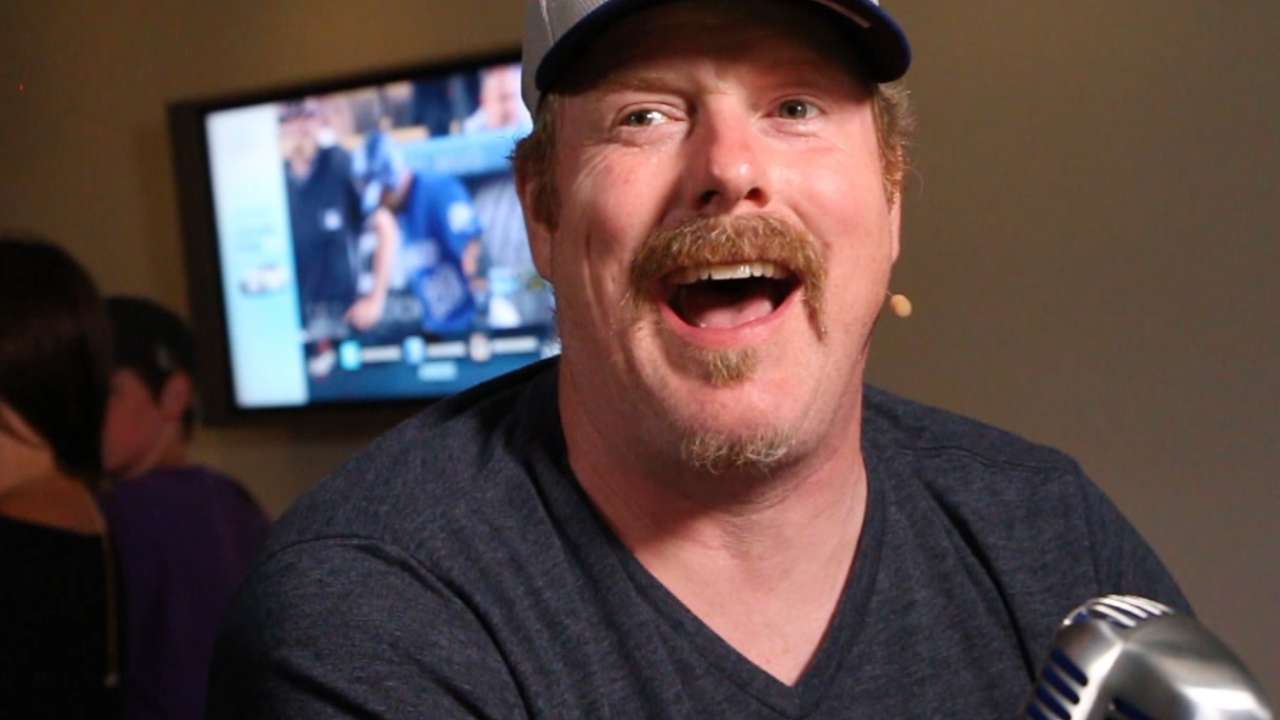 Recognize this guy? No? Look again. Still nothing? Don't sweat it. If he doesn't look familiar, it's probably because you've never actually seen him before. But if you listen to him talk, you may start to recognize him a little more.
Tall and robust, John DiMaggio is quite a presence in person, but it's his voice that has done most of the leg work since he moved to Los Angeles to pursue a career in entertainment in 1996. DiMaggio started his career as a stand-up comedian, but his main gig is as a voice actor. And by all accounts, his career choices have been right on target.
DiMaggio is probably best known for two roles: the voice of Bender on "Futurama," and the voice of Jake on "Adventure Time."
DiMaggio is also an avid baseball fan, and while he's not actually related to another very famous DiMaggio -- Joltin' Joe -- this DiMaggio is a Yankees fan (by lineage) and a Dodgers fan (by geography).
And somehow, that led DiMaggio to the "Express Written Consent" booth, where he and MLB.com host Jeremy Brisiel yukked it up while taking in a Dodgers-Rockies game from high atop Chavez Ravine in the "EWC" booth.
DiMaggio seemed to be at his most comfortable while morphing into one of his alter-ego voices while commentating on what was happening on the field, although which character he was portraying is up for debate. Let's just say there was a lot of yelling, grunting and heavy breathing involved, especially when he was describing an inning-ending diving catch by Yasiel Puig and -- using a heavy New York-ish accent -- called a Matt Kemp home run.
Who exactly DiMaggio was portraying at that moment isn't important. The fact is, he's funny, and he likes making people laugh -- although he does take pride in knowing he's caused some tears, as well.
For non-"Futurama" watchers, there apparently was a rather sad episode that involved Fry's dog, Seymour. J.B. and DiMaggio didn't get into the details, but from the sound of it, it had a little bit of a "Lassie" innuendo working.
"That made people sob, when the dog was waiting for him, until the end," DiMaggio said. "People talked about it like it devastated them. It devastated me, too. I've got two dogs at home."
Meanwhile, let's concentrate on what makes DiMaggio funny. He started out as a stand-up comedian in New York, while supplementing his income with voiceover work in TV and radio ads.
DiMaggio moved to Los Angeles to do camera work, while maintaining the voiceover side gig. But, he said, "It mostly became about animation."
"I had a lot of character voices, and the rest, as they say, is history," DiMaggio added.
Where else might you have "heard" DiMaggio? He played Marcus Fenix in the "Gears of War" franchise, Dr. Drakken on "Kim Possible," Jake the Dog on "Adventure Time" and Niblet on "Pound Puppies." He once appeared on stage as part of a duo named "Red Johnny and the Round Guy," and he has, believe it or not, appeared on screen -- as Steve Ballmer in "Pirates of Silicon Valley," and as Dr. Sean Underhill on "Chicago Hope."
DiMaggio's latest project, "I Know That Voice," is a documentary about voice acting. DiMaggio is the narrator and producer, and it includes many other voice actors, including Billy West, Tara Strong, Tom Kenny, Rachael MacFarlane and Mark Hamill.
"I Know That Voice" premiered last November and is now available on Netflix. The show's intent, as it states on its Facebook page, is to "put a face to the voices we all know and love. The rise and expansion of the voiceover industry as we know it."
DiMaggio, it seems, has the market cornered in that area.
Alyson Footer is a national correspondent for MLB.com. Follow her on Twitter @alysonfooter. This story was not subject to the approval of Major League Baseball or its clubs.