MLB.com Columnist
Richard Justice
Angels ride determination back to the top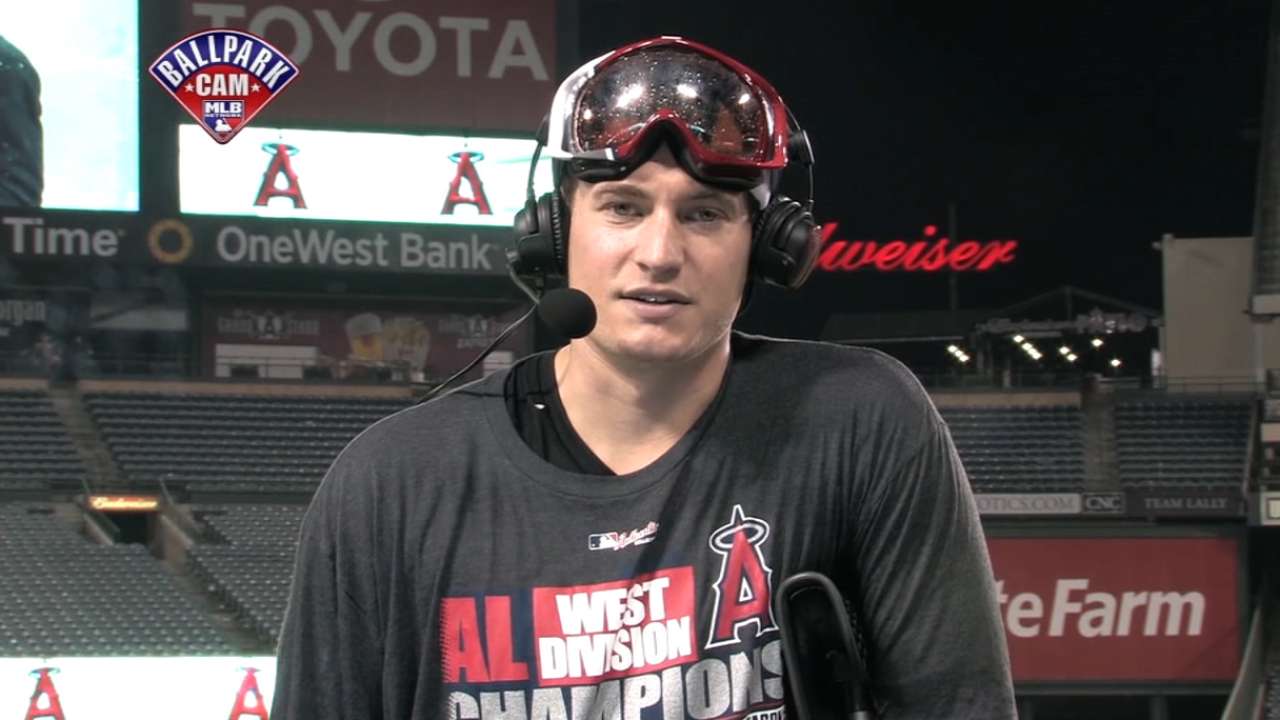 This was a division championship built on perseverance and resilience. Oh sure, you hear every champion say this kind of stuff. The only thing is, these Angels walked the walk.
That's the thing to remember about them as they prepare to play October baseball. They're a team that will not blink.
If the Halos were going to come undone, they would have done so months ago. Their whole is greater than the sum of their parts, and while that's one of the enduring cliches of sports, it also happens to be true.
The Angels wrapped up the American League West championship on Wednesday night with a 5-0 victory over the Mariners in Anaheim. Once the Rangers finished off a 6-1 victory over the Athletics about an hour later in Oakland (the end of which was shown on the Angel Stadium video board), the party began.
At 95-57, the Angels have baseball's best record, thanks to going 57-24 in the final three-plus months. The Halos were six games out of first place in late June and tied with the Athletics for first place on Aug. 17. Their 18-4 run -- along with a smothering A's slump -- set up the division title's return to Southern California.
The Angels were resourceful and resilient. They came from behind 45 times, tops in the Majors. They overcame deficits of at least two runs 17 times and at least three runs 11 times.
This may be the thing that pleases their manager, Mike Scioscia, most. They played until the last out, and while that sounds like a basic thing, it's one of the things that separates champions.
In doing so, the Angels erased the bitter disappointment of the last two seasons. Those seasons began with optimism after owner Arte Moreno delivered the big-ticket signings of Albert Pujols and C.J. Wilson for the 2012 season and Josh Hamilton for '13, but they ended with the Halos on the outside looking in.
Maybe those seasons made this one even sweeter, because they were reminded that winning championships is never about one player or even a dozen players. It's constructing a team that gets contributions from every corner of the clubhouse.
The Angels won the AL West despite a dizzying assortment of injuries. Hamilton missed his 63rd game of the season on Wednesday night. Left-hander Tyler Skaggs was lost for the season on July 31, right-hander Garrett Richards on Aug. 20. They were a combined 31-13 in their starts this season.
Richards, in his third full big league season, had emerged as a No. 1 starter, and his knee injury at Fenway Park could have been the killer. The Halos were 19-7 when he got the ball.
The Angels kept going. Rookie right-hander Matt Shoemaker (16-4) emerged as one of baseball's most consistent starting pitchers and Howie Kendrick, Erick Aybar, Kole Calhoun and others did their parts as well.
The Angels won because their stars, especially Pujols (26 home runs, 98 RBIs), delivered again and again. Pujols led the Majors with 33 go-ahead RBIs. Jered Weaver (2.04 ERA in his last four starts) and David Freese (.353 batting average in September) were at their best down the stretch.
Ho hum, another spectacular season. Trout has 109 runs, 39 doubles and 34 home runs, and he seems certain to finally win the AL Most Valuable Player Award that eluded him the past two seasons.
One of the bonuses of the Pirates making the postseason last season was that the entire country got to experience Andrew McCutchen's greatness.
Likewise, if there are fans out there who haven't experienced the greatness of Trout, this postseason will offer a special treat. They will see that he does everything well and that he does it all with a joy that's infectious.
This division championship is a tribute to a general manager, Jerry Dipoto, who did tremendous work in constructing a winning roster and adding to it along the way. It's also a tribute to Scioscia, who proved again that he's still one of the best managers -- and most respected men -- in the game.
The Angels were able to overcome all those injuries because of their depth and because of the leadership of guys like Pujols and Weaver. But in the end, this championship is a tribute to Scioscia's steady hand, to his leadership and to his ability to manage a bullpen and a clubhouse as well as anyone in the game.
Scioscia took some ridiculous shots the last two years, and so this trip back to the postseason, the club's first since 2009, has to be especially sweet.
The Halos have used 54 players this season, including 31 pitchers. Wilson won the clincher with seven shutout innings, and that's important because Shoemaker's availability is uncertain after pulling a rib cage muscle in his last start.
This October, there won't be a consensus favorite. There's a case to be made for all 10 teams, especially the Angels. Weaver and Wilson give the rotation a 1-2 punch that should not be underestimated. Huston Street is at the back of a very good bullpen. And in Trout and Pujols, the Halos have players who can take over a postseason series.
They are already guaranteed home-field advantage in their AL Division Series. Their next goal is to finish with the best record in the game, which would give them home-field advantage right through the World Series. So winning the division was another brick in a larger wall.
It was also an opportunity to reflect on what has been a remarkable season. The Angels have passed every test so far. There just might be more fun ahead.
Richard Justice is a columnist for MLB.com. Read his blog, Justice4U. This story was not subject to the approval of Major League Baseball or its clubs.