Tide turns in Angels' favor in return to playoffs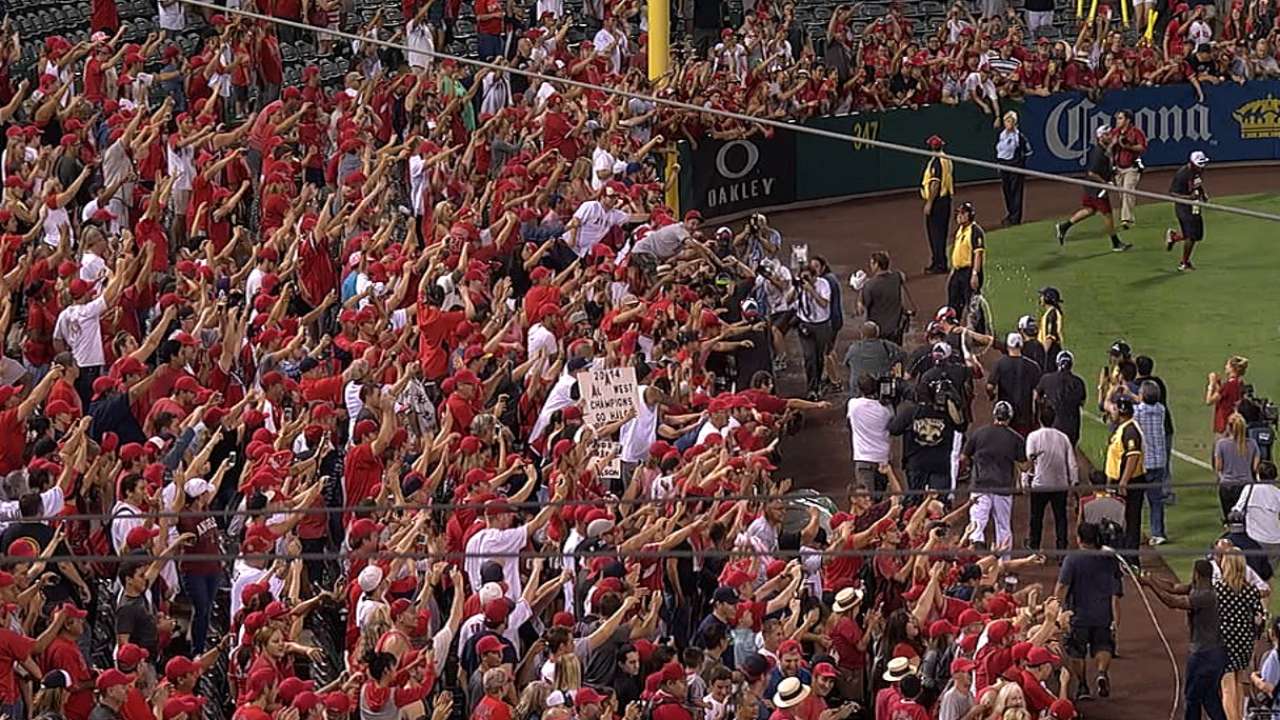 ANAHEIM -- You need talent, sure. But you don't handily win a division, and set yourself up to finish with baseball's best record, without savvy deals, unlikely contributors and uncanny perseverance. The Angels got plenty of that in 2014, which ultimately ended a four-year playoff drought and brought them their sixth American League West title in 11 seasons.
Below are some examples, as we list the five turn of events that changed the Angels' season for the better:
Proving the doubters wrong
The Angels' season was supposed to end on Aug. 20. That's the night Garrett Richards, the 26-year-old flamethrower who was making a case for the AL's Cy Young Award, tore the patellar tendon in his left knee and was forced to undergo season-ending surgery. The Angels didn't have enough rotation depth to overcome the loss, many thought, and it would only be a matter of time before the A's ran away with the division. Then the Angels responded in a way even they couldn't have predicted.
Despite having to utilize an assortment of relievers every five days, the Angels have posted baseball's best winning percentage since Richards went down. They swept the A's in a four-game series from Aug. 28-31, picked up 15 games in the AL West over a 33-day stretch from Aug. 10 to Sept. 12 and won 10 in a row for the first time in 12 years from Sept. 4-13, averaging nearly nine runs per game despite being without cleanup hitter Josh Hamilton for most of that stretch.
From unknown to irreplaceable
Angels manager Mike Scioscia was asked recently about what Matt Shoemaker has meant to his team. His response: "You mean besides saving our season?" It was sarcastic, inelegant and dead-on. When the year began, Shoemaker was 27 years old, had accumulated five innings in the big leagues, spent the previous two seasons putting up pedestrian numbers in Triple-A and was barely on the Angels' radar.
Now, he'd be a legit AL Rookie of the Year candidate if White Sox first baseman Jose Abreu hadn't come on so quickly. Shoemaker, currently battling a left oblique strain he hopes will resolve itself before October, has 16 wins, a 3.04 ERA and a 5.17 strikeout-to-walk ratio. For a rotation that barely looked five-deep at the start of the season, has lost Richards and Tyler Skaggs to serious injuries, and has seen C.J. Wilson and Hector Santiago deal with varying degrees of control issues, Shoemaker has been every bit the saving grace Scioscia expressed.
Getting their closer
Some felt general manager Jerry Dipoto gave up too much when he sent four intriguing prospects from an already-thin system to the Padres (Taylor Lindsey, Elliot Morris, Jose Rondon and R.J. Alvarez) in exchange for Huston Street on July 19. But the Angels had one glaring need at that time, and it was the ninth inning. And Street was his prime target all along.
Since coming over, the 31-year-old right-hander has been vital in helping the Angels' bullpen pull a complete 180. He's posted a 1.57 ERA, converted 14 out of 16 save chances and solidified the back end of a relief corps that sports the third-best ERA in baseball since the start of July. During that time, the Angels lead the Majors in wins, and that's no coincidence.
Another MVP-worthy year from Trout
In some ways, 2014 could end up being Mike Trout's worst year, and yet it may land him his first AL Most Valuable Player Award. Trout's age-23 season has seen him run less and strike out more, but his power numbers have gone up, his production has remained steady and his value has been every bit as pronounced.
Trout ranks fourth in the Majors with a .940 OPS, has the fifth-most homers with 34, leads all of baseball with 107 RBIs and 109 runs scored and Wins Above Replacement.
Their leaders bounced back
Jered Weaver was coming off a year that saw him miss seven weeks with a broken left elbow and continue to lose zip off his fastball, prompting questions about whether the 31-year-old was still a bona fide ace. Albert Pujols didn't play past July because of plantar fasciitis, batted .258 when he did and left many wondering if the Angels would ever get much value out of their $240 million commitment.
They've each answered the proverbial bell in 2014. Pujols sports a solid .272/.326/.465 slash line, with 26 homers and 98 RBIs while playing Gold Glove-caliber first base and starting 150 of the Angels' first 152 games. Weaver leads the AL in wins with 17, has topped 200 innings for the first time since 2011, sports a 3.50 ERA and has come on strong down the stretch, posting a 2.48 ERA in his past five starts.
Alden Gonzalez is a reporter for MLB.com. Read his blog, Gonzo and "The Show", and follow him on Twitter @Alden_Gonzalez. This story was not subject to the approval of Major League Baseball or its clubs.