Angels have pedigree to go all the way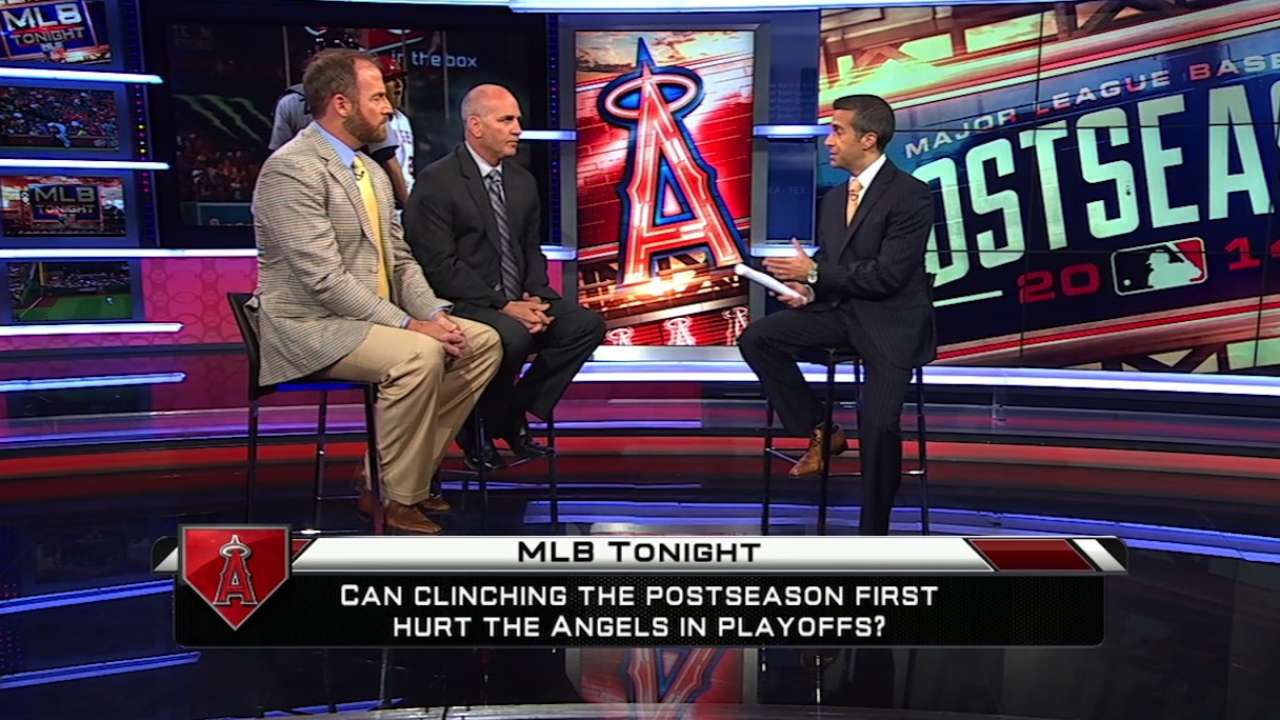 ANAHEIM -- It isn't hard to conjure up a cynical view of the Angels heading into the playoffs, even though they lead the Majors in winning percentage and run differential. All you have to do is look at their rotation.
It was perceivably thin before the start of August -- or "early February," as Angels manager Mike Scioscia put it -- and then it quickly grew troublesome. Tyler Skaggs made his last start before Tommy John surgery on July 31, Garrett Richards suffered a season-ending knee injury on Aug. 20 and Matt Shoemaker -- the unheralded rookie and this staff's saving grace -- is currently nursing a left oblique strain that has his status for October in question.
But teams have continually overcome rotation shortcomings to win it all, and there are so many reasons to feel good about the 2014 Angels as they march toward October. Below are five reasons they can win the World Series, in descending order …
Deep bullpen
The Angels' success has run parallel to the depth of their bullpen. It went from their biggest weakness to their greatest strength in the middle of the season, when former All-Star Jason Grilli, lefty specialist Joe Thatcher and veteran closer Huston Street were added to a group that already included a solid setup man (Joe Smith) and an assortment of capable right-handers (Kevin Jepsen, Fernando Salas, Mike Morin and Cory Rasmus).
Since the start of July, the Angels' bullpen has been among the best in baseball. And in the playoffs, their bullpen will play a vital role in offsetting a thin rotation. But does that translate to October? Can you win by relying heavily on your bullpen and merely getting by with your rotation? Well, nine of the last 19 World Series champs got fewer than six innings per game from their starters. The 2002 Angels barely got more than five innings, and they received a quality start in just two of their 16 playoff games that year.
So, there's definitely precedence.
Fierce lineup
For the past two years, the Angels have been billed as an offensive juggernaut with three nine-figure salaries in one lineup: Albert Pujols ($240 million), Mike Trout ($144.5 million) and Josh Hamilton ($125 million). In tune with that, the Angels lead the Majors in runs and rank fourth in OPS, but their above-average production is less a product of star power and more a product of overall depth.
Trout looks like the favorite for the American League's Most Valuable Player Award, Pujols has put together a solid year, Kole Calhoun has been dynamic at the leadoff spot, Howie Kendrick, Erick Aybar and David Freese have provided punch near the bottom and Chris Iannetta has been an on-base machine. The key will be getting Hamilton going, and perhaps finding a hot bat at the revolving door that has been designated hitter.
Trout is a difference-maker
We'll finally get to see baseball's best all-around player on its grandest stage. No, this isn't basketball, where a LeBron James can impact an entire conference, or football, where a Peyton Manning dictates so much of what transpires over the course of a game. But on any given night in October, no matter who they face and where they are, there's a strong chance the Angels will have the best player on the field. That's no small thing.
The question is: How will a 23-year-old Trout handle his first postseason experience? Some megastars struggled mightily early in their playoff careers (like Barry Bonds in 1990 and '91), while others (like Derek Jeter in 1996) thrived. It usually evens out when the sample size stretches far enough, but the Angels need Trout to click this October.
They've been here before
Trout's lacking playoff experience is made up for throughout the Angels' roster. Five of their regulars (Hamilton, Pujols, Kendrick, Aybar and Freese), two of their starters (Jered Weaver and C.J. Wilson), and five of their relievers (Salas, Jepsen, Grilli, Smith and Street) have appeared in a combined 242 postseason games.
Pujols has two World Series rings and was the MVP of the 2004 National League Championship Series; Freese was the NLCS and World Series MVP in 2011; and Hamilton was the 2010 ALCS MVP, joining Wilson on back-to-back World Series teams during their Rangers days. The Angels' mettle helped them persevere through crippling injuries to their rotation, and it could pay dividends again in October.
They're great at home
The Angels hold a three-game lead on the Orioles for the best record in baseball, and thanks to the AL's victory at the All-Star Game, they'll have home-field advantage throughout the playoffs if they hold it.
Since the Wild Card first came into play in 1995, home teams have a negligible .542 winning percentage in the playoffs. But the team with the home-field advantage has won the World Series 16 of the past 20 years, including each of the last five. And the Angels have baseball's best home winning percentage.
And any little advantage helps this time of year.
Alden Gonzalez is a reporter for MLB.com. Read his blog, Gonzo and "The Show", and follow him on Twitter @Alden_Gonzalez. This story was not subject to the approval of Major League Baseball or its clubs.