A's unravel after Samardzija's stellar effort
Rangers' six-run ninth drops Oakland into tie for top Wild Card spot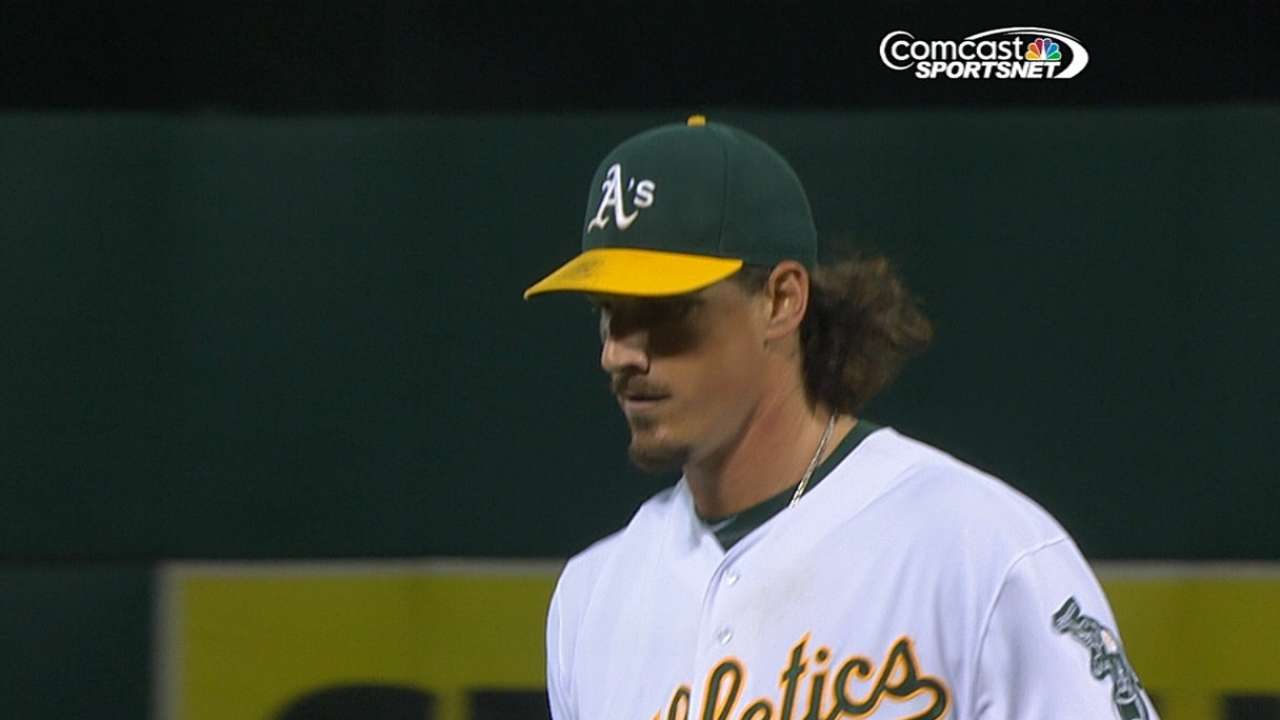 OAKLAND -- His 10th strikeout tucked away, putting the exclamation point on eight brilliant scoreless innings, Jeff Samardzija bounded off the mound with fervor on a cool Wednesday evening at the Coliseum, the type of raw emotion this A's team has so badly needed. Then it vanished.
The reeling A's squandered a prime scoring opportunity in the bottom of the inning, as they've done so many times, and the Rangers responded with five runs off closer Sean Doolittle in a six-run ninth to hand them a stunning 6-1 loss. A deflated Bob Melvin, who has watched his club morph from World Series favorites to postseason question marks, didn't bother downplaying this heartbreaker: "We've had quite a few low points here recently, but I don't know any more so than this."
"It's going to be a turning point one way or another," said Doolittle. "After the season's over, are we going to look back and point at tonight as the game where the wheels came off for good, or are we going to be able to pick ourselves up, dust ourselves off and talk about how resilient we are as a team and how we were able to overcome a game like this and still get it done?"
The A's sat alone atop the American League West for 119 days, leading it by as many as 5 1/2 games in June and, more recently, four on Aug. 10. They're 11-24 since, which is tied with Arizona for the worst record in the Majors in that span, and if Wednesday's loss wasn't already demoralizing enough, it was compounded by the fact it allowed the Angels to clinch the division -- by 11 1/2 games.
That's a 15 1/2-game drop in the standings, an epic downfall by any measure. Perhaps even more remarkable, though, is that the A's still have a share of the top AL Wild Card spot with 11 games to play.
"You got to take the positives out of it," said Samardzija. "You got to look at where we're at as a team. If you take a step back and you look at it as a whole, we're still right where we need to be. Just keep looking at the positives, keep coming out and playing -- that's what this team does, a bunch of fighters, and we're going to continue to do that. I think if you ask anyone in this locker room, they're excited to get here tomorrow and start that game."
No one more so than Doolittle, the typically untouchable All-Star who carried a 15-inning scoreless streak into the game, though the A's didn't do him any favors by failing to score an insurance run or two with the bases loaded and none out in the eighth. Sam Fuld's fifth-inning RBI single off Derek Holland gave them their lone run.
"I'm already processing it, trying to flush it," Doolittle said, "and when I put my head down to go to sleep tonight, it's over."
Doolittle was done in by J.P. Arencibia's three-run homer, having already surrendered a game-tying RBI double to Rougned Odor with one out. The Rangers sent 11 men to the plate in the inning, totaling six runs off three Oakland pitchers. Less than 400 miles away, the Angels popped the champagne, officially ending the A's run of two consecutive division titles.
"It hurts for a lot of different reasons," Doolittle said. "Samardzija got it done all night. Our defense got it done. Fuld got it done. I didn't get it done. Right now, it really hurts, but it doesn't do me any good, the team any good, to sit here moping and feeling sorry for yourself."
It was an almost surreal-like finish, particularly considering how the night began, as the A's couldn't have asked for much more from a dominant Samardzija, who has not recorded a win in any of the five starts in which he didn't allow a run this season.
"It's been a while since we've been offensively as good as we were certainly the first four months of the season," said Melvin, "and we've lost a lot of games, and very difficult ones like this -- low-scoring games where we can't score a run and we end up losing. We're wasting a lot of pitching performances, but there's nothing you can do about it at this point. Just got to go on, we've got to salvage the series tomorrow, and move on again."
Perhaps that sounds familiar, but it's all the A's can cling to at this point.
Jane Lee is a reporter for MLB.com. This story was not subject to the approval of Major League Baseball or its clubs.