McCarthy caps strong start with immaculate inning
Starter fifth Yankee, first since last May, to fan three batters on nine pitches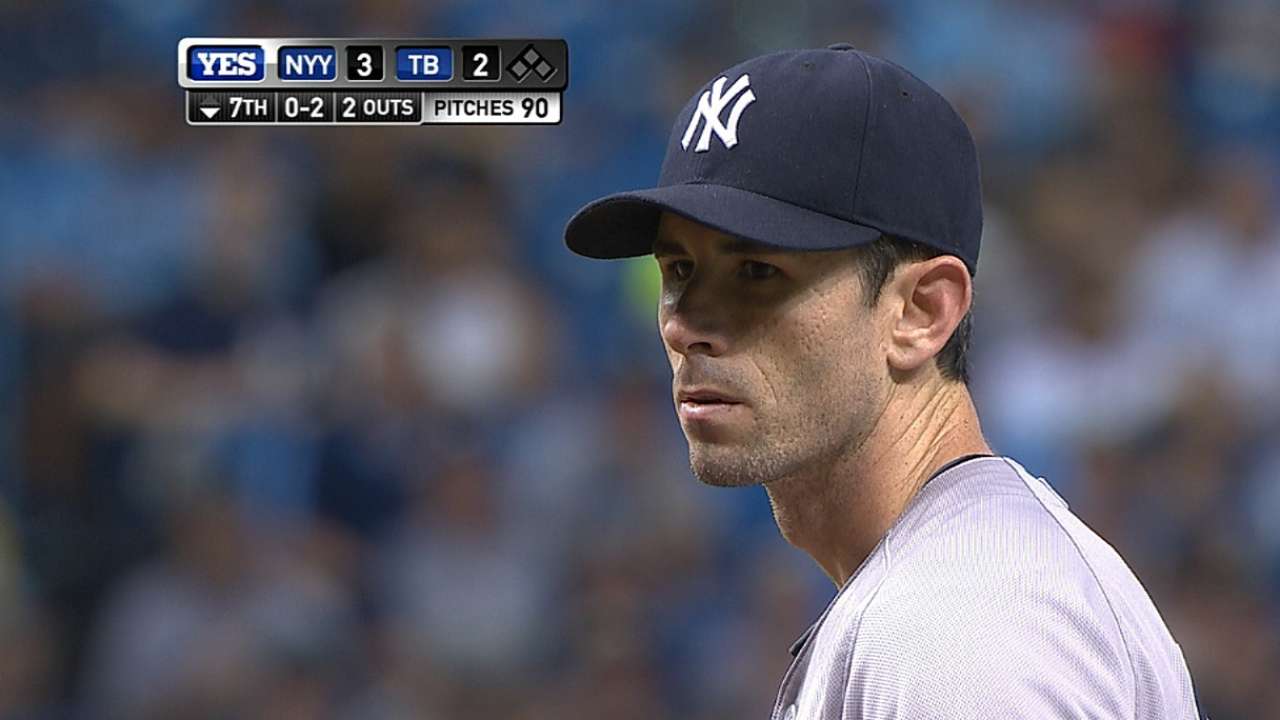 ST. PETERSBURG -- It had been a good seventh inning, Brandon McCarthy thought as he returned to the visiting dugout on Wednesday. It wasn't until later that he learned it had actually been an immaculate one.
The right-hander achieved the rare feat of nine pitches, nine strikes and three strikeouts in his final inning of work, finishing his workload on a high note in the Yankees' 3-2 victory over the Rays at Tropicana Field.
"I actually didn't realize what it was until I got inside and I saw what it was on the broadcast," McCarthy said. "I was just happy it was three strikeouts, but I didn't realize what kind of an inning it was."
McCarthy fanned Wil Myers, Nick Franklin and Matt Joyce, all swinging, and finished the night with four strikeouts total. It was the first immaculate inning by a Yankees pitcher since Ivan Nova on May 29, 2013, against the Mets.
"In the seventh inning, I wanted to focus on keeping my head on the ball, staying closed, and I just felt like all of a sudden I had a bit more velocity -- a little bit extra in there," McCarthy said. "So it was just focus on throwing strikes, and then at the end of the at-bats I was able to get some four-seamers by guys."
It was the second immaculate inning at Tropicana Field this season, joining the Rays' Brad Boxberger, who did it on May 8 against the Orioles. McCarthy is the fifth Yankee to achieve the feat, joining Nova, A.J. Burnett (2009), Ron Guidry (1984) and Al Downing (1967), according to ESPN Stats & Info.
"It's something else you can add to your resume when you're done, and a story you can tell someone that they won't care about later on," McCarthy joked. "But at least in the meantime it's something cool."
Bryan Hoch is a reporter for MLB.com. Follow him on Twitter @bryanhoch and read his MLBlog, Bombers Beat. This story was not subject to the approval of Major League Baseball or its clubs.