Wil climber: Myers makes clutch, leaping catch
With bases loaded, Rays outfielder holds Yanks' Gardner to sac fly with gem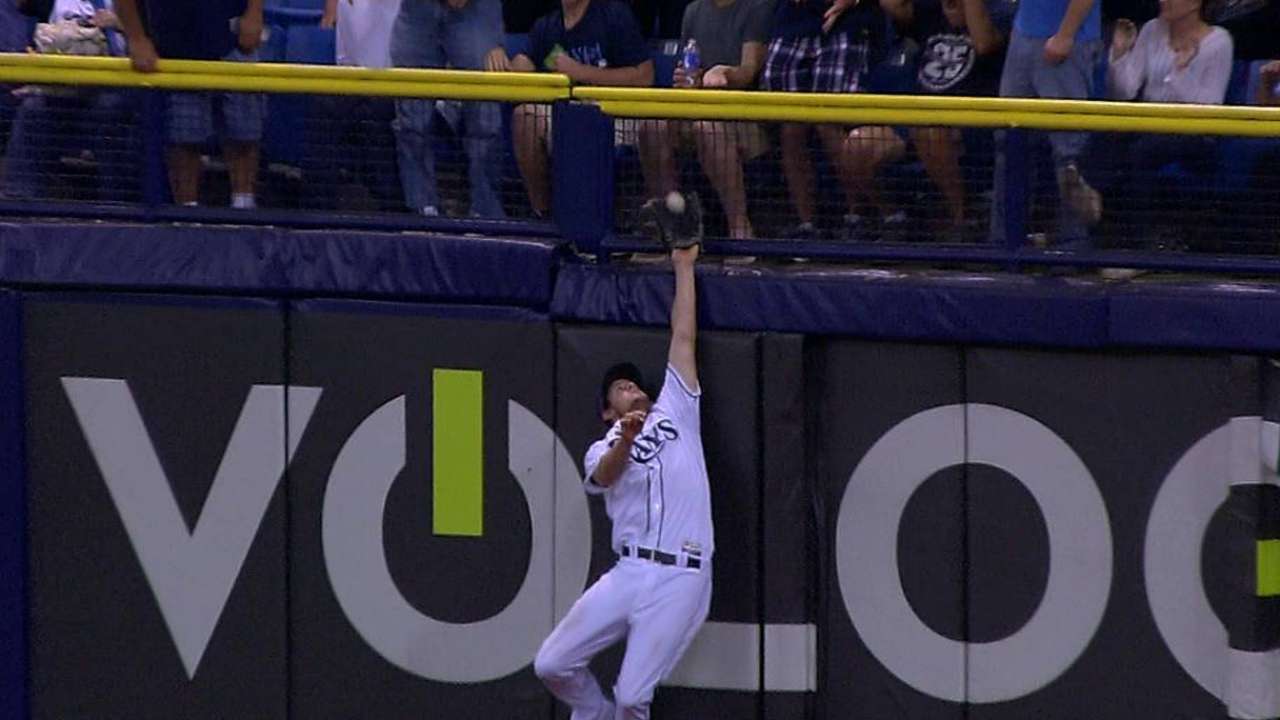 ST. PETERSBURG -- Wil Myers showed some ups in the Rays' 3-2 loss to the Yankees on Wednesday night.
The Rays' right fielder made a key play in the sixth that helped Alex Cobb escape a bases-loaded jam with just one run scoring to keep the game interesting.
Derek Jeter singled through the middle to start the inning before Brian McCann and Mark Teixeira walked to load the bases.
Chris Young, who has had the Rays' number over the past two weeks, popped out for the first out of the inning before Brett Gardner followed with a towering drive to right that appeared headed for the seats.
Myers leaped at the last instant to catch the drive, which would not have cleared the fence but would likely have cleared the bases.
"I knew it was barely going to be out or I had a play at the wall," Myers said. "And I ran back, checked the wall, took my eye off the ball, got back to it, was able to pick it back up and just timed the jump right. I was pretty happy with that."
Myers wasn't sure how the play would turn out.
"You know what? As I was jumping up, I thought that I jumped too early and I wasn't going to be able to catch it, but sure enough it landed in my glove," Myers said.
When a reporter noted that Myers had demonstrated good hang time, Myers smiled: "Great hang time."
Kevin Kiermaier observed the play from center field. When asked about what he saw, his first response was, "Wow!"
"Very athletic," said Kiermaier, who knows a thing or two about making athletic plays. "I tried tipping my hat to him. I think he was caught up in the moment. But that was amazing. At first I was like, 'No way he caught that.' Then I looked at the replay. And he caught that straight up. Couldn't have timed that any better. Caught the ball straight up at its highest point. Great job to limit the damage there. Wow. Great play."
Jeter scored the Yankees' third run on the play before Chase Headley walked to again load the bases. Ichiro Suzuki then grounded out to Cobb, who threw to first baseman James Loney to end the threat.
Bill Chastain is a reporter for MLB.com. This story was not subject to the approval of Major League Baseball or its clubs.