Reds' offense continues to struggle in loss to Cubs
Corcino allows two runs in 5 2/3 innings of second MLB start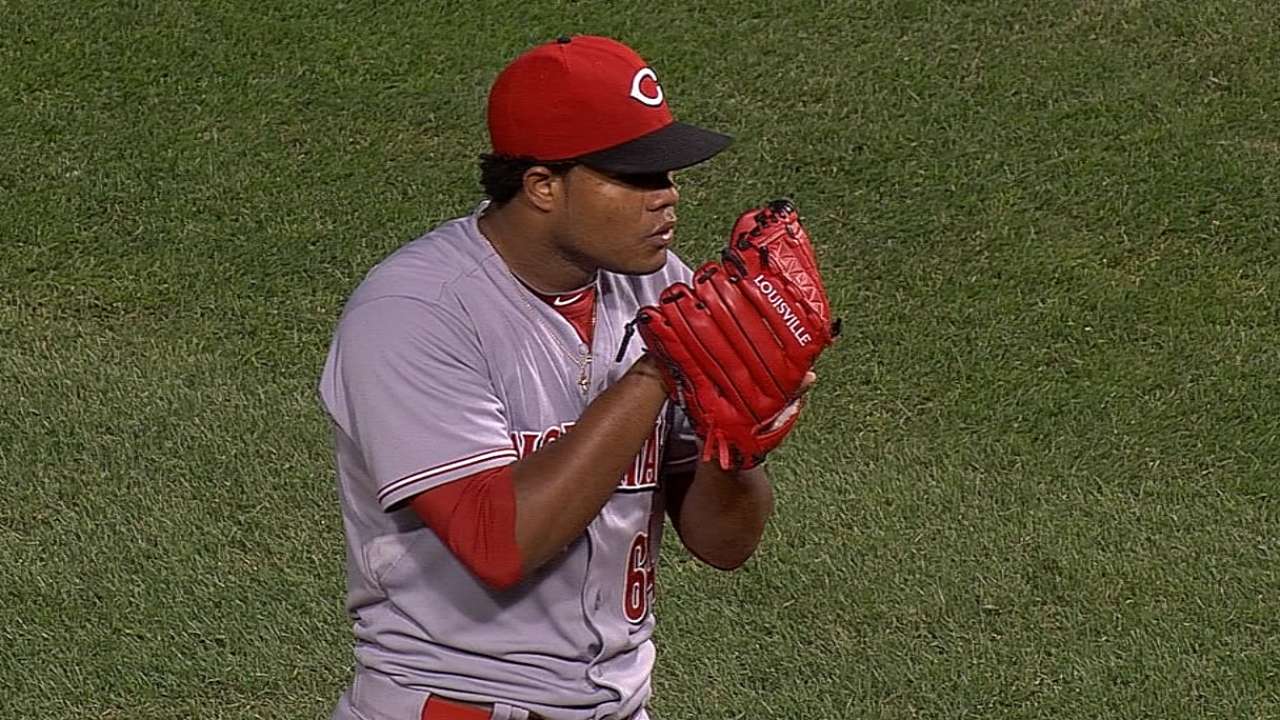 CHICAGO -- Manager Bryan Price called the Reds' second half "miserable" Wednesday.
That was before the team lost, 3-1, to the Cubs and was dealt its ninth losing sweep, sixth of the second half.
With their 82nd loss, the Reds will finish under .500 for the first time since 2011 and are five losses away with nine games to go from a franchise-worst second half in a non-strike season. Cincinnati, which won 90 games last year and reached the playoffs, is 20-38 since the All-Star Game, when its deficit for the National League Central lead was just 1 1/2 games.
"It takes its toll on the guys because they're out there busting their humps to go out there and compete," Price, the first-year manager, said. "When you don't get results, it can suck the life out of you. That's what we don't want to do down here with these last nine games, is have the life sucked out of us to the point where we stop competing."
The Reds exceeded their hit total of four from the first two games of the series, but couldn't provide Daniel Corcino more than one run of support. Cincinnati left seven stranded and went 0-for-7 with runners in scoring position.
"Daniel Corcino gave us a chance to win a ballgame. ... The bullpen did their job. We just have really struggled to score runs," Price said.
Corcino, making his second start in place of the injured Mat Latos, allowed two earned runs, three hits and four walks with six strikeouts over 5 2/3 innings. He threw 101 pitches (58 strikes), exceeding the century mark for the sixth time in 30 starts -- all in the Minors.
The 24-year-old righty is in the mist of an audition of sorts for a potential spot in the 2015 rotation. Corcino has allowed four earned runs, five hits and five walks with 10 strikeouts over 11 2/3 innings in his two starts.
"When I got the opportunity and they told me I was going to have my second start, I started preparing, threw a good bullpen, worked out in my five days," Corcino said. "Every time you've got the ball, you've got the opportunity because, the level, you've got to do your job. That's how you can stay here."
Corcino is one of 10 September callups, half of whom were in Wednesday's lineup.
Perhaps the most prominent among Reds faithful, Yorman Rodriguez, had his first multi-hit game, going 2-for-4 with the lone RBI. On a groundout to short in the first, Rodriguez scored Kristopher Negron, who led off the game with a double.
"What stands out is, to be such a young, inexperienced player -- certainly at this level -- to have such a good approach and really works on it during his batting practice and takes it into his games," Price said of Rodriguez, 22. "He doesn't think about pull homers. He thinks about staying in the middle of the field and a good, competitive, two-strike approach."
The Cubs responded with a pair of one-out runs in the second -- a single and a ground-rule double that got caught in the ivy, each driving in a run. The Reds were on the verge of tying the game when Negron belted a two-out line drive to deep left field that Chris Coghlan snagged at the warning track while backing forcefully into the wall with two runners aboard.
"I didn't think that would stay in," Cubs starter Kyle Hendricks said. "Coghlan, what can I say? That saved the game, really."
The rookie righty Hendricks picked up his eighth quality start in 12 tries since debuting July 10, also against the Reds. Hendricks allowed the one earned run, seven hits and no walks with four strikeouts over seven innings -- dealing just 80 pitches.
"He's not a big strikeout guy, but he has a plus-plus changeup. It's a swing-and-a-miss pitch," Price said. "He pitches ahead and he pitches down very well.
"We all like starting pitchers to throw 95 [mph] with a great slider and split-finger or whatever. But if they're pitch-efficient, they command the ball, have deception, movement, change of speed -- No. 1 starters or Hall of Famers can look a lot like Greg Maddux or Tom Glavine or Jamie Moyer. They can look like that and be outstanding."
The Reds wrap a three-city, nine-game road trip this weekend in St. Louis with a three-game series opening Friday, then return home for the final homestand, six games in as many days.
Daniel Kramer is an associate reporter for MLB.com. This story was not subject to the approval of Major League Baseball or its clubs.