Cubs sweep Reds behind strong Hendricks
Rookie limits Cincinnati to one run over seven innings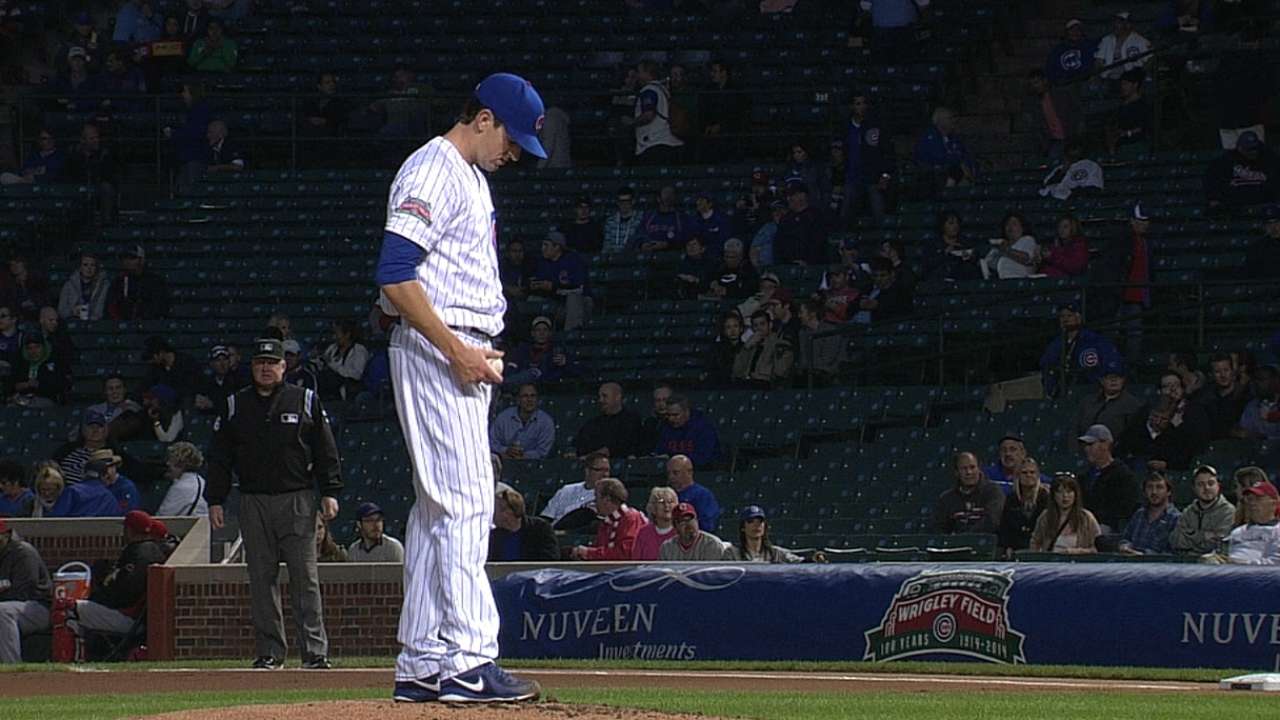 CHICAGO -- On Wednesday, 19-year-old Jen-Ho Tseng was honored as the Cubs Minor League Pitcher of the Year. A year ago, Kyle Hendricks was presented with that award. Tseng can only hope to have the same success as Hendricks.
Hendricks scattered seven hits over seven innings Wednesday as the Cubs edged the Reds, 3-1, for their first three-game series sweep of Cincinnati at Wrigley Field since July 24-26, 2009.
In six home games this year, Hendricks has a 1.53 ERA, giving up six earned runs over 35 1/3 innings, and now has posted four quality starts. He struck out four and did not walk a batter but needed some help from the defense.
"I just feel comfortable here, I guess, and in front of the home fans," Hendricks said about pitching at Wrigley. "It's not like I've pitched bad on the road but the home environment -- it's always nice pitching at home and getting wins in front of your fans."
Tseng was making his second trip in a week to Wrigley. The Taiwanese right-hander was there Monday with his Class A Kane County teammates, who won the Midwest League championship. On Wednesday, Tseng and Kris Bryant, the Cubs Minor League Player of the Year, were both celebrated in pregame ceremonies.
"Walking out starting to warm up, I saw them out there," Hendricks said of Tseng and Bryant, "and I thought, 'This exact time last year, I was here just watching.' It's kind of crazy how fast it all happens. They tell us that when we're down in the Minor Leagues -- just keep working because once you make it, you'll look back and say it went fast. It definitely has and it's been a good ride."
The Reds were shut out in the first two games of the series, but didn't waste any time scoring Wednesday. Kristopher Negron doubled to lead off the game and scored one out later on Yorman Rodriguez's groundout. And that was it.
"We all like starting pitchers to throw 95 [mph] with a great slider and split-finger or whatever," Reds manager Bryan Price said, "but if they're pitch-efficient, they command the ball, have deception, movement, change of speed -- No. 1 starters or Hall of Famers can look a lot like Greg Maddux or Tom Glavine or Jamie Moyer.
"That's [Hendricks'] 12th start, I think, this year, and he's been very, very good," Price said. "It's not because it's smoke and mirrors. It's just because he's a very talented young guy that understands how to pitch."
And that bodes well for the Cubs. Manager Rick Renteria said he had a good feeling about the young arms when he reviewed the personnel in the organization a year ago while preparing to interview for the job. Hendricks, who picked up his eighth quality start in 12 outings, has been the star, helping to make up for the loss of starters Jeff Samardzija and Jason Hammel, who were both traded July 4.
Cincinnati had chances but Welington Castillo caught Donald Lutz's popup in foul territory to end the sixth and strand two, and Chris Coghlan robbed Negron of a potential extra-base hit with a catch against the wall in left to leave two on that inning. Coghlan got a little help from the greenery.
"The last couple steps, you know the wall's coming, you can feel the track," Coghlan said of the play. "It's such a tough wall to play, and I was like, 'I'm just going to go for it,' and just jumped. Fortunately, my foot stuck in the vines so I didn't have a big impact on the wall, which was good."
It looked like the ivy held Coghlan up.
"It did," he said. "I was like, 'That was pretty easy.' That's the only one time I've had a safe encounter with that thing."
The Cubs tallied in the second on an RBI single by Chris Valaika and a run-scoring ground-rule double by Ryan Kalish that disappeared into the ivy. Luis Valbuena singled home an insurance run in the eighth.
Tseng heads home to Taiwan in a few days. Hopefully, he picked up some pointers by watching Hendricks, who has come a long way.
"I came in just trying to learn and see what big league hitters and big league baseball overall was about," Hendricks said. "I definitely learned a ton the second half of the year and was able to have success, too, and that's ultimately what I was hoping for."
Carrie Muskat is a reporter for MLB.com. She writes a blog, Muskat Ramblings, and you can follow her on Twitter @CarrieMuskat. This story was not subject to the approval of Major League Baseball or its clubs.