Carrasco throws two-hit shutout in Houston
Righty strikes out career-high 12 while throwing 98 pitches in win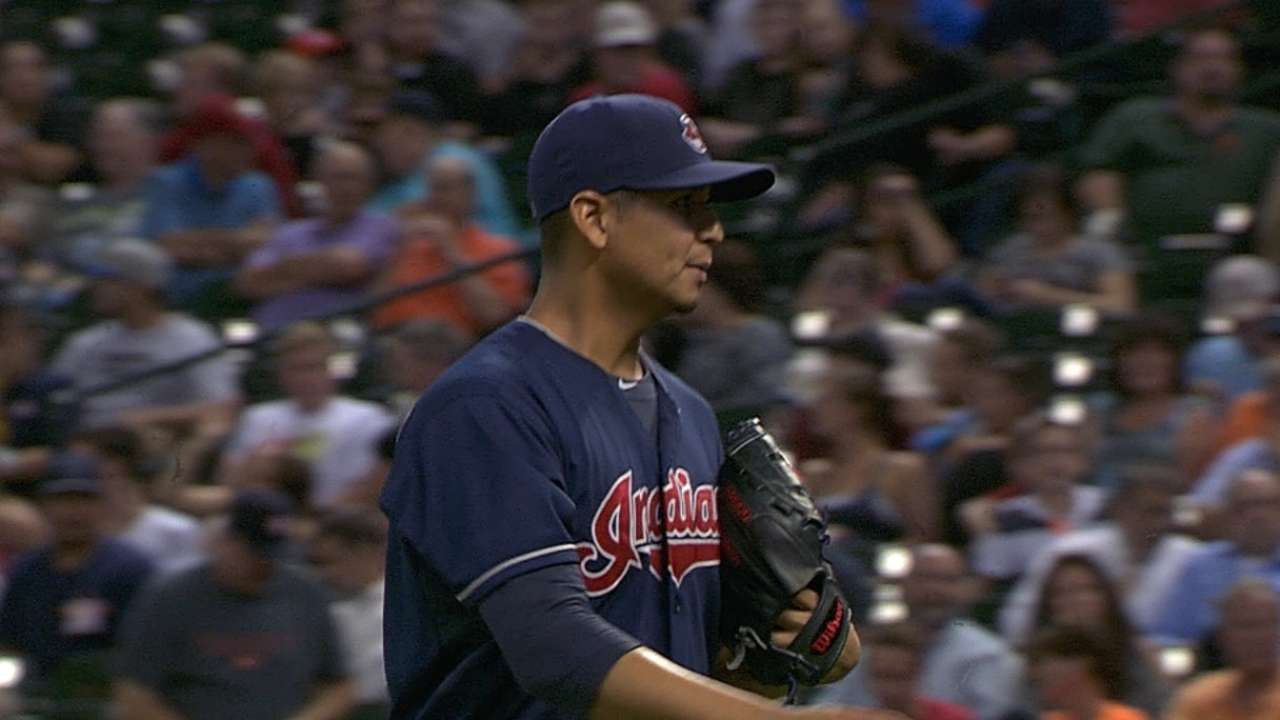 HOUSTON -- No matter the swoons or the losing streaks racked up at various points this season, the Indians have been able to count on starting pitching almost without fail in 2014.
It came through again Wednesday night to keep Cleveland in playoff contention, as Carlos Carrasco tossed a two-hit shutout to lead the Indians past the Astros, 2-0, at Minute Maid Park.
The win was crucial, as the Indians entered Wednesday trailing the Royals by five games for the second American League Wild Card spot and held steady due to Kansas City's win over the White Sox.
Carrasco logged arguably the finest outing of his career, limiting the Astros to two infield hits and striking out a career-high 12 for his first career shutout. He needed 98 pitches to complete the outing.
"He just pitched with so much confidence and attacked the entire night," said manager Terry Francona. "There's no other way to say it: He was just so good."
If your name is sitting next to Sandy Koufax, you know the outing was special. Carrasco joined Koufax as the only other pitcher in MLB history to strike out 12 or more batters on 98 pitches or less in a shutout.
He did it via a nasty mix of locating his fastball -- Carrasco only issued one walk -- and finishing batters off with a devastating split changeup.
"The command was there today, just throwing everything for strikes so it was quick," Carrasco said, and indeed the game was a brisk two-hour, 20-minute contest.
Nothing exemplified that command more than Alex Presley's at-bat in the ninth. With one out, Carrasco slipped on the first pitch and fell behind 3-0 before rebounding to force a full count and induce a lazy fly-ball out.
"Those last three [offspeed pitches] were my best," Carrasco said.
Francona couldn't hide his pride for Carrasco's performance, emphasizing that the team's patience with him during the righty's lengthy bullpen stint this season instilled confidence in the 27-year-old hurler.
"This entire year has been a big learning curve for him," Francona said. "He finally realized that he didn't need to have anything special to ease the anxiety out there. … It's one of the more exciting things that's happened this year.
"We can't be the organization to give up on guys and they go somewhere else and figure it out. We're getting paid back for our patience."
In his last eight starts since rejoining the rotation on Aug. 10, Carrasco has allowed one run or less in seven of those outings while holding opponents scoreless four times.
The righty clearly likes facing the Astros, as they've managed only one run off him in 15 innings this season. They couldn't even leave the infield as Jose Altuve notched both hits for Houston on infield singles in the fourth and ninth innings
Even Altuve, who set the Astros' record for hits in a season on Tuesday, figured Carrasco to be nearly unhittable.
"I knew, personally, that I was in trouble with him since my first at-bat because he threw fastballs in the middle and I couldn't hit it," Altuve said. "I said, 'Man, if you can't hit a fastball against one guy, you're in trouble.'"
Meanwhile, Cleveland strung a few hits together at the right time off Houston starter Brett Oberholtzer.
In the fourth, Carlos Santana continued his hot tear in this series with a two-out double that nearly went out for a home run. Yan Gomes followed up Tuesday's two-RBI night with an RBI single up the middle to bring Santana home.
Gomes has driven in four runs over the past two games. But given the 29 combined strikeouts by the Indians' staff on Tuesday and Wednesday, he's getting recognition beyond the offensive box score.
"We'll take the RBIs, but [Yan's] taken so much ownership of these guys," Francona said. "He meets them at the foul line after an inning and walks them in. It's that kind of managing of the game that is so exciting going forward."
The Astros helped Cleveland out in the sixth. With Michael Brantley on first and two outs in the inning, Gomes laced a liner to right field. Astros outfielder Jake Marisnick made an aggressive dive on the ball, but he whiffed on the catch and the ball trickled to the wall.
Gomes finished on third while Brantley rounded the bases to make it 2-0, which was plenty of support for Carrasco, who remains an integral part of the team's recent pitching surge.
Since Aug. 9, Indians starters own an MLB-low 2.32 ERA, with Cleveland posting a 21-14 record during that stretch.
Chris Abshire is a contributor to MLB.com. This story was not subject to the approval of Major League Baseball or its clubs.