MLB.com Columnist
Tracy Ringolsby
Vying for batting title, Morneau proves he's healthy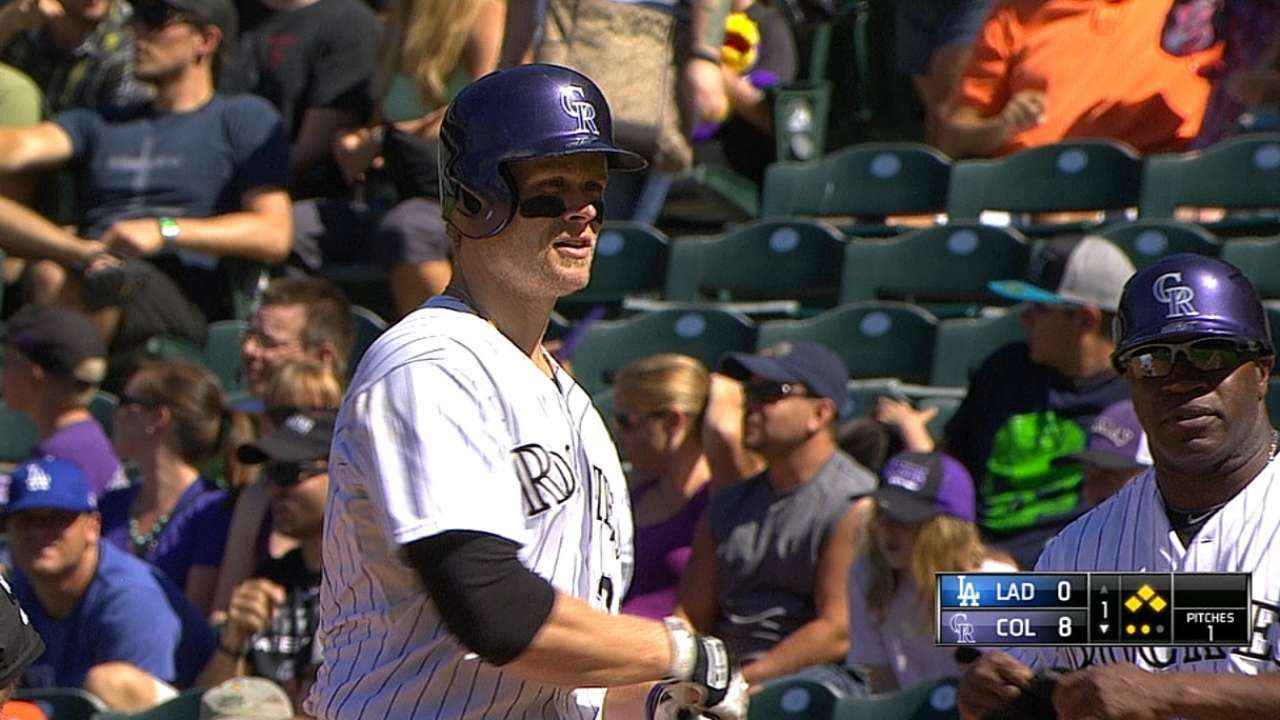 DENVER -- Justin Morneau heard all the doubters. But he knew better. Morneau had suffered concussions in 2010 and '11, endured a left wrist injury during the 2011 season and then had neck surgery shortly thereafter. His production the past couple of years wasn't up to his standards, and there was talk that he was done.
Morneau wouldn't listen. He knew he could still play, and he was confident he could. Morneau went on the free-agent market last winter and signed a two-year deal with the Rockies. He's spent this summer proving the skeptics wrong.
"The last three years, I don't think I could have kept playing if I didn't believe I was capable to play well," Morneau said. "I'm not someone who is going to come out here just to get paid. I love to compete."
Morneau has been a feel-good story in a subpar Rockies season.
While Colorado is looking to avoid the first 100-loss season in franchise history, Morneau is putting the finishing touches on a comeback season that he can cap off with a batting title for the first time in his career.
A four-time All-Star, Morneau won the American League MVP Award in 2006, finished runner-up in '08 and has also won two Silver Slugger Awards. But a batting title? He's only hit .300 in two full seasons twice in his career -- .321, when he finished seventh in the AL in batting in 2006, and .300 in '08.
And now this year.
Morneau had one of those days to remember in the Rockies' 16-2 victory against the Dodgers at Coors Field on Wednesday afternoon. He had a three-run home run and a two-run single -- in the first inning alone, matching a franchise record with five RBIs in an inning. Morneau also had a fifth-inning sacrifice fly and a double to lead off the fourth, when, he admits, he did briefly think about going for a triple in pursuit of a possible cycle.
"With my speed, or lack thereof, there aren't a lot of opportunities for a cycle," said a smiling Morneau, who has five stolen bases to show for his 1,430 big league games. "I thought about it, but at the same time, I want to play the game the right way. If I get thrown out by 20 feet in a 9-0 game, it looks awful selfish. That's not how you play the game."
The 3-for-4 afternoon raised Morneau's average to .320, tops in the National League, two points ahead of Josh Harrison of the Pirates and 10 points head of Buster Posey of the Giants.
Morneau never thought much about a batting title. In his days with Minnesota, "playing with [Joe] Mauer, and he was hitting .365 [to win the 2009 AL batting title], .347 [to win in '06], .328 [to win in '08]."
Besides, Morneau said, his focus has always been on doing the things to help his team win, figuring whatever stats come out of that effort are rewarding enough.
Morneau's pursuit of an NL batting title is one of the few positives about the team.
"It would be good," he said. "It would be something to be proud of."
While it would be a first for Morneau, it wouldn't be for Colorado.
The Rockies have had a player win the NL batting title eight times since the franchise's inception in 1993. Larry Walker, a fellow Canadian whose No. 33 Morneau wears out of respect, did it three times (1998, '99 and 2001), and Andres Galarraga (1993), Todd Helton (2000), Matt Holliday ('07), Carlos Gonzalez ('10) and Michael Cuddyer ('13) have each done it once.
What the pursuit signifies more than anything for Morneau, however, is that he's healthy. He has to have at least 502 plate appearances to qualify for the batting title, which means he has to be available to play 130 or more games. And Morneau has been, even though there have been brief bouts with neck stiffness and a sore rib cage that has sidelined him at times.
Morneau gives a nod to manager Walt Weiss for playing a role in that.
"Walt has done a great job of giving me days off, even when I don't want them," he said. "I'm learning there is more value to playing healthy for 130, 140 games than play hurt and getting into 160 and having less production than I would in 130."
And the baseball world is learning that at the age of 33, despite two concussions and a neck surgery, Morneau's career is very much alive and well.
Tracy Ringolsby is a columnist for MLB.com. Read his blog, Write 'em Cowboy. This story was not subject to the approval of Major League Baseball or its clubs.