Paxton's gem unravels against Angels
Mariners drop to two games back in AL Wild Card race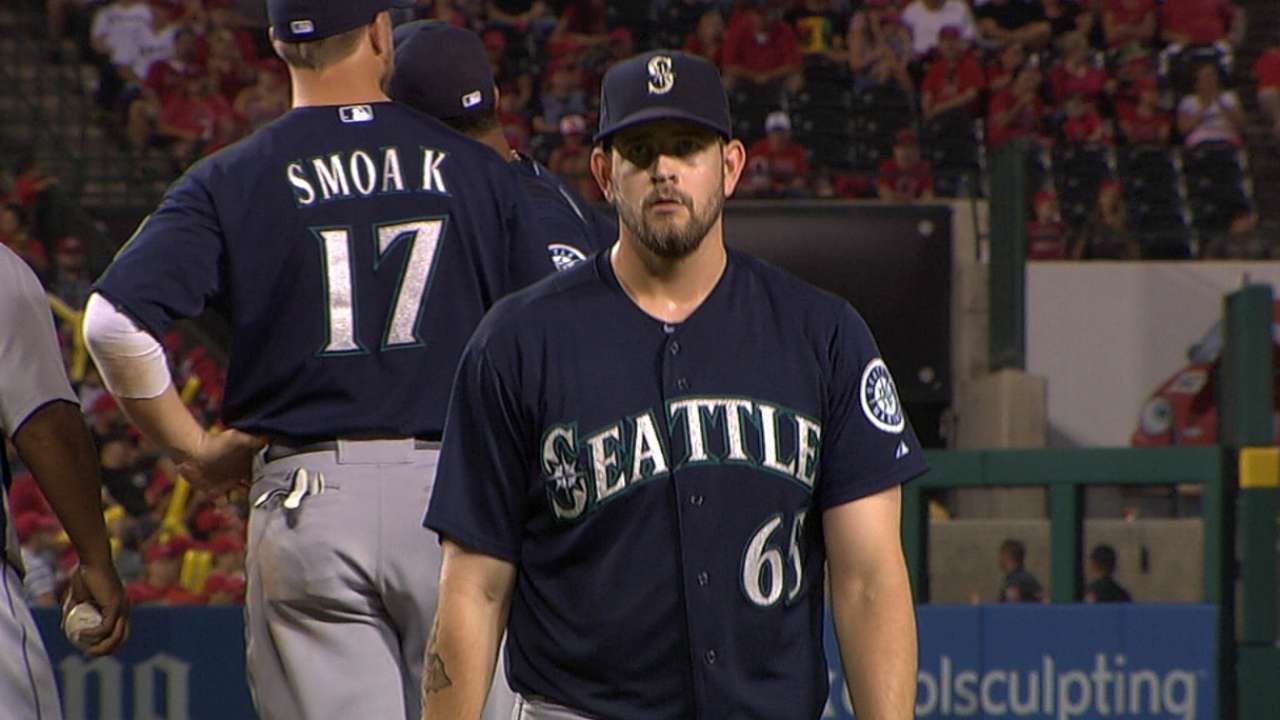 ANAHEIM -- Rookie James Paxton pitched another gem on Wednesday night, but a misplayed line drive by right fielder Chris Denorfia and one bad pitch by reliever Danny Farquhar opened the floodgates in the seventh inning as the Angels saddled the Mariners with a 5-0 loss that dropped them to two games back in the American League Wild Card chase.
The Angels clinched their first AL West title since 2009 about an hour later when the Rangers topped the A's, 6-1, in Oakland.
A day after equaling their season high with 13 runs in a blowout win, the Mariners couldn't get anything going against Angels lefty C.J. Wilson. The 33-year-old has struggled at times this season, but he sailed through seven innings with just one hit -- a single by Justin Smoak in the fifth -- and didn't allow a runner as far as second base until a pair of walks in the seventh.
Paxton was just as good for the Mariners, putting up zeros into the seventh, when a one-out single by Howie Kendrick was followed by David Freese's line drive to right. Denorfia got caught in between on the low liner, which bounced just in front of him and then skipped past him to the wall as Kendrick scored from first base.
"It really just comes down to I just misplayed it," said Denorfia, a veteran acquired at midseason who is regarded as a solid defender. "I don't want to make excuses for it. I took a bad angle to it and got caught in between. It was a bad spot. I tried to do my best and get in front of it, but it skipped right by me. Obviously I let my team down tonight. Hopefully I'll get another chance and come through."
Paxton then intentionally walked Erick Aybar and struck out Chris Iannetta before manager Lloyd McClendon summoned reliever Farquhar, who immediately surrendered a three-run homer to C.J. Cron on a cutter that stayed over the plate.
"I just didn't execute the pitch," said Farquhar.
That blow scored Paxton's two runners, leaving him with three runs allowed in the frame. But he gave up just four hits on the night with one intentional walk and eight strikeouts, including three of Mike Trout. The loss dropped Paxton to 6-3 with a 2.06 ERA in 11 starts.
"I felt really good," Paxton said. "The ball was coming out well. I was throwing my offspeed stuff for strikes, which made it a lot easier for me and kept them off my fastball. This is definitely the best my stuff has been. I just felt really good out there. My release point was there and I was throwing strikes."
Farquhar, who came in with a 2.33 ERA, surrendered another run on a Kole Calhoun double before Dominic Leone got the final out to leave the score 5-0.
"Farquhar has been great for us all year," McClendon said. "He just threw a cutter that backed up. He's human. It happens. The guy took advantage of it."
Since being called up last September, Paxton has put together one of the best beginnings of a career in Major League history. In 15 career starts, he's now 9-3 with a 1.91 ERA, which ties for the fourth-lowest ERA for any starting pitcher after 15 starts since 1914.
Steve Rogers of the Expos put up a 1.32 ERA in his first 15 starts in 1973, Zach Duke of the Pirates had a 1.79 ERA in that situation in 2005-06 and Cal Eldred was at 1.85 for the Brewers in 1991-92.
With the Royals beating White Sox ace Chris Sale, 6-2, the Mariners needed a win to stay a game back of Kansas City in the chase for the AL's second Wild Card spot. Instead, they're now a pair back with 11 games remaining, including Thursday night's series finale against the Angels.
The shutout loss was Seattle's 18th of the season, and the Mariners have now lost four of their last five games in falling to 81-70. On the plus side, Oakland's loss leaves Seattle only two games back of the first Wild Card spot in the tightening standings.
"Every game is important right now," Paxton said. "We just have to put this game behind us, come back tomorrow and get a 'W' and get right back in this thing."
Greg Johns is a reporter for MLB.com. Follow him on Twitter @GregJohnsMLB as well as his Mariners Musings blog. This story was not subject to the approval of Major League Baseball or its clubs.