Price hopes Votto, Latos return this season
Pair would only play if no extra risk of injury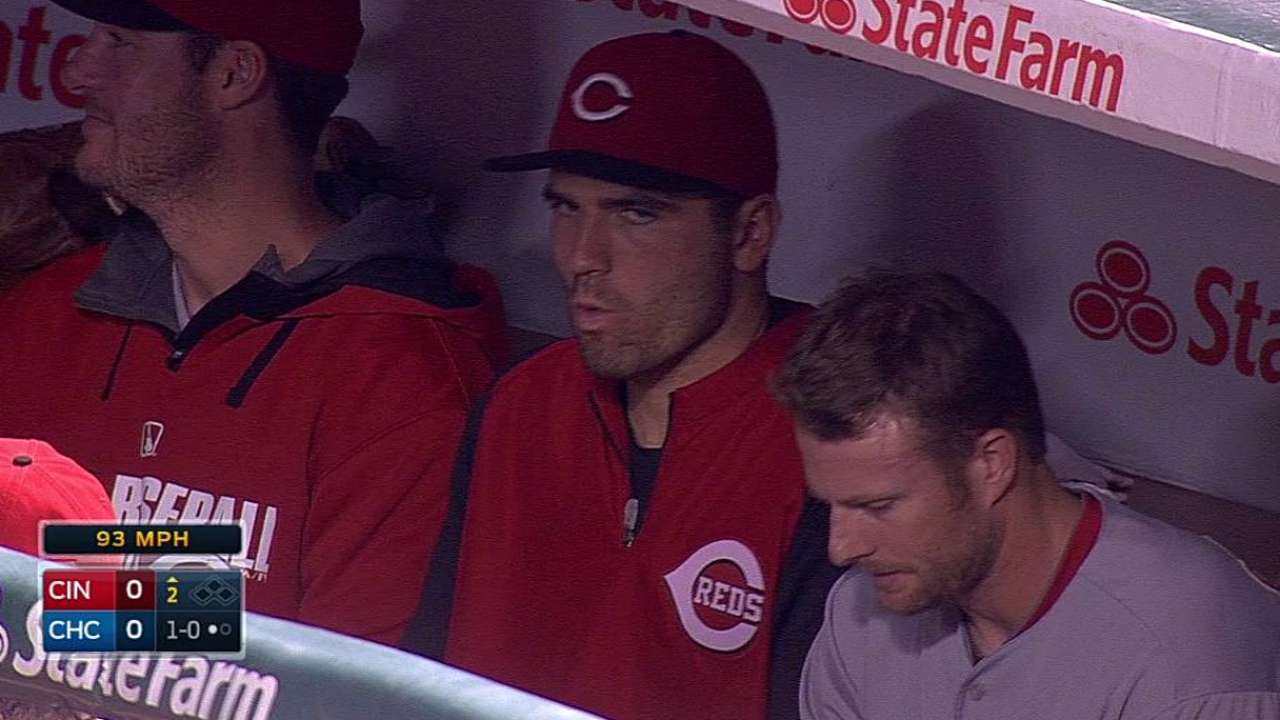 CHICAGO -- Reds manager Bryan Price believes returns by Joey Votto and Mat Latos before season's end would carry more weight than just a few extra wins over the final week.
The Reds, victors of 90 games last year that earned the second National League Wild Card, were eliminated from the NL Central race in Monday's 1-0 loss to the Cubs. They were 1 1/2 games out of first place at the All-Star break, but entered Wednesday having since gone 20-37 -- one of the worst second-half stretches in franchise history.
"Does it make sense to have these guys come back and play? That'll be an organizational decision," Price said. "I think the important thing is that they're both invested in playing.
"For me, this has been a pretty miserable second half of the season, and in large part because we haven't been able to string anything together. So having our players invested in finding some way to get back on the field, even if it's to help us in the last five or six games of the season, at least to me, that sends the right message on what we're about here. We're not just phoning it in and saying that the season is over.
The first-year manager was firm that neither Votto nor Latos would be rushed in their returns.
"If the feeling is from our medical staff that there's a probability of reinjury or setback, it wouldn't make any sense at all to play them," he said.
"If we're going: 'Hey, there's an increased risk of having a significant setback that could really affect the offseason plans for these guys,' then I don't think we would risk it," Price said. "But I do think we need to have an investment here for these guys to get back on the field.
"And they are baseball players -- they're supposed to be out on the field playing baseball if they're healthy."
Votto has endured a beleaguered season that's kept him sidelined for 96 of the Reds' 152 games. Out with a distal strain to his left quadriceps (a knee injury) since July 5, Votto has steered from the 15- to 60-day disabled list and was thought gone for the season after a slew of setbacks as recently as Sept. 5.
But consecutive days of batting practice are a significant step in his potential return. He took five sessions of BP on Wednesday, up from four the day prior.
"I thought he looked good -- didn't look like a guy coming off an injury," Price said after Votto's first session. "He may have felt that way seeing live pitching for the first time and out on the field. But I thought the ball came off the bat real nicely. He looked like a regular guy taking batting practice, not a guy that's been on the DL for the last couple months."
Latos missed his second straight start Wednesday due to a bone bruise in his pitching elbow. The right-hander's next scheduled outing would be next Wednesday against Milwaukee. Latos surely won't take away a start from Johnny Cueto, whom Price has been openly resolute for in his race to 20 wins. If Latos misses next Wednesday, he would likely supplant David Holmberg, Mike Leake or Alfredo Simon.
"I talked to him [Tuesday] about it and said, 'Our goal is to continue with the throwing protocol and build up your arm strength and verify that the soreness and inflammation is out,'" said Price. "And if it is and it makes sense, then he could potentially pitch again."
Daniel Kramer is an associate reporter for MLB.com. This story was not subject to the approval of Major League Baseball or its clubs.