Blue Jays come up empty in Baltimore
Bats can't back Happ as club falls six games back of Wild Card spot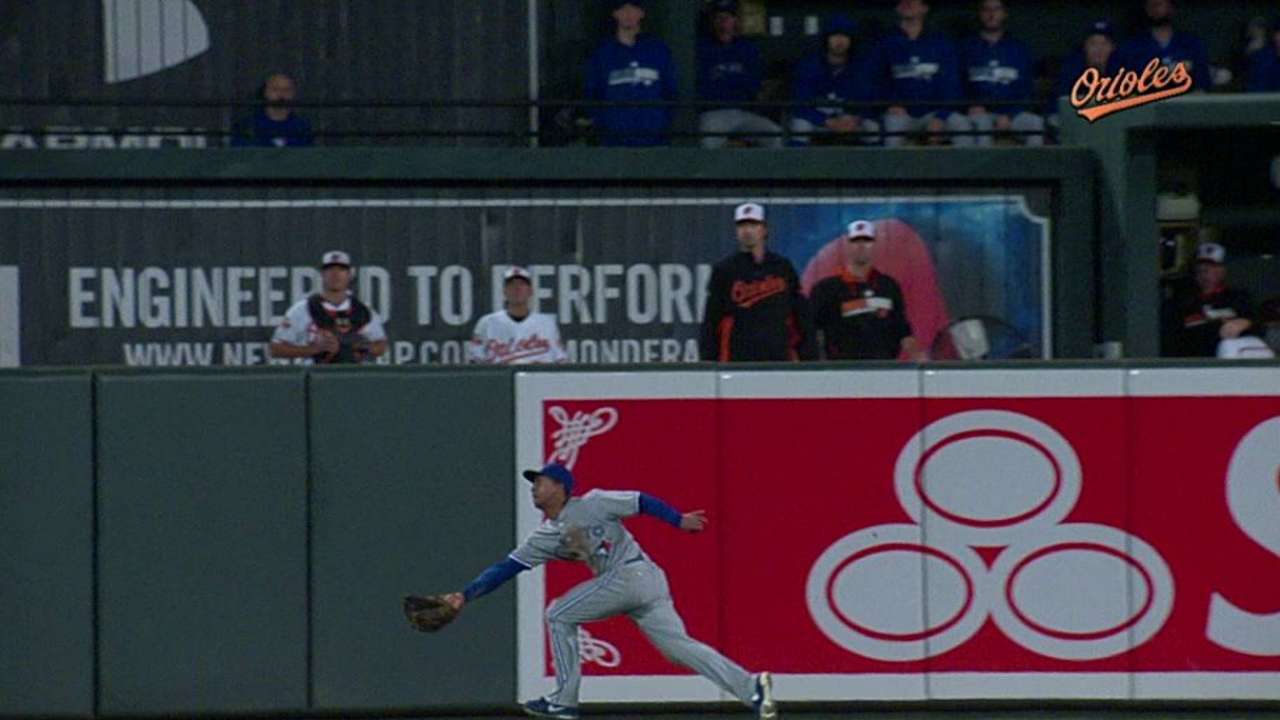 BALTIMORE -- The Blue Jays arrived at Camden Yards earlier this week still clinging to the hope of competing for the second American League Wild Card spot, but they leave town all but officially eliminated from the race.
Toronto likely needed a sweep to be taken seriously in a group that also included Kansas City and Seattle, but instead came away empty handed. The first two games were disappointing enough, but the last shot came Wednesday night with a 6-1 loss to the Orioles.
Left-hander J.A. Happ allowed five runs and his offense remained missing in action as the Blue Jays were outscored 19-5 in a series they absolutely had to win in order to keep their postseason dreams alive.
"We don't like to lose any games," said Blue Jays manager John Gibbons, whose team dropped to six games back of Kansas City for the second Wild Card spot. "We're all competitors, we play to win, they're all the same."
Toronto is technically still competing for the postseason, but with 11 games remaining, the large deficit is essentially impossible to overcome. Entering the series finale, Baseball Prospectus gave the Blue Jays a 1 percent chance of earning a Wild Card berth, and that will drop even further after Wednesday's loss.
The Blue Jays didn't score more than two runs in a single game of the series. A big reason for that was a lack of production with runners in scoring position. In the three-game set, Toronto's lineup combined to go 5-for-37 with RISP and left 25 runners on base.
There were plenty of opportunities once again for Toronto on Wednesday night. The Blue Jays had a pair of runners on in the second inning but came away empty handed, and the same could be said for a sixth inning that saw the club load the bases before pinch-hitter Steve Tolleson struck out on a foul tip.
The only run the Blue Jays were able to come away with was in the seventh, when Kevin Pillar and Ryan Goins hit back-to-back doubles. Jose Reyes' groundout then drove in Pillar. It was a rare sign of production from the bottom of the order in a lineup that hasn't had much of that lately.
"We're basically, right now, running a lot of platoons because that's who we are," Gibbons said. "The key, when you're doing that, you need to get to the starter. If we get to where we're down late and they can start going to their bullpen, [we're in trouble] because whatever hand, they have it ready. We're such an extreme team -- our lefties have a really tough time against lefties and our righties have a really tough time against righties."
Orioles first baseman Steve Pearce did most of the damage against Toronto on Tuesday night, and he had an even better performance in the finale. He got things started in the third with a solo homer off Happ and then came up again in the fifth and delivered a three-run shot. Pearce's three-run shot on Tuesday was the difference-maker, and he almost single-handedly took the final two games against Toronto.
With the exception of the at-bats to Pearce, Happ was relatively effective. He was charged with five runs -- four earned -- on eight hits and didn't walk a batter while striking out five. It was the first time in his career he allowed more than three runs in a start to Baltimore, but overall it extended his losing streak to three games. Toronto starters have now gone at least six innings in a club record 23 straight games.
"They're where they're at for a reason," Happ said of the AL East champions. "They're playing at a high level right now all around. I think, for me, the three-run home run was just lack of execution. I left the ball over the middle of the plate and that kind of turned out to be the difference. It makes you sick, but that's the one I want back."
Toronto has now lost five of its past six games since sweeping the lowly Cubs in a three-game set at Rogers Centre. The Blue Jays will head to New York on Thursday for a four-game series against the Yankees before returning to Rogers Centre for a seven-game homestand that will conclude the regular season.
Gregor Chisholm is a reporter for MLB.com. Read his blog, North of the Border, and follow him on Twitter @gregorMLB. This story was not subject to the approval of Major League Baseball or its clubs.