Pearce's two homers power O's to sweep
Slugger drives in four runs; Norris blanks Blue Jays for 5 1/3 innings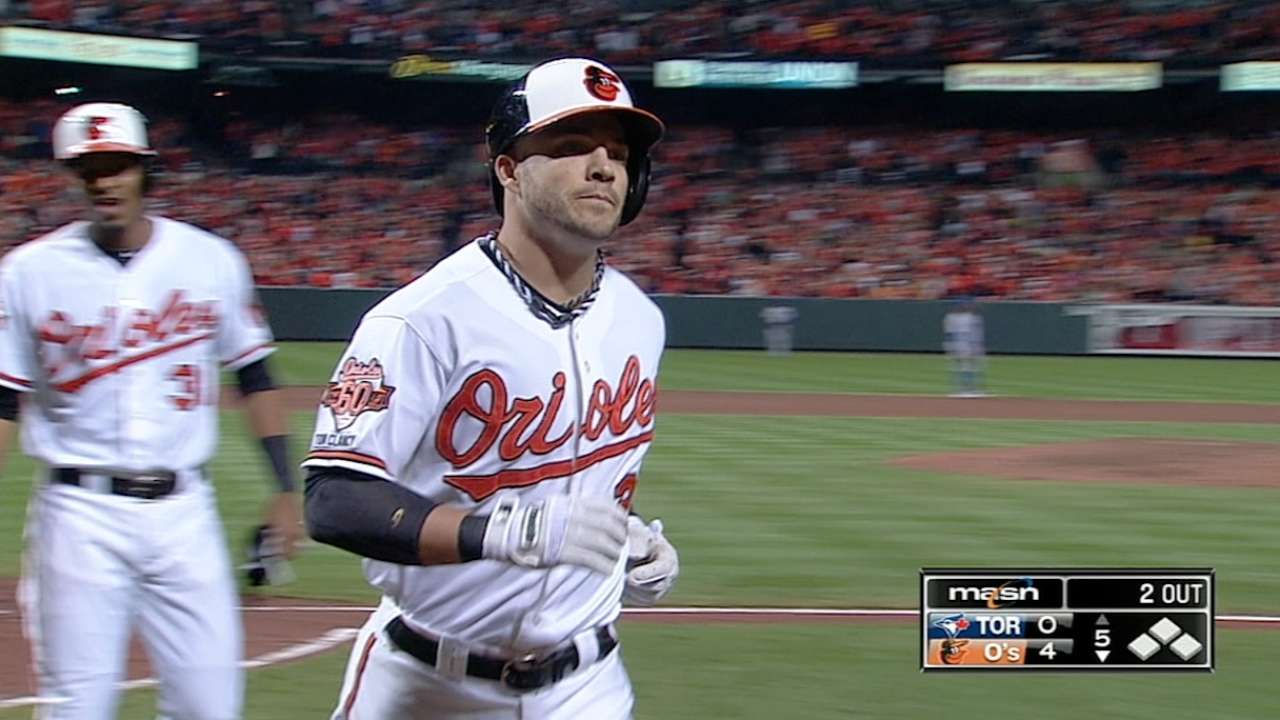 BALTIMORE -- A day after celebrating their first American League East title in 17 years, the Orioles' clubhouse still stunk of stale beer and champagne Wednesday. Players sipped coffee to recover as they reveled in the memories from Tuesday night's festivities.
The clubhouse televisions showed a replay of the clincher and ensuing party. Manager Buck Showalter wrote up a lineup with players in unique spots and regulars on the bench. It's never mattered whom he's put in his lineup this season and it didn't Wednesday night, either. Behind Steve Pearce's two home runs, the Orioles swept the Blue Jays with a 6-1 win in front of 37,537 at Oriole Park at Camden Yards.
Outfielders Alejandro De Aza and Nick Markakis both had the day off. Jimmy Paredes made his first start as a leadoff hitter with the Orioles. Christian Walker started at first base just hours after being called up to the Majors for the first time.
"We talked a little bit today," Showalter said. "I want them to know what the rest of the season holds for us and what we need to get accomplished."
Pearce donned a pair of goggles throughout Tuesday's champagne shower. His three-run homer in the first inning sent the O's on their way to that celebration.
On Wednesday, that pair of goggles hung from a hook in his locker. The reminders of the O's accomplishment were all around them. The crowd cheered as the Orioles were introduced as AL East champions during pregame introductions.
For the second consecutive night, Pearce put Baltimore ahead with a home run. His solo blast in the third opened the scoring against J.A. Happ (9-11). His three-run shot in the fifth gave Baltimore a 4-0 lead.
"That's what we do. We kind of flush everything out," Pearce said. "We win a ballgame, we come back out. If we lose, we come back and find ways to win. I mean, we've been like this all year."
Pearce began this season with 17 home runs in his career. He has 20 this season and a pair of multihomer games. Never before had he clobbered 20 homers in one season at any level.
"I don't know what else to say about Stevie," Showalter said. "I think it's pretty much established what he's done for us this year."
Pearce's tremendous season epitomizes why the Orioles have been so successful. When discussing how to rest players down the stretch before Wednesday's game, Showalter used Pearce's name in the same breath as established veterans like J.J. Hardy, Adam Jones and Markakis. Even with an offbeat lineup, the O's role players made a solid start by Bud Norris hold up.
Norris fought through the effects of Tuesday night's celebration like anyone else on the diamond. He walked five batters and put the leadoff batter aboard in each of the final five innings he pitched. He left with runners on the corners and one out in the sixth for Brian Matusz, who struck out Danny Valencia and Steve Tolleson to preserve Norris' (14-8) scoreless outing.
The Orioles set up a bus to bring players home in the wee hours of Wednesday morning after the clincher celebration. When Showalter arrived at Camden Yards on Wednesday, he was happy to see plenty of cars still parked in the players' parking lot.
"I tried to get as much sleep as I could," Norris said. "I was still pretty excited and everything else. Tried to get some rest and just come to the ballpark, kind of go through the routine."
The Orioles are three games behind the Angels for the best record in the AL and have an eight-game cushion on the Tigers for the No. 2 seed.
With 10 games to play after Thursday's off-day -- all of which come against teams that are realistically out of contention -- Tuesday may not have been the last meaningful regular-season game the Orioles have played. They didn't act like it was on Wednesday.
"We've got some things we need to keep from happening," Showalter said, "and some things we want to present the best chance for them to happen."
David Wilson is an associate reporter for MLB.com. This story was not subject to the approval of Major League Baseball or its clubs.