Aoki sets club mark for hits in a three-game series
No. 2 hitter goes 11-for-13 with a pair of walks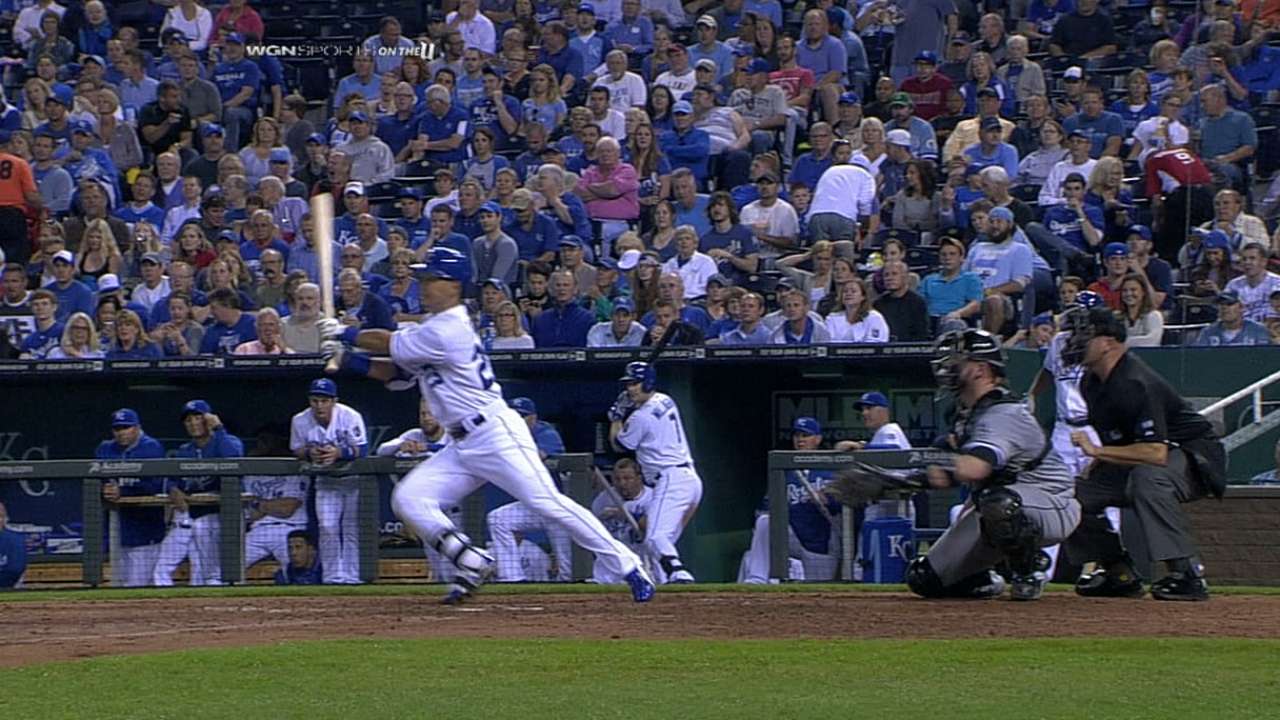 KANSAS CITY -- In Nori Aoki's final at-bat Wednesday -- after reaching base in 13 of his previous 14 trips to the plate and making a number of solid defensive plays in the Royals' 6-2 win -- the Royals fans let him hear it.
It started as a minor tremble in the bottom of the eighth, but by the time Aoki readied himself at the plate, Kauffman Stadium burst into a full-blown "NOR-I" chant.
"I definitely heard it and it made me want to get another [hit] there," Aoki said.
After being serenaded by the crowd, Aoki finally showed his humanity, recording only his second out in three games.
Aoki made Royals history with his 11th hit of the series, a liner into center field in the fourth inning, bypassing Willie Wilson (1980) and George Brett (1982) for most hits in a three-game series. Kansas City took two of three games against Chicago and Aoki finished 11-for-13 with a pair of walks.
"He's hotter than a firecracker. I mean, you can't explain it. Just like it's hard to explain when guys are cold. They just get hot and Nori is as hot as you can get," Royals manager Ned Yost said.
The slap-hitting left-hander did his damage Wednesday against lefty killer Chris Sale. All three of his hits came off Sale, including a first-inning double that was only the second extra-base hit Sale's allowed to left-handed batters all season.
Aoki churned out back-to-back four-hit games on Monday and Tuesday, and in the span of three games, he improved his slash line from .265/.333/.333 to .281/.349/.352.
"Watching him this series, he really put on a hitting clinic," Sale said. "What a series he had."
His outbreak comes on the heels of a change in the order.
On Saturday, Yost slid Aoki into the No. 2 spot for the first time this season. Since then, he's hit .619 (13-for-21), and his run of reaching base in 13 of 14 at-bats marked the first time a player has done that since San Diego's Kevin Kouzmanoff in 2009.
"He's really responded since he's in the two-hole. ... That's kind of what you hope happens when you make those kind of changes -- that guys can get going a little bit and create some offensive opportunities," Yost said. "But what Nori did in the three-game series here, no other Royal has ever one before, so it's pretty special."
Jackson Alexander is an associate reporter for MLB.com. This story was not subject to the approval of Major League Baseball or its clubs.