Doubly good: Bucs make home run history
For first time, club boasts nine players going deep at least 10 times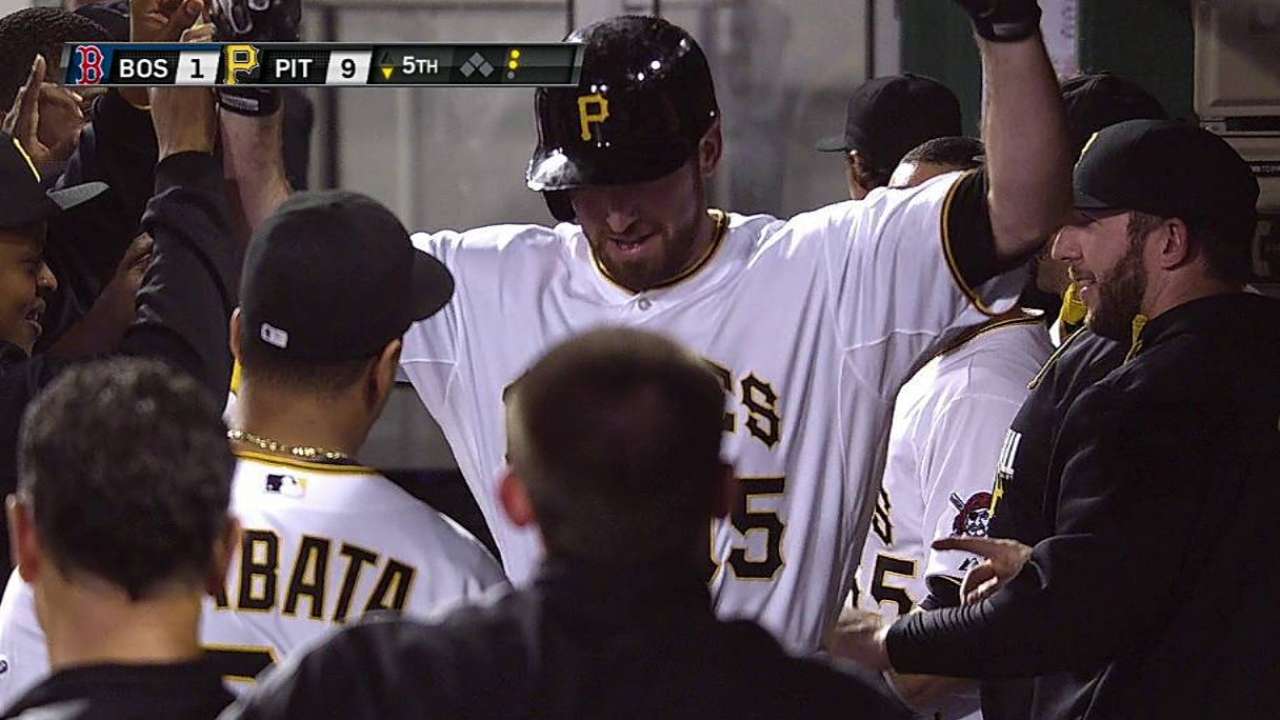 PITTSBURGH -- Before the Pirates' game against the Red Sox on Wednesday, manager Clint Hurdle was asked about eight of his players having 10 or more home runs this season. During his answer, he mentioned Ike Davis was next in line, just one shy of joining the double-digit home run club.
A few hours later, Davis launched a three-run shot to center field -- his 10th this season for Pittsburgh -- and for the first time in franchise history, the Pirates have nine players with at least 10 homers.
"I think it's pretty cool, especially a lot of guys who are platoon players or started as bench players and got jobs or been up and down," Davis said after the Bucs' 9-1 thrashing of Boston. "To do that, it's pretty amazing."
The Pirates, who entered the day tied for the National League lead in on-base percentage, don't have a lot of players with home run numbers that jump off the stat sheet. Andrew McCutchen leads them with 23, and Neil Walker hit his 21st on Wednesday night. But as Davis mentioned, the power is being spread out amongst some players who haven't been everyday fixtures all season.
Joining McCutchen and Walker, the rest of the double-digit homer club includes Pedro Alvarez (18), Josh Harrison (13), Starling Marte (12), Jordy Mercer (11), Travis Snider (11), Russell Martin (10) and Davis (10).
The Indians (who had 10 players with double digit homers) and Mariners accomplished the feat last season, but the Pirates are the first NL team with nine players to notch 10 or more home runs since the D-backs and Braves both did so in 2007.
"It's always relevant when you have a guy who can change a game with one swing of the bat," Hurdle said prior to the game. "To know that you've got guys that can go ahead and ride a ball out of the ballpark, it's a little bit of a safety net."
The pregame question was prompted after Martin hit his 10th of the season on Tuesday, and the playoff-seeking Pirates have hit five in the first two games of the series against Boston -- Davis' making club history.
In reference of the ninth player reaching the 10-homer plateau, Hurdle said: "We followed through right away."
Stephen Pianovich is an associate reporter for MLB.com. This story was not subject to the approval of Major League Baseball or its clubs.