MLB.com Columnist
Phil Rogers
Arrieta looks like pitching cornerstone for Cubs
Righty prepared to embrace role of ace for up-and-coming team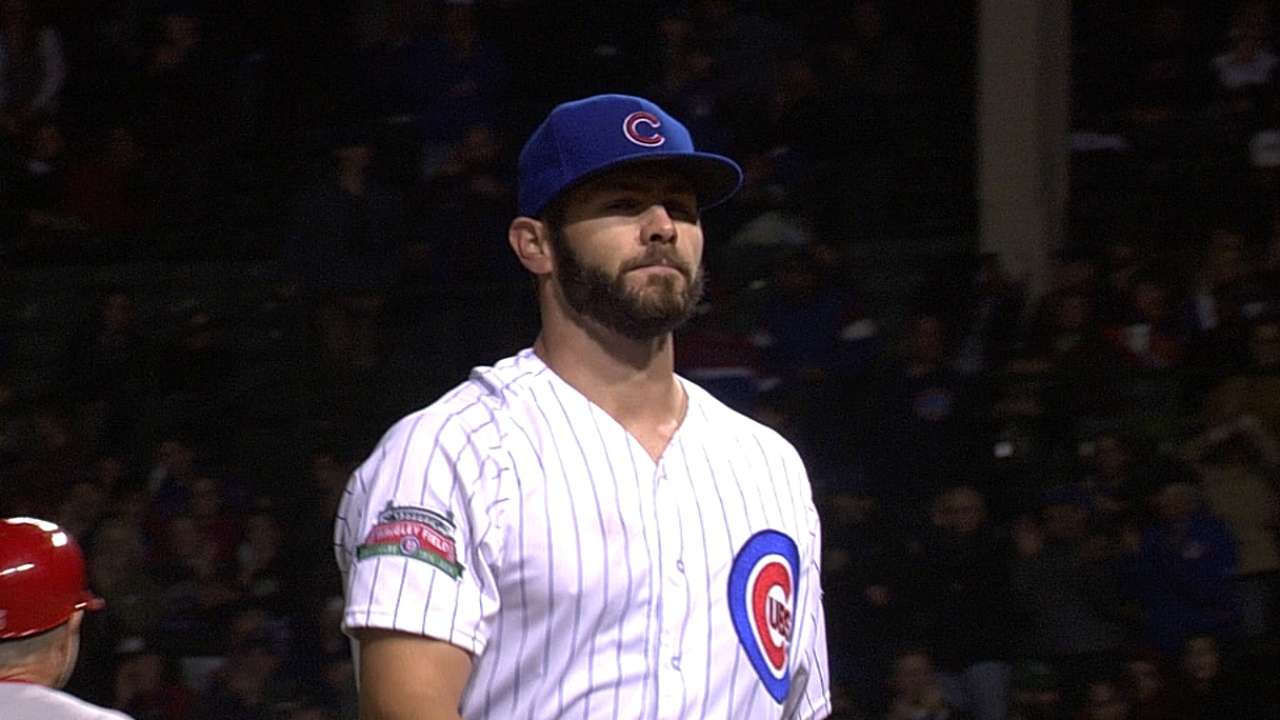 CHICAGO -- As baffling as it was for Cincinnati Reds hitters to anticipate what was coming from Jake Arrieta, some things were clear watching the Cubs on Tuesday night.
As the third season under the watch of Theo Epstein, Jed Hoyer and Jason McLeod ends, you can see where the road they have so painfully cleared is leading. It may not be all downhill from here, but the fun is definitely coming back for fans of Major League Baseball's most long-suffering franchise.
"We're right there," Arrieta said. "I think it's obvious for the guys in the clubhouse. A lot of the young guys know there are adjustments that have to be made moving forward, which is just part of it. The transition from Triple-A to the big leagues is the biggest jump in all of sports. ... You're going to take your lumps, and if you can stay even keel, be the same guy on a daily basis, put your work in with the ability you have, the talent, it's going to pan out. We have a lot of high-quality guys."
While the development of prospects like Kris Bryant, Jorge Soler, Javier Baez and Arismendy Alcantara has been encouraging, the emergence of the 28-year-old Arrieta has been just as significant in positioning the Cubs to view themselves as a 2015 surprise team and a definite contender by '16.
Their viability in the immediate future is at least somewhat dependent on acquiring a top starter this offseason -- free agents Jon Lester, Max Scherzer, James Shields and Kenta Maeda (who must go through the posting process in Japan) would fill that bill -- but Arrieta continues to show that he's capable of becoming a No. 1 starter.
Less than 15 months ago, Arrieta was discarded by the Baltimore Orioles in a rental trade for Scott Feldman. Now he's ready to be a rotation cornerstone. You can call Arrieta an ace if you want to.
"It's not going to frighten me, if that's what you're asking," said Arrieta, who was a fifth-round pick out of TCU in 2007. "It is what it is. I've overcome a lot of things in my career, started to establish myself, put myself in a position like this. That's kind of the territory I'm in. I welcome it."
Arrieta, who is 9-5 with a 2.65 ERA in 24 starts, used his mid-90s fastball and the electrifying movement of his pitches to mount his third significant bid for a no-hitter Tuesday. Todd Hollandsworth, the MLB Network Radio host who doubles as a Cubs analyst, said Arrieta was making the baseball move like a Wiffle ball, and that's an apt description.
While his old team was in the process of clinching the American League East, Arrieta struck out a career-high 13 in a one-hit shutout, with Brandon Phillips' one-out double in the eighth coming on the only one of 110 pitches that Arrieta would want back.
"The movement is reflected in the body language of the hitters," Cubs manager Rick Renteria said. "You see some of the swings these guys take, it tells you."
Arrieta got 18 swinging strikes overall, including seven to finish off hitters. But the elusive nature of his pitches was as evident on some takes as the futile swings.
After Phillips' double in the eighth, which was just beyond the reach of a diving Matt Szczur, and getting Chris Heisey on a popup, Arrieta fell behind Ramon Santiago 3-0. The Cincinnati infielder took the next three pitches, all of which came clattering into umpire Mike Everitt's zone for called strikes.
"I was able to come out and pound everything down in the strike zone," Arrieta said. "When I missed, I missed out of the strike zone, not over the heart of the plate. If you want to have success at a high level, to pitch games like that, that's what you've got to do."
Arrieta had taken a perfect game into the seventh inning against the Reds on June 24 at Wrigley, and he came back six days later to get a no-hitter into the eighth inning against the Red Sox at Fenway Park.
Because he opened the season on the disabled list with a shoulder that was sore from his constant workouts throughout the offseason, Arrieta is just shy of being an ERA qualifier. Among qualifiers, his 1.02 WHIP would rank third in the National League, behind Clayton Kershaw and Johnny Cueto; his ratio of 9.44 strikeouts per nine innings would also be third, behind Kershaw and Stephen Strasburg.
Arrieta is sixth in the NL in WAR, joining the Nationals' Tanner Roark as a fresh face on a list topped by Kershaw, Cueto, Cole Hamels and Adam Wainwright. That's excellent company to keep.
This isn't the first time in the Epstein regime that the Cubs have had a top pitcher. His presence made it easier to trade Jeff Samardzija to the A's, after Samardzija had turned down long-term contracts, and that deal brought the Cubs two more highly regarded prospects in shortstop Addison Russell (ETA late 2015) and outfielder Billy McKinney (ETA late 2016).
Even without Samardzija, the Cubs are closer to having a solid rotation than you might think. Dartmouth product Kyle Hendricks has outperformed expectations in going 6-2 with a 2.38 ERA in 11 big league starts entering Wednesday, Japanese lefty Tsuyoshi Wada has pitched like a keeper, and veterans Edwin Jackson and Travis Wood join midseason acquisitions Felix Doubront, Jacob Turner and Dan Straily in adding depth.
This might be a good time to point out that none of the guys named above -- Arrieta included -- have compiled the long track record of success that makes them truly known commodities.
But like his franchise, Arrieta is announcing his presence. Renteria believes it's only a matter of time until he finishes off one of these no-hitters, and he seems to as well.
"I think I'll be able to put myself in these type situations," Arrieta said. "Obviously not on a game-to-game basis. This game has a strange way of teaching you lessons, whether it's something like this [on Tuesday] or the game in Colorado where I gave up nine runs, there's always something to learn, always a way to benefit from it. I just continue to grind, put in the work and the time and hopefully [can] be in these situations again."
This might have been the last time he's in one for a last-place team.
Phil Rogers is a columnist for MLB.com. This story was not subject to the approval of Major League Baseball or its clubs.